dBs Bristol's Matt Owen recently finished his Sound for Games & Apps course - which has now evolved into our Sound Design degree - and is working in the gaming industry as an Audio Programmer at a rapidly rising company Virtex. Read on to find out more!
Forging a career in the gaming industry is challenging. As a rapidly growing industry, there are more jobs available, but also increased competition for positions. Getting in on the ground floor of an exciting new organisation is just one way to kickstart your dream career in gaming and grow as part of a fresh new team.
That's exactly what Sound for Games & Apps student Matt Owen did by joining Virtex as an Audio Programmer! We caught up with Matt to find out about his new role and how dBs helped to give him the tools he needed.
First of all, please just introduce yourself. What did you study at dBs and what is your background in sound, music & gaming?
So originally my career came after I left the Royal Air Force, where I was training to be a Weapons Technician. I had always been a gamer, and at the time post RAF, I was very much into DJing, doing small gigs here and there for parties and such. I decided to explore the music side with dBs in Plymouth on their Access to HE Music Technology course. One module, in particular, stood out to me which was the sound for the visual media module. It is here that I recorded and redesigned all the audio for different game trailers. This was the kind of "eureka" moment, where I realised I could combine two of my favourite hobbies, music and gaming. Following the course, I went to dBs Bristol to study the Sound for Games & Apps course. This course was fantastic, and with the gaming still happening outside, I became invested in every ecosphere surrounding gaming and audio for games. Now I work as a Junior Audio Programmer at Virtex.
What was your experience like at dBs?
dBs has been a keystone in my personal and professional development for the last four years. Their passion for sound and music was apparent from the start, and being in that environment really pushes you. The lecturers are all superb! It would be an injustice for me not to mention them all, however, Pete Day and Jasz Pike were special standouts, being superb tutors, who helped not just my academic development, but my social and professional side as well. It's great being taught by all the talented lecturers!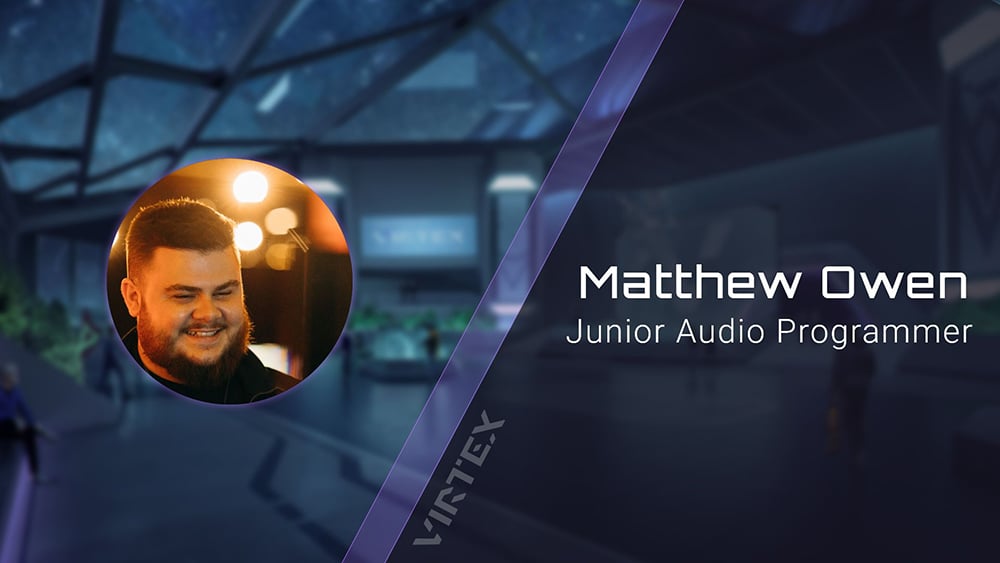 What were some of the projects you worked on while at dBs that stand out most?
I was fortunate enough to work on a few projects external to class work, these included working with Screenology on a few films. In particular, The Box by Ben Bartlett + Dan Fox. In the first version of this film, I was the sole "audio person" doing sound and music, to eventually the third version where I was leading a team of sound designers, composers, mixers and on-field recordists, from across the country and from the dBs Music and Sound for Film and Television course.
Also, I worked on a few games as well which will be released soon! One example is from dBs Pro for "Kraken Wakes", which was a really exciting project where I was able to apply methods and practices learnt from my course into a budgeted game. Other games also included small indie projects where my roles varied from sound designer, audio implementer and composer - sometimes all three!
I'm also proud to have co-founded with my friend (and coursemate) the dBs Gaming Society, with standouts being the gaming tournaments we hosted, as well as the 24Hour gaming marathon for charity.
How do you think dBs helped prepare you for working in the industry?
Being at a Junior level in my current work has meant that I am still learning as well as performing on deliverables, and dBs has helped foster a strong work ethic to which I can apply learning practices. Being passionate about what you do helps in any situation, and dBs helped foster this enthusiasm further during my time with them.
You're now a Junior Audio Programmer at Virtex. Can you tell me a bit about the company and what your role entails there?
Virtex was created by Tim Mcguinness and Christoph Ortlepp back in 2020 around their shared love and experience with VR and Esports. The mission is to bring the intense excitement and joy of a live event to every fan around the world. Virtex stadium is our flagship product, and with it, we are combining the best of both worlds to create the most exciting experience in Esports and bring players much closer to the game.
We are building virtual stadiums with full 3D viewing experiences. You'll be able to view gameplay live, in 3D in the centre of a virtual stadium, which has not been possible before in any other medium. Our long-term goal at Virtex is to provide virtual stadium experiences for all top Esports games. My role within the company revolves around the audio aspect of this experience. One of the biggest parts of this experience is the excitement and sounds that go into creating memorable moments. I implement the audio systems that make that work, and working alongside the audio director, help to deliver the audio experience for thousands of people on many platforms. Being able to work on such an innovative idea so early on in my career has been a privilege. A lot of what I was taught at dBs has been directly used already!
Virtex has a number of industry veterans working for it, and works with many of the major publishers, what's it been like being involved with such big hitters in the gaming industry?
My colleagues at Virtex are incredible, they are real juggernauts within the industry! All of them have been very welcoming to me, and the remote working option has been great! Within my first week, I was involved in a work meetup in London, which made those first few days a lot easier. Working alongside people who share the same passion and drive has been an honour.
With our first partner Echo VR being announced, it is so exciting to work alongside an established IP that is well renowned within the VR and Esports ecosystem. Pulling on my colleague's knowledge is great for someone at a junior level. Their lessons have become valuable pieces of knowledge to me. I also love hearing about what games and projects my colleagues have been involved with. Working within the Esports area is also amazing as you really feel at the cutting edge of gaming.
It looks like the company is growing, have you enjoyed getting involved on the ground floor?
Virtex stadium is most definitely growing! We are currently looking for 11 different roles, all areas from online programmers to social media managers. It's an incredibly exciting workplace and I look forward to welcoming more members onto the team!
How have you found transferring skills from study to work?
Transferring from an educational setting to a workplace setting has been relatively easy, as long as you treat your university course seriously, then the transition will be natural. Although it is a shame not seeing my classmates in dBs in person anymore, creating new friendships and connections has been great. Work hard and play hard in your relative field and results will show!
FIND OUT MORE:
"I hope I haven't peaked": dBs Bristol's Ethan Harper on His RTS Award Win
5 Ways dBs Institute Can Kickstart Your Career
"dBs has given me the tools I need to thrive": dBs Bristol's Rob Kivits on studying Sound for Film & Television
---
If you want to follow in Matt's footsteps, why not apply to our Sound Design degree? This undergraduate degree is an evolution of our previous Sound for Games & Apps course and will provide you with the same, and more, skills.