Home setups are great but nothing can accelerate your progress within the audio industry like access to professional-standard studios. Here's why...
---
The pandemic has forced us all to rethink how we make music. After a year and a half of making do with home setups and remote recording sessions, a DIY approach to music production has become the norm. Yet even before COVID confined us all to our bedrooms, the popularity of digitally produced music was on the rise. When Billie Eilish broke onto the scene with a best-selling album produced in her brother's bedroom, it led many to question whether high-tech studios were even needed anymore.
Whilst we have a deep appreciation for the ingenuity of bedroom producers, at dBs we believe that studio time in industry-standard spaces can dramatically advance the development of aspiring audio professionals. Our state-of-the-art facilities lie at the heart of our learning experience and we provide plenty of bookable time to every student so that everyone can make the most of them. From fully-equipped recording studios, live rooms and Foley rooms to dedicated mastering suites, our centres have been meticulously designed to help you upskill and maximise your musical potential. Here are five ways you will benefit from using them.
1. Achieve 'true sound' through optimised acoustics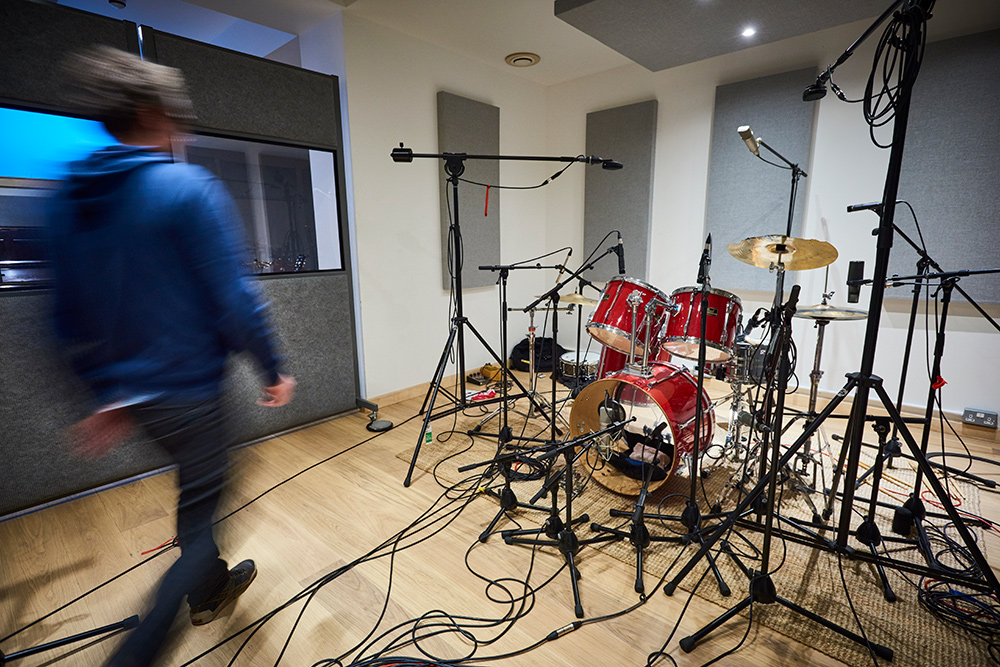 Have you ever made a demo that sounds amazing in your bedroom, only to find it sounds a lot worse when played back somewhere else?
Without an acoustically tuned space, it can be very difficult to get an accurate impression of how sounds will translate in the real world. Sound is changed by the environment it is heard in, depending on the room's shape, size, furnishings and a person's position within it. That's why at dBs, we've taken a number of steps to get the acoustics in our studios just right.
As well as sound-proofing our spaces to ensure that no outside noise ruins your recordings, we've also acoustically treated them to control sound reflections within the room. Studio monitors from industry leaders ATC, PMC, Genelec and Neumann enable you to mix your audio accurately so that it will play back well on most systems. In addition to this, most of our spaces also have a couple of monitoring options, including the industry Yamaha NS10s, so you can tailor the setup to suit you.
"Sitting there on your DAW with your headphones on is all well and good, but taking your headphones off for a second and listening back to your work on some beautiful monitors...wow, amazing. It hits you and you just get goosebumps from it."
– Louis Marcell, BA Music Composition for Film and TV Student
If you're recording a band, our spacious live rooms are equipped with screens to control the acoustics and separate musicians, but also give you the option to record that big room sound if you so desire. This is a luxury most of us do not have when making music in our bedrooms!
2. Access advanced equipment and technical support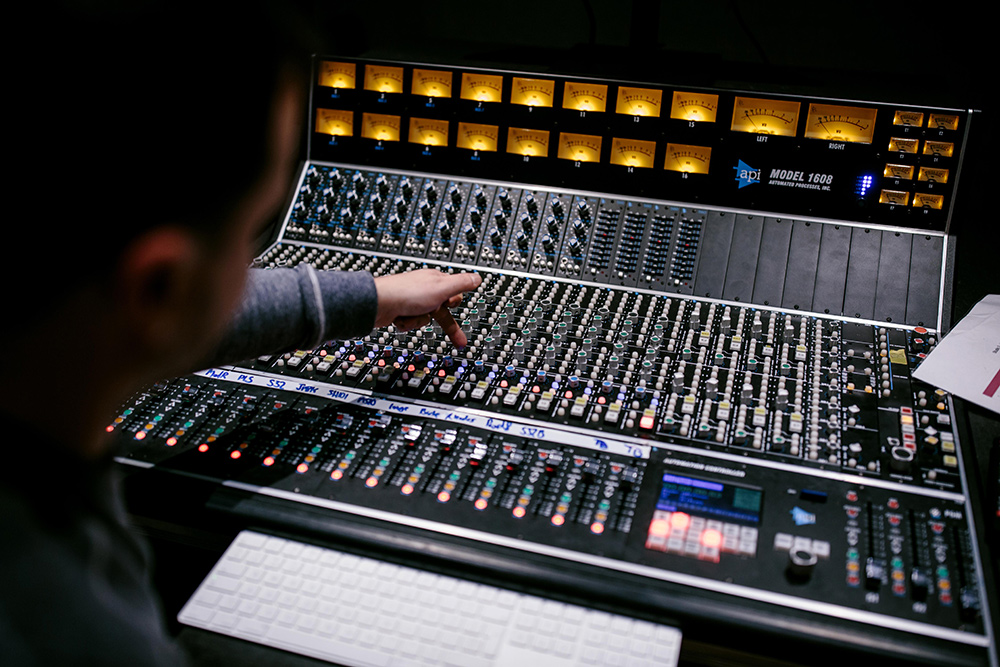 One of the main attractions of our studios is the fact they contain some of the most cutting-edge and classic kit the music industry has to offer. The opportunity to get hands-on with this equipment means you will already be familiar with it when you start working in a commercial environment. Our range of professional-level equipment from leading manufacturers includes:
Mixing desks from AMS Neve, SSL and API

Monitors from ATC, PMC, Neumann and Genelec

Synths from Moog, Korg, Roland, Arturia, Elektron and Pitsburg Modular

Microphones from Neumann, AKG, Royer, Shure, DPA, Soundfield, Earthworks and Sennheiser

Outboard and Interfaces from AMS Neve, SSL, Universal Audio, Avalon, Briscati, Trident and Avid
Access to this treasure trove of technology doesn't mean you'll be tied to working in our studios round the clock, however. Electronic musicians are free to plug into an interface and record sounds from our vast array of synths onto their laptops, where they can continue to work on their productions from home. (Our partnership with Ableton means dBs students have access to off-site licenses for Ableton Live during their studies with us too). In the same way, those interested in traditional studio recording and production can use our state-of-the-art microphones to record vocals or live drums only to go away and edit them somewhere else.
Beyond simply containing the best music gear, our studios are designed by professional producers to mirror professional setups in their ergonomic qualities. Everything has been designed with an intimate understanding of how equipment interfaces together, so you won't have to waste precious time and energy setting it up. If you do encounter a problem though, our dedicated team of technicians are always on hand to offer expertise, support and advice.
"The techs definitely had a big influence on my work. It's never just problem-solving for them. They often come at things with ideas and interesting, innovative ways of looking at the problem."
– Jacob Zoob, MA Innovation in Sound Student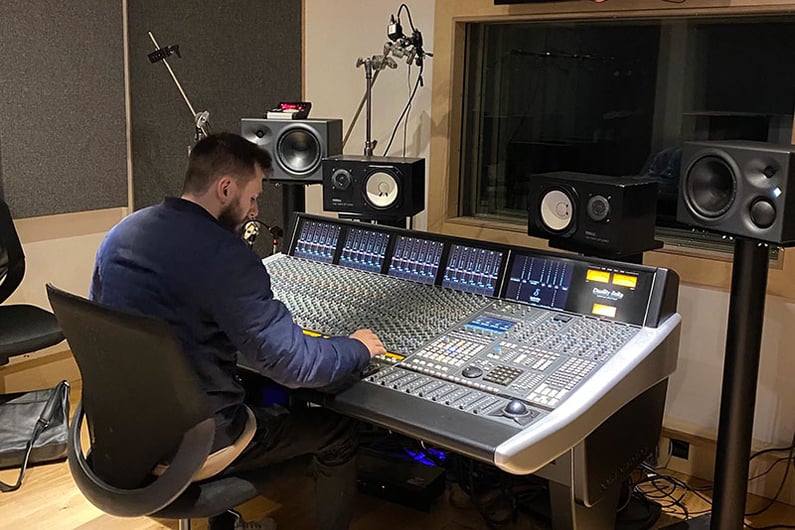 "By working with a huge range of costly equipment, it has become easier to make accurate decisions on where best to spend money when looking to improve certain aspects of production or engineering (quite often this has actually saved me money). Another major advantage of the studio spaces is that you can become very familiar with a range of outboard equipment that most people don't have access to and therefore do not know how to set up and operate. In particular, it's been great to be able to use mixing consoles such as the SSL Duality and API 1608 which are both amazing in terms of sound and flexibility, Having this alongside the degree makes the transition into bigger studios much easier and has assisted me in setting up and running a mixing and mastering business."
– Benjamin Mercado, BA Music Production and Sound Engineering Student
3. Add character to your music by getting 'outside the box'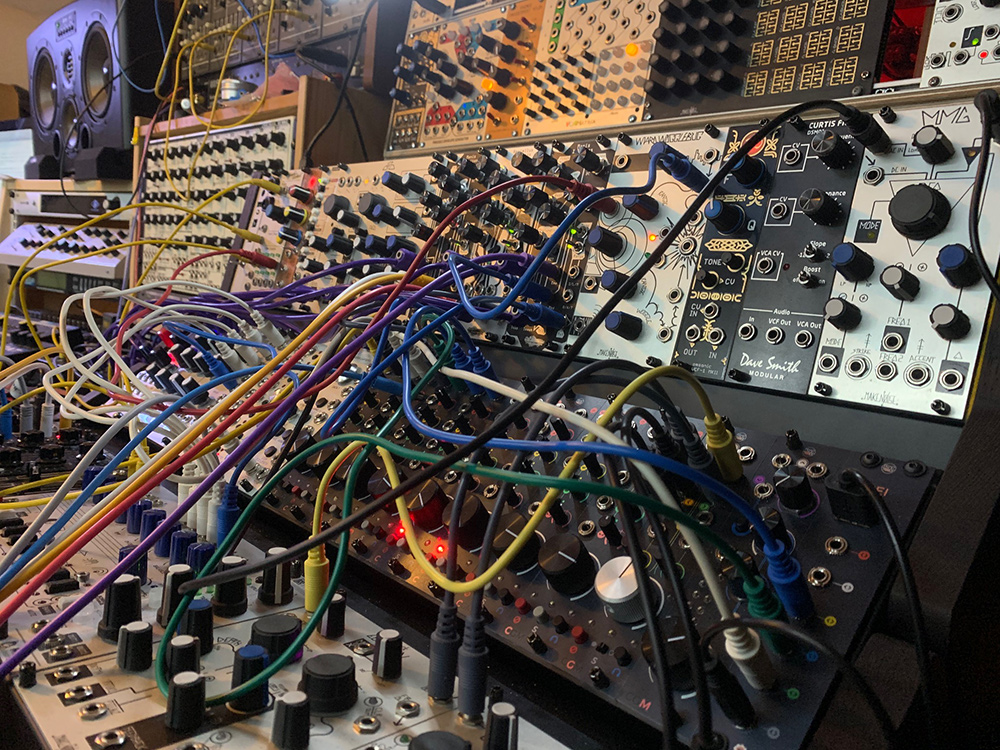 Making and mixing music on physical hardware such as mixing consoles, synthesisers and drum machines encourages a different way of working compared to producing 'in the box'.
Not only can it be mentally refreshing to shut down your screen and enjoy the tactile experience of turning knobs and moving faders, but it also promotes a more intuitive approach to making music. Physically interacting with these machines - like a musician with a musical instrument - means you have to commit to decisions sooner. This can be beneficial for those who struggle to complete music due to the endless temptation to keep tweaking. It can also lead to some beautiful mistakes that make your productions more original. In a similar vein, using an outboard that others may not have access to can develop your unique sonic palette, e.g. running a beat through a tape machine and back into a DAW to introduce 'harmonics'
"I'm a big fan of the mixing desks. I love to stem out and mix on the faders. I just feel that being tactile with it really adds the personalised touch of the human being, compared to being inside of the DAW where all you have is your mouse and your keyboard and you're going "argh where is that shortcut?! There's something about touching things and moving things, that adds those little nuances and maybe sometimes mistakes. Sometimes those mistakes can be really beautiful and they add so much character to the music."
– Louis Marcell, BA Music Composition for Film and TV student
4. Enhance your creativity and skillset through collaboration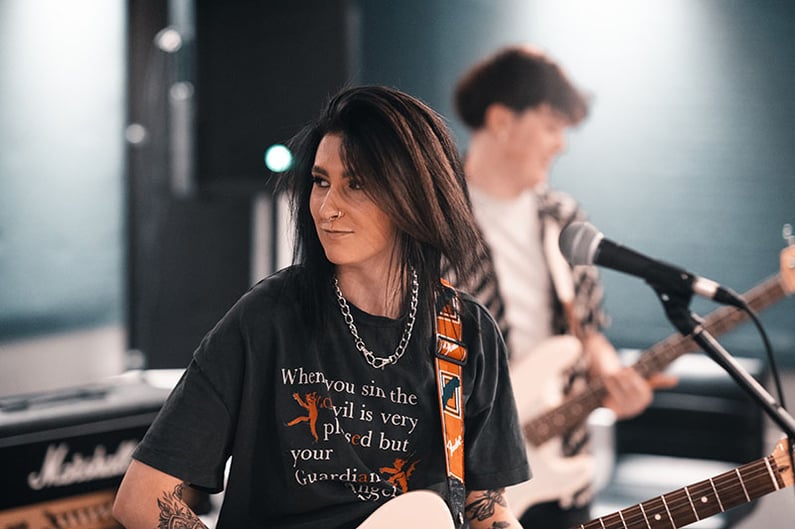 You might think our facilities are all about the tech, but there are some very human benefits to using our spaces too.
Given the range of courses we offer, anytime you book some studio time you are almost guaranteed to be sharing the building with a variety of different dBs students. Working in close proximity with other creatives can foster collaboration, the exchange of ideas or simply the opportunity to find out about other people's projects.
"Last semester there was this moment when the Sound for Film and TV students were in the 5.1 studios, next to the studio I was using. I stepped out and said "What are you guys doing? How's it going?" and they said they were really stuck because their composer has pulled out and they needed someone to step in. As soon as they realised I was a composition student, they asked if could send them a sketch over. So I went home, finished something and sent it over. It was very different to what they were expecting but really appreciated how I'd approached it. That collaboration could not have happened if it were not for the facilities at dBs Institute ."
– Louis Marcell, BA Music Composition for Film & TV Student
Having a space to work on music with other people will also help you with your professional development. Learning how to operate a mixing desk is all well and good, but if you want to build a career in studio-based production, people and project management skills are essential. Booking in some time to record a band for example is a great way to get a sense of the urgency involved in running a studio session and sharpen your skills. You will need to make sure everything is set up quickly and efficiently so you can maximise recording time. All the while you'll need to practice communicating clearly with the artists to ensure you get the best performance from them.
5. Build healthy boundaries between home and work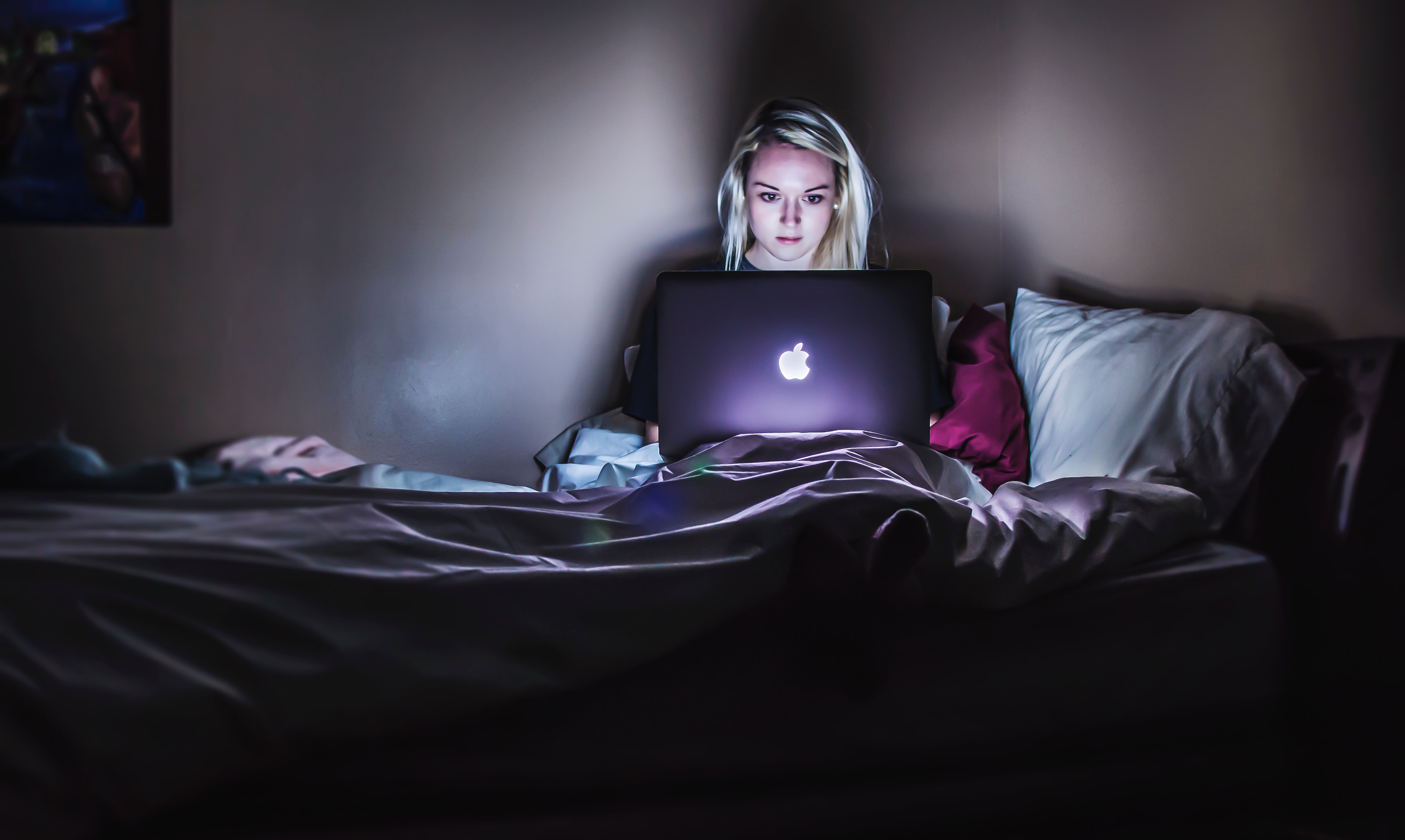 No matter how passionate you are about marking music, work-life balance is important. When your living space and music studio blur into one, it can be very difficult to stick to a healthy number of hours and switch off from work. This can not only lead to burn-out but it can also make you less productive. By comparison, there's something about being in a 'studio' that focuses the mind on the task at hand, whether that's creating, recording, mixing, or mastering.
"I've got a home studio and I've got some pieces of audio equipment in my bedroom as well, but going somewhere else to work gives you a different perspective on how to use that space. If you're working in your house all the time, you can go make a cup of tea and then you can go sit in the garden and chat with your housemate. Next thing you know, it's the next day. But if you know you're going into the studio for three hours, and then you've got two hours in the next room afterwards, you have to be like "Okay, right. What am I going to do in that time?"
– Jacob Zoob, MA Innovation in Sound Student
Having a separate space to work on your music can also have a positive impact on your relationships. In the studio, you're not at risk of being disturbed by family members or housemates, who may not understand the seriousness of what you're doing, if you're sitting on Ableton on the sofa. They'll also thank you for reserving the louder aspects of your work for a room that is sufficiently sound-proofed!
Want to find out more about our fantastic facilities? Book a tour today.
---