---
We chat with dBs graduate and newly appointed Marketing Assistant at Void Acoustics, Sacha about her industry experience and mission to market audio products beyond the gender binary.
---
Building a career in the audio industry can mean many different things. Musicians and producers are just one piece of a much bigger puzzle that includes technical, creative, educational and even therapeutic roles. For Audio and Music Technology graduate Sacha Hodges, it was the business side of audio that appealed the most, so we couldn't have been happier when we heard of her joining sound-system giants, Void Acoustic as their new Marketing Assistant. Two months into her new job, we sat down with her to find out more about the role, her experience overcoming impostor syndrome and what role marketing can play in creating a more gender-inclusive music scene.
Congratulations on landing the role at Void! How is it all going so far?
"Thank you very much! Honestly... it's been a fairly surreal experience so far. I never anticipated finding a role that feels like a perfect fit for both my educational background and personal skill set. As with any new role, it took a month or two to really settle in, learn the product range and familiarise myself with the company's goals and values - but I feel I'm now in a position where I can take ownership of my position within the company."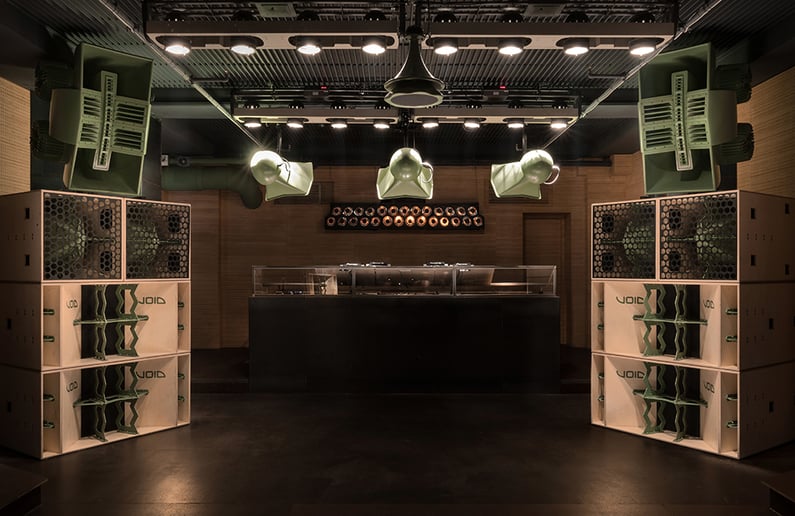 Void is renowned for its epic sound-systems, like this one at Blitz Nightclub in Munich
Can you tell us a bit more about the series of events that led to you securing the position?
"Of course! Mine was not the 'typical' job application experience, and really highlights the importance of networking - especially within such a socially led industry.
"I was originally working alongside promoters in the city, running the marketing campaigns for national event tours. Unfortunately, this was suddenly halted by the pandemic and I found myself looking for work and picking up freelance opportunities. This led to me volunteering my marketing skills to Run Tingz TV, a record label and recording studio, turned production and live-stream studio in Bristol. They are partners of Void Acoustics, and so I was introduced to Void officially through them.
"When it came to the time for Void to expand, I was recommended for the role by the Creative Director at Six Seventy Media, and subsequently contacted by Void's Marketing Manager, Amy... and the rest is history."
When did you first become interested in the marketing side of audio?
"I don't think I would be able to pinpoint a specific point in time, although I feel it's more an overall interest in the business side of the music industry as opposed to specifically the marketing side of audio.
"My previous work experience has seen me positioned in a lot of sales-based roles, and so I feel I have a strong pre-existing understanding of people, an ability to connect with others and to understand what makes them tick. And although I was good at what I did - I never wanted to work in sales. My passion was always music.
"While I was studying, some of my part-time work included freelance jobs as a content creator and marketing assistant for Bristol promoters - which I really enjoyed. In addition, I was able to attend the events and embrace a hands-on approach, something that appeals to my work ethic. Once I had graduated, I felt the best thing for me to do was keep offering out my freelance marketing services and explore this wonderful career path that I had stumbled upon; which has led me to where I am now."
Do you have anything specific you're hoping to achieve in your new role?
"Yes – there has been a development of skills that I hadn't anticipated using initially, which has reminded me of the importance of self-development; whether that's from an educational or interpersonal perspective. Void has been incredibly supportive so far, offering the chance for me to develop my professional skills within the role through additional qualifications, internal or external training and more.
"I was taught the importance of collaboration at dBs and it's a topic I'm going to continue to explore with Void. We have the chance to collaborate with some amazing individuals from their respective fields, and I plan to utilise both the existing network Void has as well as expanding it. We also have the chance to offer a platform and support for fresh talent and give them the recognition they deserve but may not have had access to in the past."
Audio is still a very male-dominated industry. Do you think marketing has the potential to inspire more women to pursue careers in this field?
"It is a very male-dominated industry, and to answer in short - yes I think marketing has the potential to inspire anyone who is interested to pursue a career in the field. It's about changing attitudes from an early age. I was recently reading an article from Mondo Dr about how the first female technical product designer/ engineer for an audio company believes interventions are needed as early as childhood, within the development stages. There is still an existing culture of "pink jobs" and "blue jobs", aka toys that are built for girls, and toys that are built for boys. I wouldn't be surprised if the gender balance took a generation or two to catch up to modern times, as we first need to see institutional changes to the way that jobs are perceived and pushed from educational bodies.
"Perhaps some females still feel an element of impostor syndrome when entering this male-dominated industry, or perhaps not - but personally that is something that I experienced. Fortunately, social media marketing offers a unique opportunity and chance to alter the perception or image of a sound engineer, tech, producer, DJ, etc. Personally, I have noticed a positive increase in the number of female DJs being described as up-and-coming by major dance labels, brands and other entities.
"The importance of role models and having someone to aspire to is fundamental for creating that initial interest amongst females. Through marketing, we can search for and identify the women who are making ground-breaking movements in their field and give them a platform that they deserve. Void as a company are very forward-thinking; they're all about a love for music that shouldn't be limited by gender.
"The role of marketing in its essence is to make whatever you're selling look good. Fortunately, with Void, in addition to selling loudspeakers and sound systems, we're also selling a lifestyle and a love for music. We get a higher amount of engagement from people around the globe who work within the industry or aspire to do so, than we do from say the home-audio markets, and while the gap is slowly changing, unfortunately, a large majority of those people are male."
What does/could gender-inclusive marketing in the audio industry look like?
"More inclusive social media is a starting point. The audio industry's social media platforms have very close ties with the nighttime events and festivals sectors, due to promotional gains. Positively, we have seen a spike in demand for more inclusive and gender-balanced lineups. An initial starting point is supporting this movement by assisting in providing platforms for female artists, DJs and performers.
"There's also work to be done behind the scenes, and the question needs to be asked - why aren't more women working in audio? For example, women in 2019 made up just 5-7% of audio engineers and producers and I believe that there's an opportunity to change that, starting with educational institutions. We're currently working on a marketing campaign which will aim to spotlight females within the audio sector, with aims to launch the campaign towards the end of the year."
Do you think there is a need to market audio products (or the industry in general) specifically to women or should marketers be more gender fluid in their approach?
"I think it should be gender fluid in approach - I personally would never create content that is gender-targeted, as it assists with creating a divide. Although the target market for most audio companies generally tends to be males aged 30 and above, which is based on existing data of previous sales."
What have your personal experiences as a woman in a male-dominated industry been like?
"Luckily, I don't feel I have ever been discriminated against because of my gender; although more often than not I'm the only female in the room. I mentioned earlier that I have personally experienced impostor syndrome, where I didn't feel as competent as others may have perceived me to be. The only way that I've found so far to avoid experiencing this sensation, is by asking questions when I don't understand something. More often than not, I do understand - and this reminds me that I'm not an impostor - and the things I don't understand, I then learn about. So it's a win, win either way."
What message would you give to aspiring female audio professionals?
"Encourage the people around you, especially women! Never turn down a chance for collaboration, it will help you develop your ability to work with others. Don't be afraid to ask questions. Don't be afraid to get things wrong. Don't be scared if your career doesn't follow a traditional route, success in this industry is all about networking."
READ MORE:
How one dBs alumni is using sound as a tool for social empowerment
Meet the student helping people with IBD find a voice through music
Investigating the under-representation of women in game audio
Before joining Void, Sacha completed a two-year foundation degree in Audio and Music Technology, followed by our BA (Hons) Top Up Year. If you're interested in these pathways you can contact our admissions team to request more information.
---