Want to gain on-the-job experience alongside your degree? Discover dBs Pro, the creative audio company with student involvement at its core.
---
When it comes to building a career in the audio and music industries, a qualification alone is rarely enough to guarantee success. Industry connections and commercial experience are often just as important as formal education, which is why in 2017, dBs set up its own creative audio company. Based in Bristol and run by dBs alumnus Jay Auborn, dBs Pro provides students with regular opportunities to service clients on real-world commercial recording and creative audio projects. Three years on, we caught up with Jay to get the full story behind dBs Pro and hear how far the company has come.
The early days
Although dBs Pro was only formally founded in 2017, dBs has always had a real-world arm. "Back in the early days, when dBs was based purely in Plymouth, we used to have a commercial recording studio in the building," Jay tells me. "This gave students opportunities to work on real-world projects from time to time and kept us in contact with the needs of the commercial world. For example, way back when everyone started using ProTools, we realised this because all our clients were wanting us to use ProTools too, so we were able to bring that into our teaching."
That was back when dBs specialised in music production and sound engineering, but as the institute diversified into other areas, it became clear that a more general creative audio company was needed. "We were recording a lot of albums and producing stuff for bands, but we were also being asked to do electronic music, sound art installations, film scores, spatial sound for apps. In order to accommodate that diversity, we made the decision to reformat the commercial studio into a dBs Pro.
Putting profits back into the community
In line with the diverse nature of the briefs dBs Pro was taking on, the decision was taken to move the company to Bristol and run it, at least to begin with, as a portable set up. "We set it up to run as a non-profit arm in that everything we earn over a target, which basically goes towards our overhead expenses, gets reinvested back into dBs Pro. We started a laptop, a sound card and a little room on the first floor of the St Thomas Street centre and over time from the money we've made we've been able to build our own space."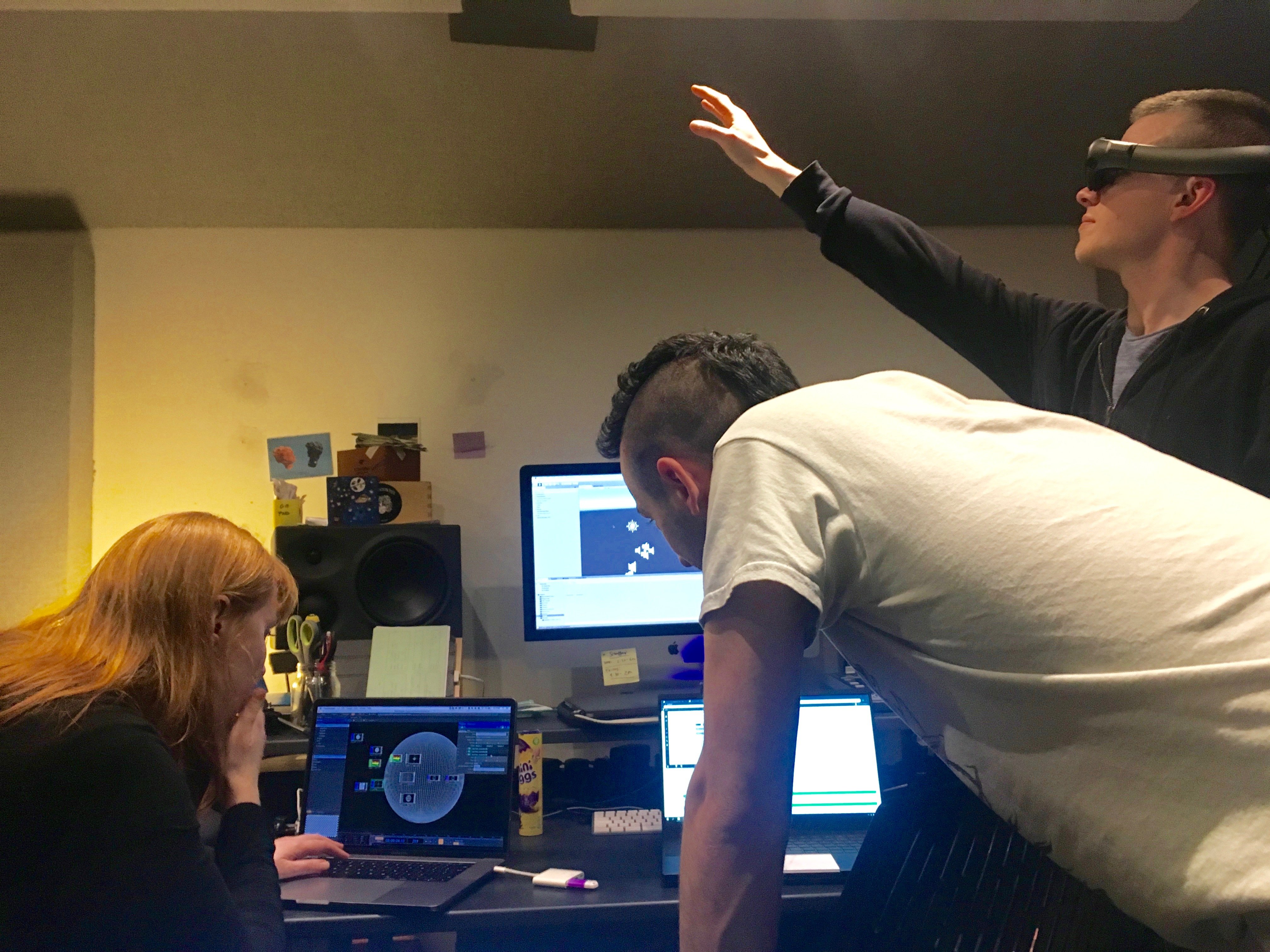 Humble beginnings – the first dBs Pro studio
"It's really beneficial for the students to be able to see money they've helped to earn going back into the development of dBs Pro. One of the first things we bought when we'd made some money were our own microphones, and when they arrived the students were there and opened the boxes.So there's a sense of ownership and community around it. Sometimes a student will ask to borrow the mics or other piece we have over the weekend, so they kind of get special privileges for their contributions."
"Also, if students are interested in the backend of the company, all the budgets and spreadsheets are there for them to look at and learn from. They can see where the money comes in and where it goes. They get an open book essentially."
A room with a vibe
Completed in February 2020, the dBs Pro studio is designed to feel more like a writing studio than a purely technical audio production space. "Although technically it's kitted out really well, it has more energy in the room than perhaps you'd have in a conventional control room. There are two rooms that are used flexibly and interchangeably. You can record in either. Nothing is fixed which is supposed to reflect the diversity of what we do. It's more like an art studio or a home studio. We wanted it to feel relaxed or like it had a vibe rather than it just being about high end equipment."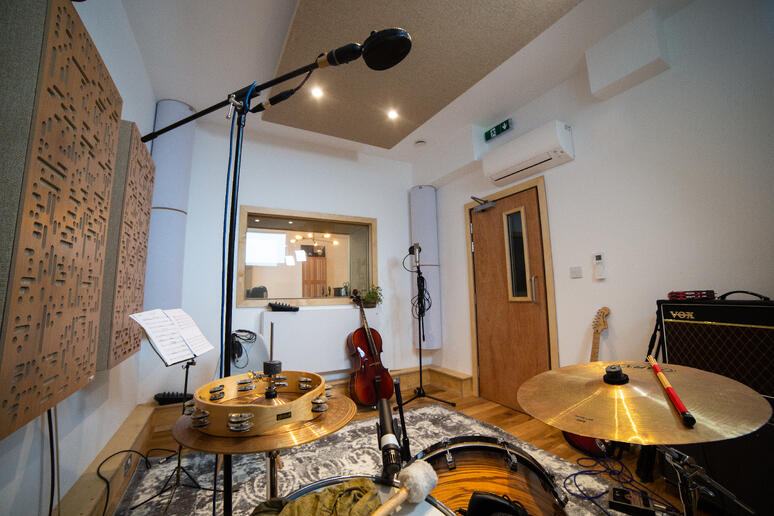 The newly built dBs Pro Studio at the top of St Thomas
A studio run by students
For every brief that dBs Pro takes on, dBs students are given roles to fulfil for the entirety of the project. "If we were recording a band for example, I would need an assistant sound engineer, maybe a sound engineer and an assistant producer. So I would send out an email to students inviting them to apply, and then at the end of it they get credited in full on the work." Not only are these projects a CV boost and great opportunity to learn on the job, but they also help students to foster industry connections that might help their career later down the line. As all projects are real-world commissions, students are also often paid if they contribute original creative material.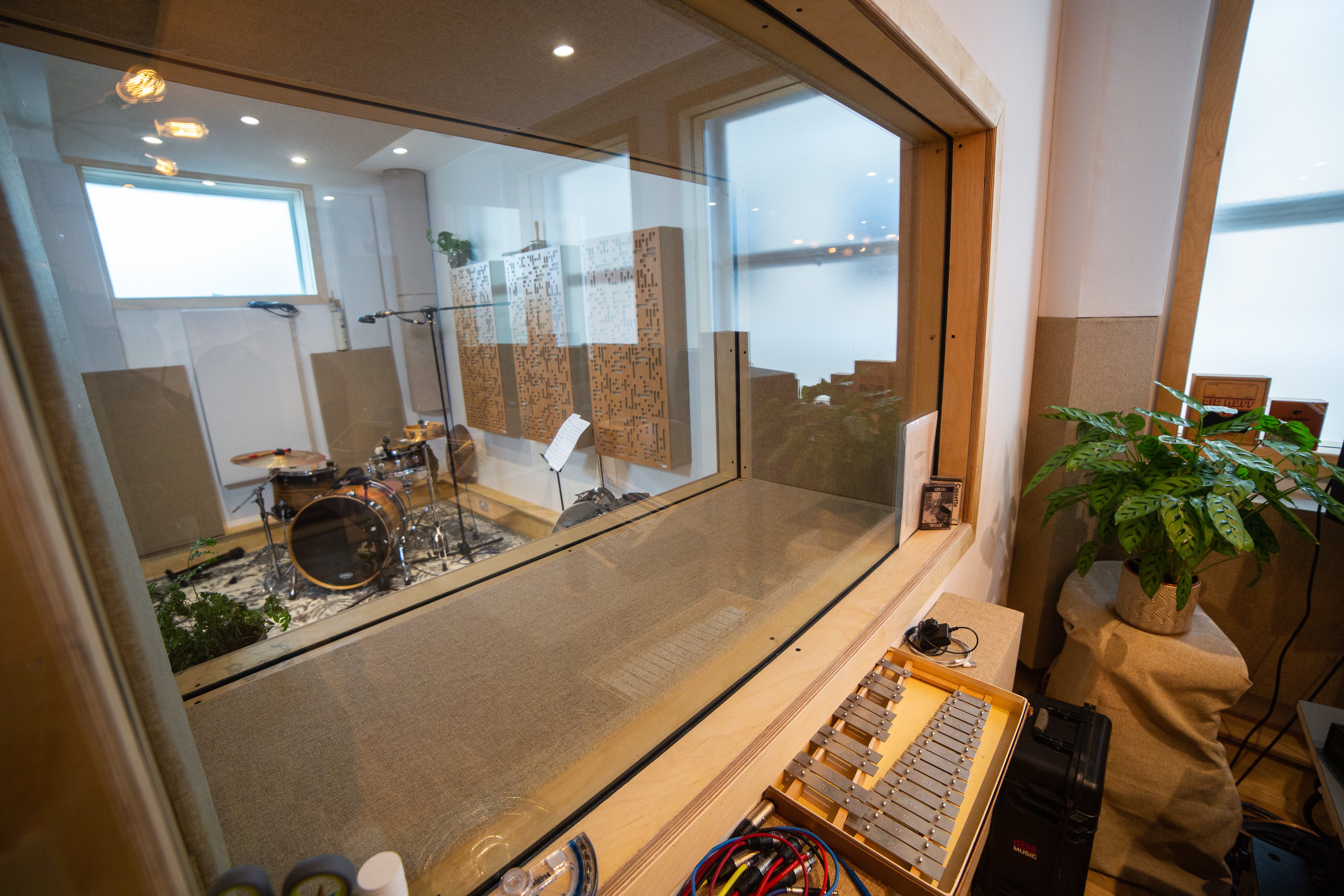 In addition to assigning specific roles to students on a project by project basis, dBs Pro also takes on a small team of interns, who work for the company one-day-per-week for a whole year. These interns help dBs Pro search out and secure commissions and, if they are considered qualified, are given first refusal to work on the commissions when they come in.
High-profile projects
The projects that have passed through dBs Pro over the past three years are numerous and diverse, ranging from recording, mixing and producing albums to scoring feature films for Sony Entertainment. When asked for his personal highlights, Jay said: "One has to be recording the soundscape for The Rime of the Ancient Mariner Big Read, for which we took sail on a 19th century Pilot Cutter to capture various sonic at sea conditions. The students worked alongside dBs Pro's team in an extremely challenging recording environment unlike anything you would experience in a recording studio. The project now has over 1.7 million views!"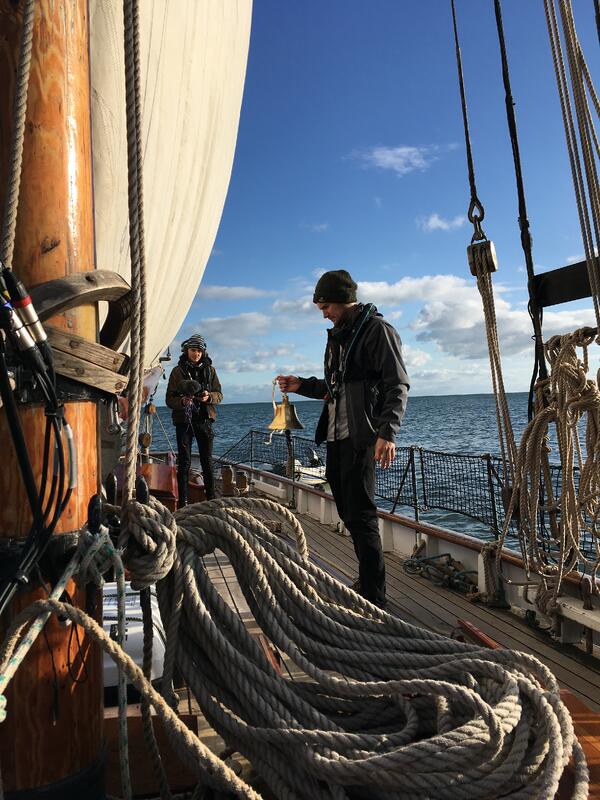 Recording at sea for The Ancient Mariner Big Read
"Another highlight was producing the original music and sound design for an A.I comic book series. Our student Máté Moldován was asked to take the lead working with the client, Charisma A.I to integrate our music and audio into their A.I system. With a very tight turnaround, he had to work extremely quickly to learn their system, build a trusting working relationship and overcome many challenges. These are the kind of real-world experiences it's extremely difficult to teach and prepare students for, so by bringing the real thing to them we are equipping them for what will meet them as they finish their studies."
Student successes
As a result of getting involved with opportunities like these, many students have gone on to pursue successful careers in their chosen fields. "One of our students, Suvi who worked on the film score we did for a movie called In the Cloud has since landed a job working with Geoff Barrow and the Invada guys."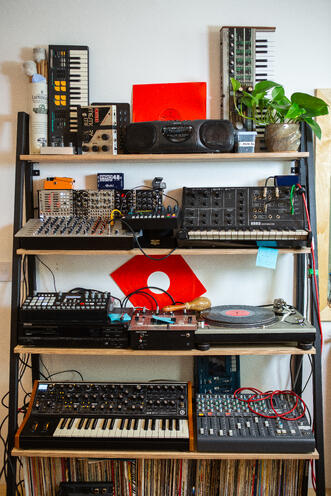 "Other students have continued to work with us on a freelance basis. Giorgio Cortiana, who was a brilliant sound engineering student, started helping out on some of our very first projects and has since become such a vital part of the company we continue to get him involved in projects. He's now working with the likes of Mushroom from Massive Attack (1998)."
What's next?
In a tragic case of timing, the new dBs Pro studio opened its doors just two weeks before the outbreak of the COVID-19 pandemic. However, as life slowly starts to return to normal, the good news is that plans are in place to resume student involvement. "During lockdown we were mainly finishing projects. It was difficult to give students much experience, but we did what we could remotely and starting this week we're going to be getting our interns back in the studio. We've all done COVID-19 training, and we'll have to minimise the amount of people we can have in the studio at one time, but we're back in the building and have a lot of exciting projects in the works."


Want the opportunity to work on real-world projects with dBs Pro? Consider studying with dBs Music. We offer BAs in Music Production and Sound Engineering, Electronic Music Production, Live Sound, Composition for Film and TV and more.
---