The plugin world is dominated by virtual synths, so to help break through the noise, here are 8 of our favourite free synth plugins that can be used for bespoke sound design or as the lead instrument in your next composition.
1. Vital - Matt Tytel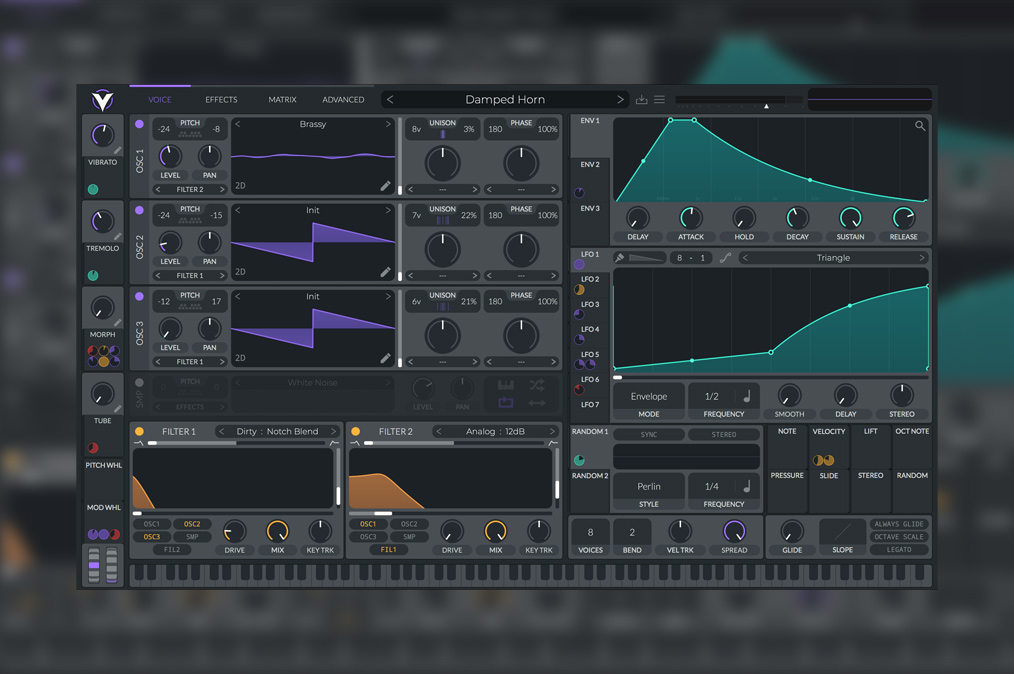 Packaged with 75 presets and 25 wavetables to work with, Vital had us grinning from the start. Sporting a visual UI that's not dissimilar to Serum's, the workflow is really intuitive though it can seem quite intimidating if you're a beginner to this sort of thing, but trust us; you'll get the hang of it.
There are so many features to cover, so we're going to give a brief overview of the functionality on offer here. The controls and FX are spread across five individual screens; voices, effects, matrix, advanced and the preset menu. Each of the 25 presets can be manipulated using Vital's bank of oscillators, envelopes and LFOs. FX are predetermined per preset, but can be edited, removed or added to.
Whether you're looking for an incredibly versatile synthesiser to form the bedrock of a track, or an insanely fun sound design tool, we really can't recommend this plugin more.
Vital is compatible with Windows, macOS and Linux (VST, VST3, AU, and LV2 / 64-bit).
2. Tyrell N6 - u-he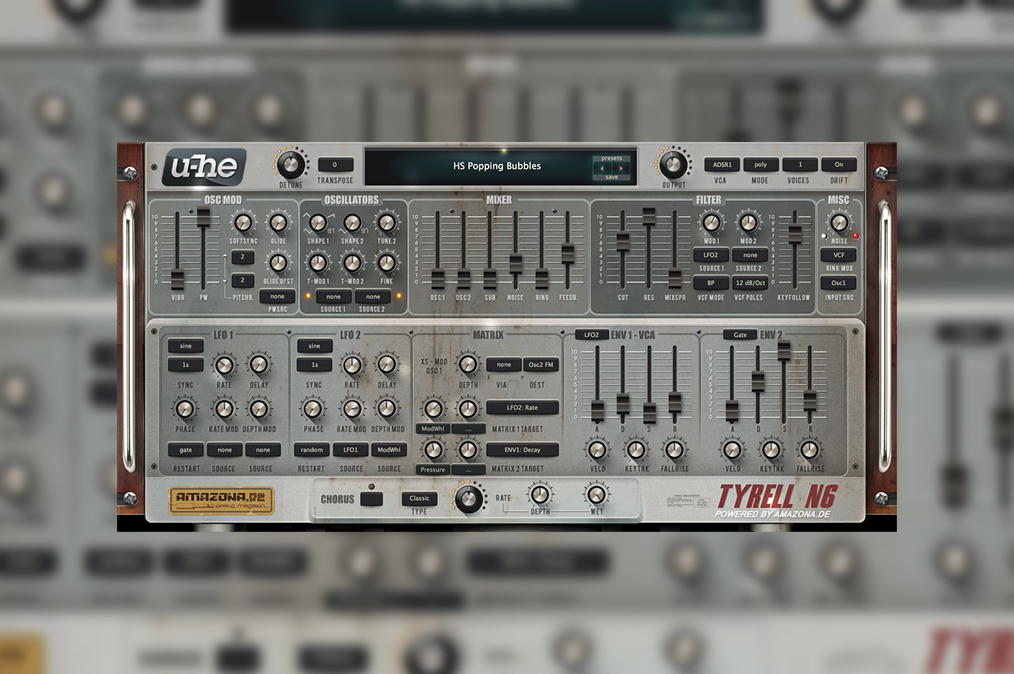 It's impossible to search for a free software synth and come up empty handed, yet unlike many of its counterparts the u-he Tyrell N6 has not only stood tall over the years.
What you have to play with is a virtual analogue synth with a similar design to the Roland Juno 60 that's armed with two oscillators, noise generator, ring modulator and two LFOs to broaden your sonic palette. There's also close to 600 presets and the ability to skin the UI to your preference.
Tyrell N6 is compatible with Windows, macOS and Linux (AU, AAX, VST2 32/64-bit).
3. Surge XT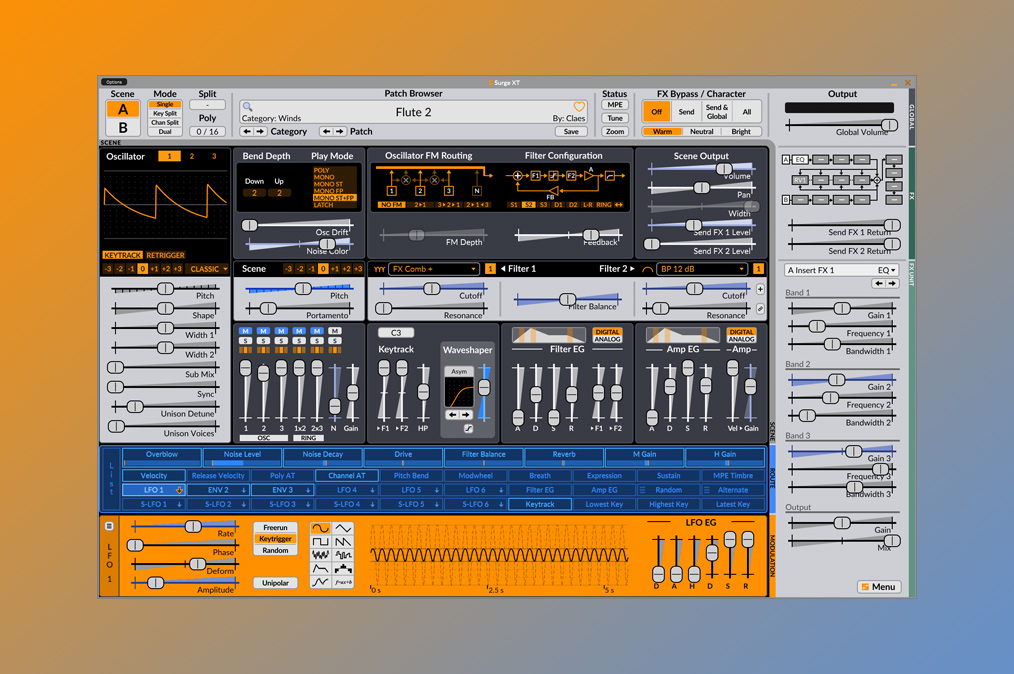 Even at its inception, Surge was a great tool especially for sound design; it's easy-to-use UI hiding a complex and versatile synth. With the arrival of XT 1.0 back in 2022, the biggest change is the move to using JUCE as the plugins framework. JUCE is the leading audio plugin development tool, and as such, Surge is now much more stable and developers have a wider toolset for further improvements.
Feature-wise, Surge XT now includes an improved Modulation section, expanded FX, 43 waveshapers instead of 5, new filters, screen reader accessibility, patch search, favourites and greater inclusion of drag-and-drop functionality.
If you've never tried out Surge before there's been a better time to try it out.
Surge XT is compatible with Windows, macOS and Linux (VST3, AU, LV2, 64-bit).
4. Pendulate - Newfangled Audio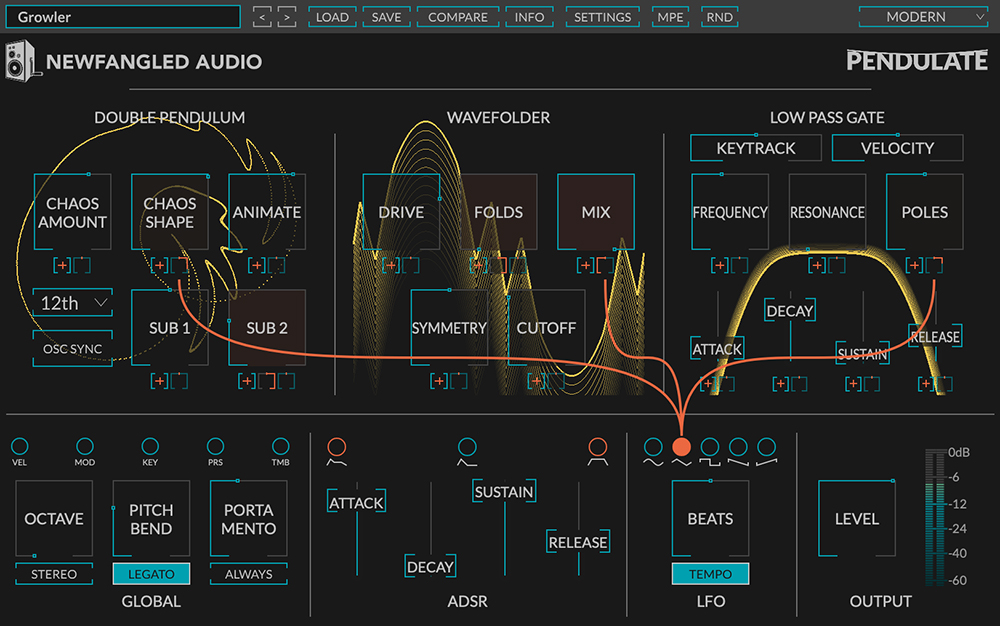 Described as a chaotic monosynth by its developers Newfangled Audio, Pendulate revels in creating biting basses, searing leads and gritty textures. If you're interested in creating less in-your-face sounds, you will find Pendulate more than capable, but it's true calling is to create sounds that will grab you by the throat.
Load up Pendulate in your DAW and you'll be greeted by its control-rich UI. Sound creation is mainly handled by it's three lead modules: oscillator, wavefolder and gate, whose inspiration we're told comes from the legendary synth designer Don Buchla, and more specifically the Buchla 259's wavefolder generator and low-pass gate module.
It's here that you can begin creating sounds from scratch and once you get past the plugin's slightly confusing oscillator setup, sound creation never stops being fun - especially when you're going for it on the chaos and animate controls.
Pendulate is compatible with Windows and macOS (32-bit, 64-bit, VST/VST3/AU/AAX).
5. VCV Rack 2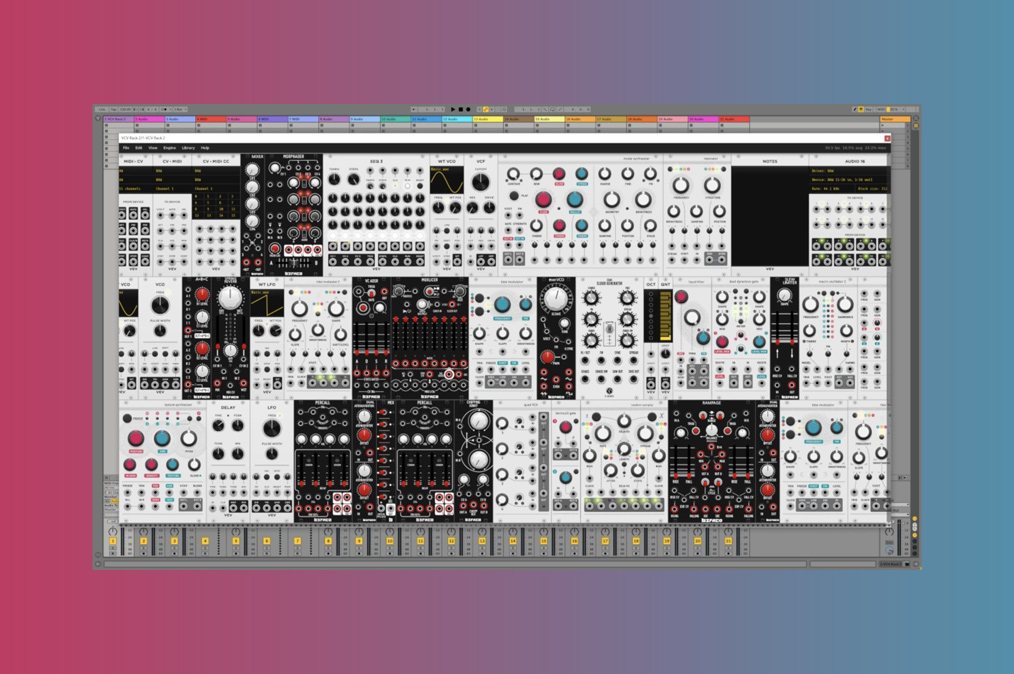 VCV Rack 2 is one of the best entry points to the world of modular synthesis for beginners, thanks not only to it being free, but its open-source foundations and quantity of module options. Having received a long-awaited update at the end of 2021, Rack 2 packs in quality of life improvements such as a new night mode to a redesigned UI and enhanced module browser; it's everything we loved about VCV Rack but better.

The free version comes with a pre-created selection of modules, but create an account with VCV and you can access the 1500+ free modules in the VCV Library, and start building out your own setup. If you've yet to try out VCV Rack and are looking for an inexpensive and highly-intuitive entrance to the world of modular, then the free standalone app will be all you need and more.
VCV Rack 2 is compatible with Windows, macOS and Linux.
6. Dexed - Digital Suburban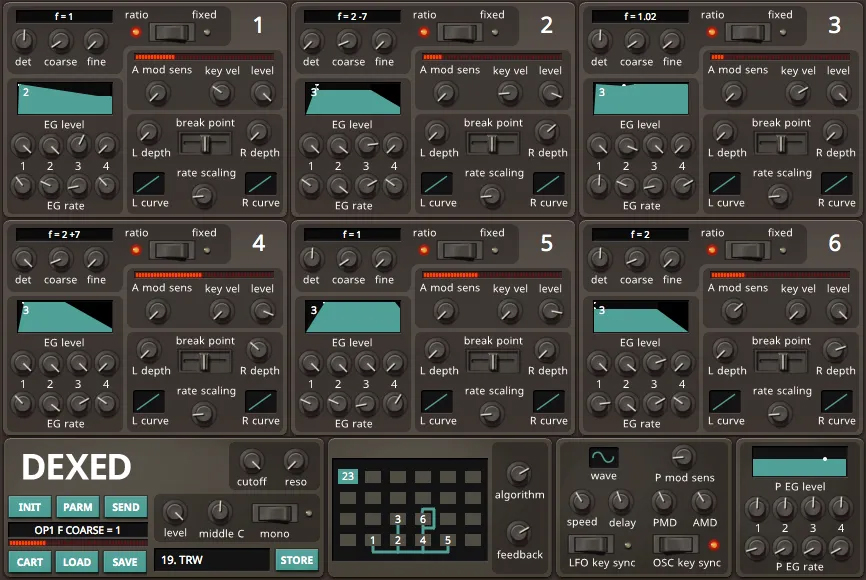 FM synthesis can be a nightmare to get your head around and is not for the faint hearted, but if you're up for the challenge then Dexed may be just right for you. Based on the Yamaha DX7, Dexed has all the features that are found on a DX7 and while it may not be the easiest plugin to look at it sounds brilliant.
You can create all the classic FM sounds from bells and strings to punchy basslines. While some of the sounds are very 80s (that may be what you're looking for), it is very easy to create big ambient pads and beautiful lead sounds and will be a good addition to your collection.
Dexed is compatible with Windows, macOS and Linux (AU, VST, LV2).
7. OB-Xd- discoDSP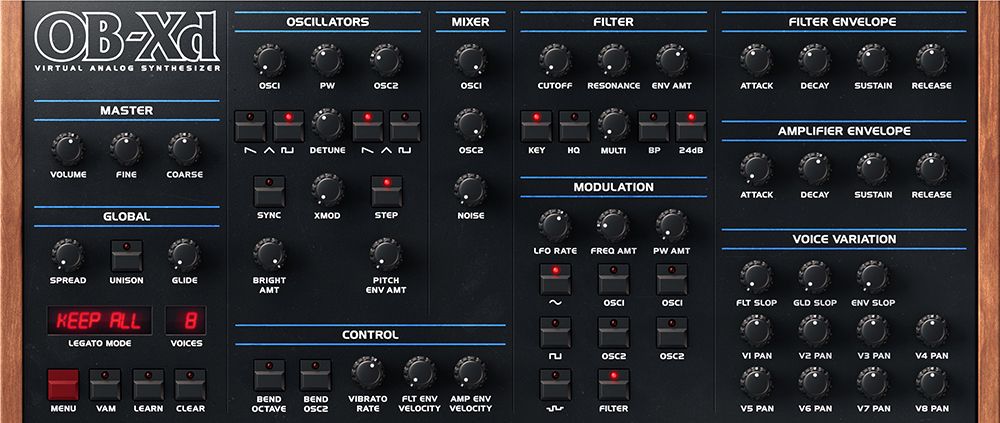 Continuing in the same vein as Dexed, the OB-Xd takes inspiration from a selection of classic analog synths, emulating the Oberheim OB-X, OB-Xa, and OB-8. Less of an attempt to faithfully recreate these synths, OB-Xd captures that vintage synth sound and brings with it some nice features not found in the hardware models, such as micro random detuning.
Equally suitable for sound design or adding a vintage flair to a track, OB-Xd is insanely good value. You can make an optional donation of $49 if you want to support the developer, too.
OB-Xd is compatible with Windows, macOS and Linux (AAX, AU, VST, LV2) and runs as a standalone app or plugin within your DAW.
8. Serenity - QuietMusic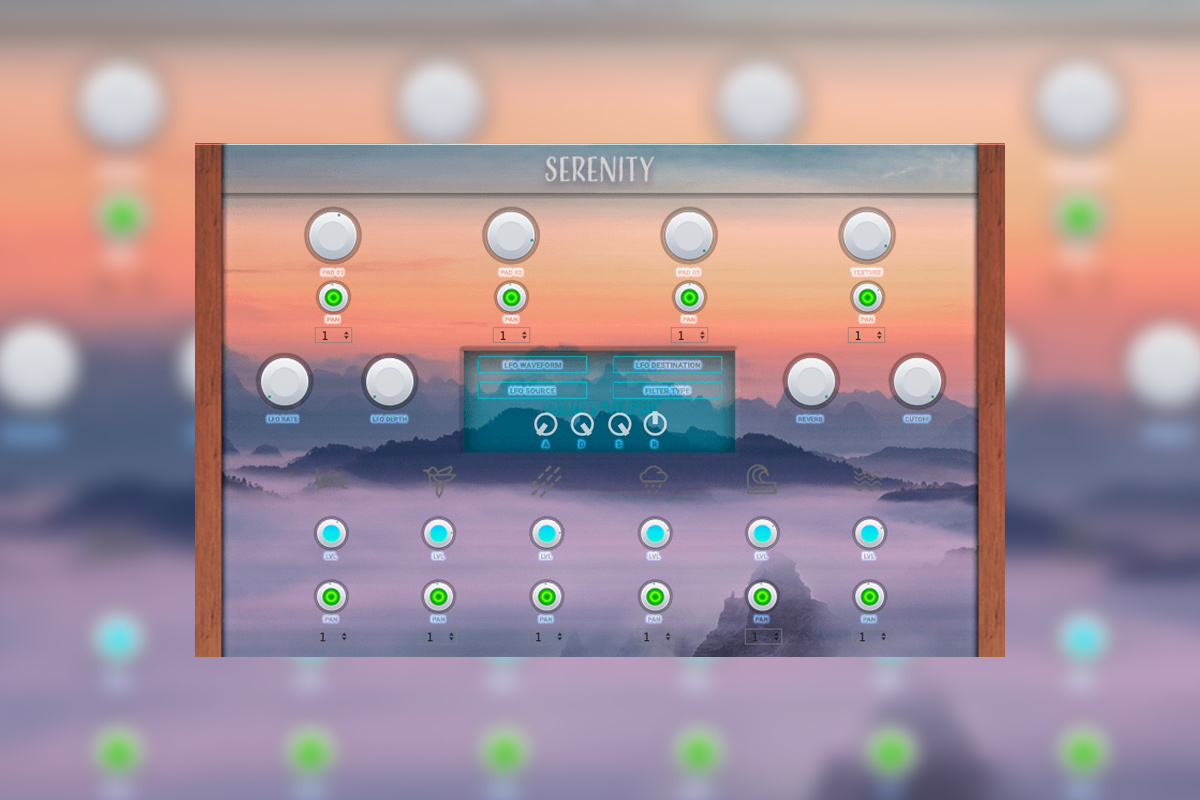 Our final recommendation is a little bit different. Aimed initially at creating more meditative and peaceful tracks, Serenity blends together sounds recorded from Deepmind and field recordings. Made up of 10 layers; 4 layers of pad sounds and 6 high-quality field recordings, Serenity lends itself perfectly to ambient music or more minimal cinematic composition.
There's a surprising amount of control for shaping the sounds produced by Serenity, ranging from Low Pass / High Pass filters, LFO controls, reverb and ADSR. In our time using this synth we quickly found sparks of inspiration from the sounds on offer. While predominantly meant for peaceful compositions, the lower register notes created some excellent dark and moody tones that can add body amongst other instruments.
Serenity is compatible with Windows and macOS (32 / 64-bit, VST/VST3/AU).
FIND OUT MORE
8 free experimental plugins
7 unbeatable free drum plugins
9 fantastic free plugins for mixing and mastering
7 essential free plugins for guitarists
How to get started in music production without spending any money
---
Looking for more free software? Check out all our archive of free plugins, instruments and effects