We introduce you to some excellent free options to get yourself started in music production without having to worry about the cost.
**Updated on 12th December, 2022**
Let's start with the obvious: music production requires financial investment, especially if you start taking it seriously. Once you discover the sound you want to produce, it becomes a constant struggle of saving and acquiring new equipment to achieve this goal; but dipping your toes in at the very beginning doesn't have to cost the earth.

One of the best ways to mitigate this is to study at an institute like dBs and get access to all our equipment for free and learn from our experienced teaching team. However, if you're not quite ready for that, there are a range of free resources that you can take advantage of.

To make the most of these resources, all you need is a laptop or desktop computer, an internet connection and a pair of headphones. While it's not going to stand up to an expensive, more robust studio setup, these are the essentials for your first forays into production.

Before we dive in, there's going to be a few terms we use regularly that may seem alien, so we're going to list them below along with their definition so you don't feel lost:


Digital Audio Workstation (DAW) - an application used for recording, editing and producing audio files.


Plugins - software that digitally recreates either a hardware instrument (synth, drum machine) or a hardware effect (compression, EQ, delay).


VST (Virtual Studio Technology) - a software interface that integrates plugin instruments and effects into a digital audio workstation.


MIDI (Musical Instrument Digital Interface) - a digital language that allows you to connect your computer with musical instruments and other time-based media.


MIDI Controller - a hardware tool that allows you to trigger sounds within your digital audio workstation such as a keyboard or launchpad.


Sequencer - a hardware or software tool that records performance data and plays it back in a sequence.
And finally, make sure you've got a substantial amount of free space on your hard drive as the following list, modest though it is, will take up a fair chunk of your storage.
That's all the prep done, so let's get started…
Contents
1. Free Digital Audio Workstations (DAWs)
2. Free software instruments
3. Free plugin effects
Free Digital Audio Workstations (DAWs)
Allowing you to record live instruments, edit and manipulate audio, program beats and control virtual instruments, the Digital Audio Workstation or DAW is the backbone of music creation.
At dBs, you'll be taught using the industry-standard programs such as Logic Pro X, Ableton Live and Pro Tools; each of which comes with a hefty price tag. Fortunately, there are several free options available that will equip you with a lot of transferable skills when you are able to progress to these paid-for options.
Tracktion Waveform Free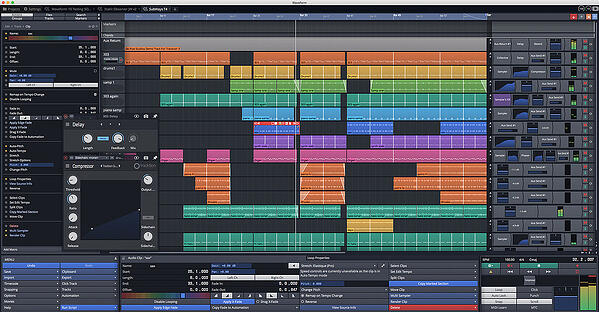 Compatible with: Windows, macOS, Linux, Raspberry Pi
Best suited for: live recordings, electronic music production, podcasting
DOWNLOAD

For many years now, Tracktion has been releasing a free, fully-featured, cross-platform DAW that's compatible across Windows, macOS, Linux and Raspberry Pi. The most recent version, Waveform Free 12, packages everything you need to start learning about production and crafting your own tracks.

Unlike other free or trial DAWs, Waveform Free has unlimited tracks, and benefits from an easy-to-use drag and drop format. It offers full third-party plugin and VST (virtual studio technology) support, which means all the great free plugins and instruments listed below will work within it.

There's a MIDI Pattern Generator to help you build chords, melodies and basslines, a virtual synthesiser that you can control with your keyboard as well as a micro drum sampler, sampler and rompler.

Tracktion also has a bank of easy-to-follow video tutorials separated into genres such as podcasting, EDM and band recordings.

Waveform Free's interface is not that dissimilar from Logic's, and all the techniques and approaches you learn through it will be transferable regardless of which DAW you move onto, making this a fantastic starting point for new producers.
As part of the new updates with Waveform Free 12, you can buy expansions should you want to increase the tool set available for your style of work. There are three to choose from; Recording Engineer and MIDI Producer, which both cost $50 each, and Synth Pack which is $30.

Download Tracktion Waveform Free
AKAI MPC Beats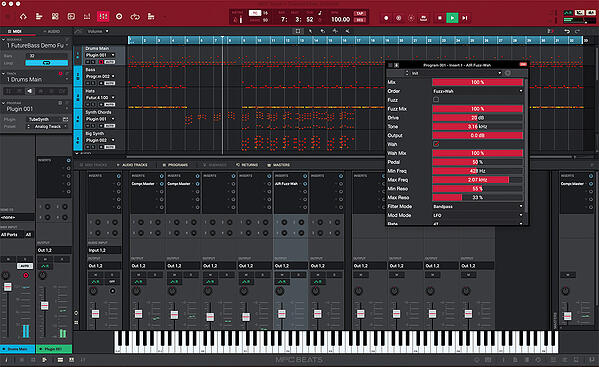 Compatible with: Windows, macOS
Best suited for: Electronic music production, sampling
DOWNLOAD

AKAI are responsible for the widespread use of sampling, which blossomed back in the 1980s. Today, along with an incredible range of hardware options they also have their own free, fully-featured DAW.

This isn't the same as Waveform Free, so there are differences. Being more tailored towards electronic music producers and DJs, there's no live recording functionality here, however you can record using a MIDI controller if you have one. You don't get unlimited tracks, instead you have 8 MIDI tracks, a fully-featured sequencer, 80 effects plugins and a 2GB sound library.

MPC Beats also supports third-party plugins and VSTs like Waveform, but can also be used as a plugin within another DAW.

The MPC Beats Academy channel on YouTube has a selection of video tutorials designed to introduce you to both MPC Beats and how to operate a DAW.

Download AKAI MPC Beats
Pro Tools Intro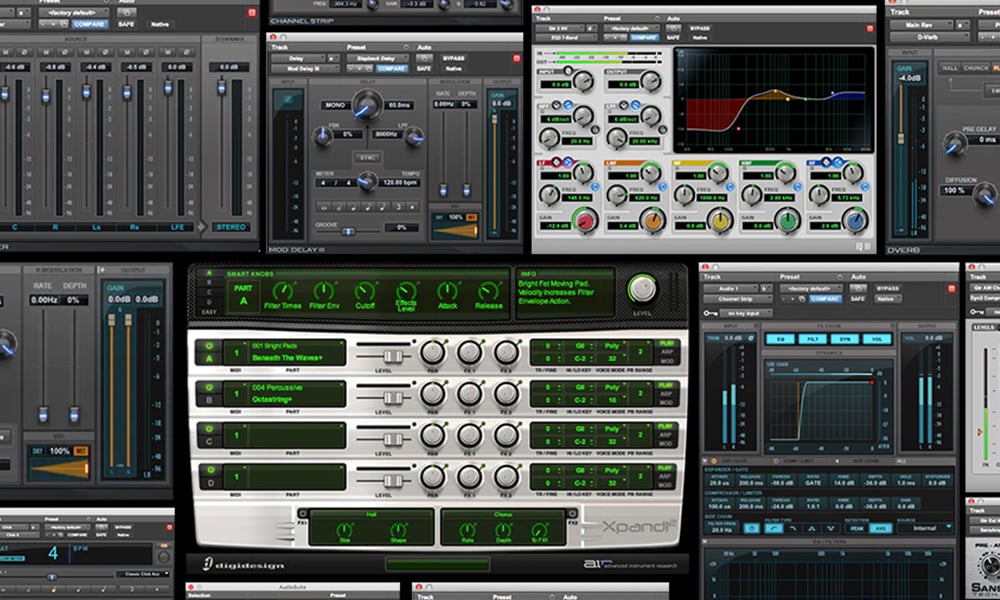 Compatible with: Windows, macOS
Best suited for: Recording, music production
DOWNLOAD

Pro Tools will be a name most of you are familiar with. It's one of the industry-leading softwares used in recording studios around the world and forms a large part of the teaching across many of our degrees at dBs Institute.

With Pro Tools Intro, you have the opportunity to get familiar with this software without needing to purchase a license. Intro features eight audio, eight instrument and eight MIDI tracks, the AIR Xpand!2 multi-timbral virtual instrument, hundreds of loops from Loopmasters, and 34 effects plugins, so there's no shortage of tools at your disposal. AAX plugins are also supported meaning you can download third-party plugins to add to the stock ones, too.

One of the biggest benefits of trying out Pro Tools Intro is becoming familiar with its ecosystem and workflow, given the DAWs prevalence in the audio industry. We know from experience how steep the learning curve can be moving from something like Logic, Live or FL into Pro Tools, so if you're thinking about pursuing audio production in education or professionally, any prior experience will massively help.

Download Pro Tools Intro
Ardour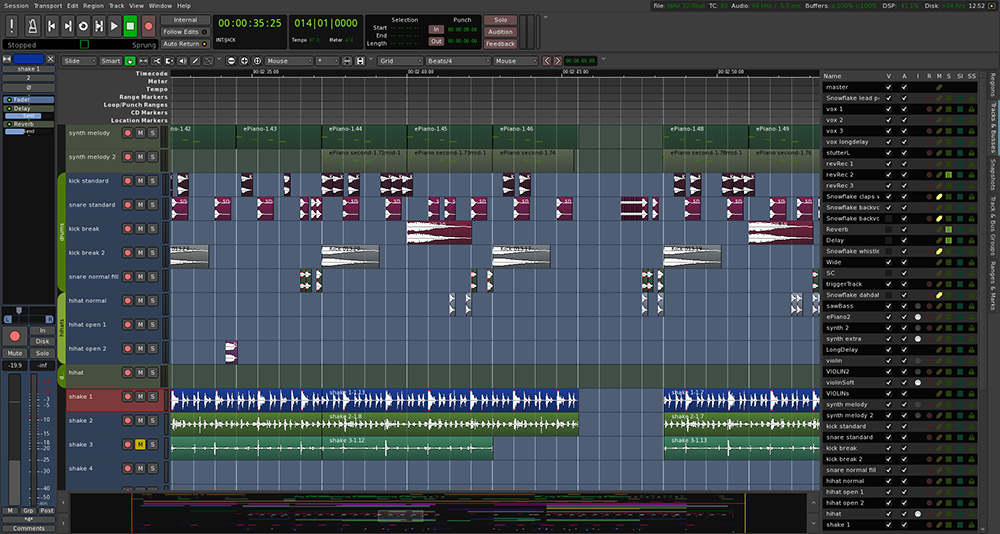 Compatible with: Windows, macOS, Linux
Best suited for: Recording, music production, scoring
Our third and final free DAW is somewhat different. Completely open-source, Ardour has and continues to be developed by a collaborative team dedicated to providing a rich tool set for anyone who needs it.
Freedom is at the core of its design. Track counts are unlimited, as are busses, inserts/sends per track and plugins per track. Regardless of what audio interface you have, as long as your computer supports it, so will Ardour, allowing you to record vocals and instruments straight into the DAW.
Ardour features non-destructive, non-linear editing with unlimited undo/redo, even across editing sessions, so you can reload and undo your changes from last time. It also features a rich tool set for mixing, allowing you to route anything, solo tracks, monitor audio, utilise inline plugin control, pan and automate audio, and create mix groups.
Unlike the previous two DAWs, Ardour features video timeline functionality, so you can import and export video, as well as create and export a soundtrack to the visuals. Ardour is also compatible with AU, VST and LV2 plugin formats.
Free Software Instruments
Software instruments have become incredibly refined over the years and that goes for the free options too. With more free plugins than anyone could ever need we've focussed on some of the more high-quality collections that offer a comprehensive selection of sounds, but don't overwhelm you with choice.
Spitfire Audio LABS and BBC Symphony Orchestra Discover




Spitfire Audio are one of the best names around when it comes to sound libraries and in recent years they've become synonymous with excellent free resources too.
The first of which is LABS, which showcases the experimental side of Spitfire with a steady stream of free instruments to use.
If you're looking for something that's more focussed towards the cinematic side of things, their Symphony Orchestra Discover is an amazing collection of string and brass instruments that can also be downloaded for free.

Download LABS
Download Symphony Orchestra Discover
Native Instruments KOMPLETE Start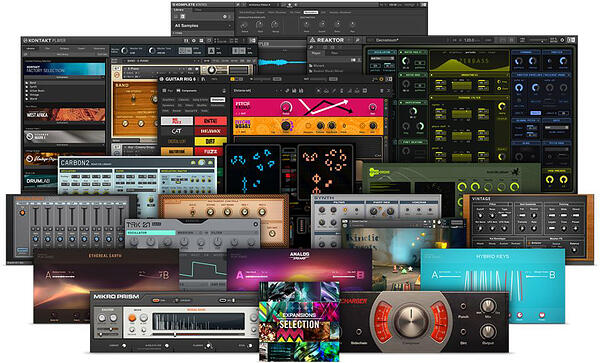 Another collection, but one that's even more comprehensive than Spitfire's offering, KOMPLETE Start is an excellent resource that's tailored to new producers. Packaging the industry-leading Konakt and Reaktor Players, as well as 7 synths, 9 sampled instruments and 2 effects, there's enough here to keep you busy for a long time.

Download Native Instruments KOMPLETE Start
Orchestral Tools SINEfactory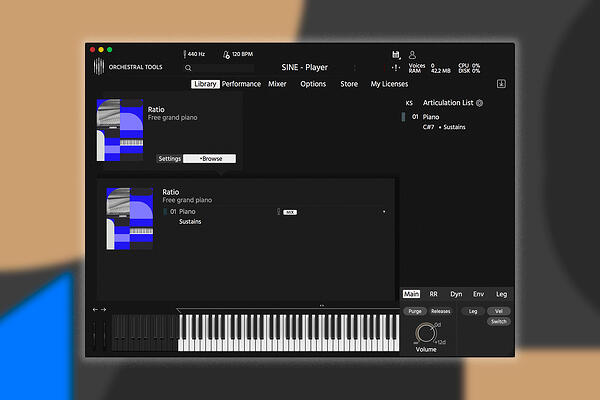 A new free subscription service that will see the release of high-quality instrument libraries. At the time of writing SINEfactory features libraries for 10 different instruments including grand piano, felt piano, jazz flute, acoustic guitar, church organ studio percussion and strings ensemble.

Download SINEfactory
Free Plugin Effects
Both Waveform Free and MPC Beats come equipped with the standard array of effects to be used on your audio and are a great place to start to understand exactly what each does to your sound.

When you reach a point where you want to broaden your selection, the following free options are some of our favourites. Each developer recommended below offers more free plugins that are well worth checking out.
Favourite Reverb: Valhalla DSP Supermassive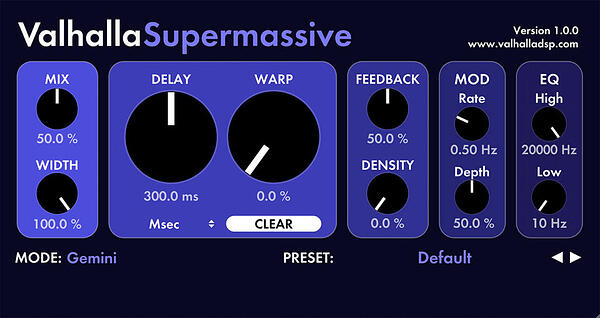 Valhalla has a great reputation for both their paid and free plugins. The Supermassive reverb is aptly named and allows for some wild custom sounds. Perfect for creating atmospheres or ambient backdrops.

Download Valhalla Supermassive
Favourite Compressor: TDR Molotok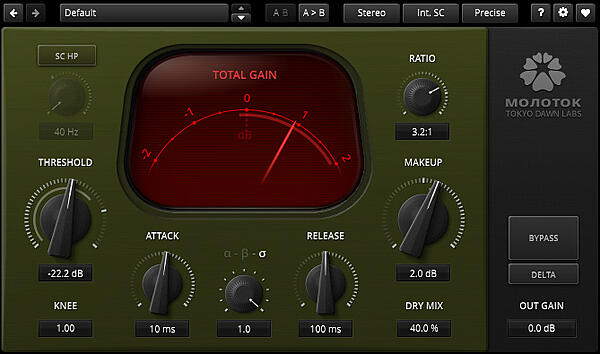 A remake of a classic, the Molotok compressor is an excellent addition to any producer's sonic arsenal. It can be used on a variety of sound sources, but by far the most effective use is on drums and percussion.

Download TDR Molotok
Favourite Delay: Voxengo Tempo Delay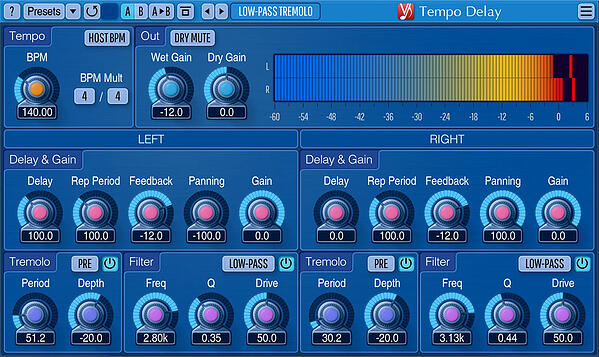 Voxengo's back catalogue of free plugins is definitely one to dive into, but for a first taste we have to recommend the Tempo Delay. Unlike regular ones, Tempo Delay allows you to apply effects to both the left and right channels, and includes tremolo and filter effects too.

Download Voxengo Tempo Delay
Favourite Hardware Emulation: Caelum Audio Tape Cassette 2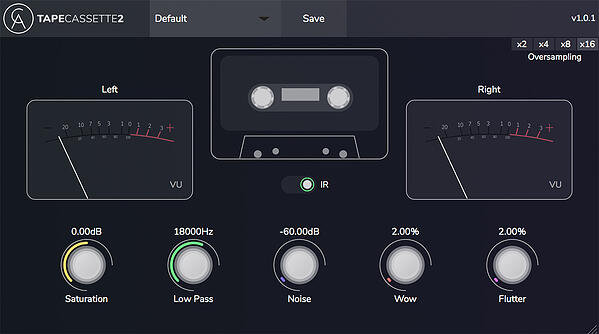 When everything you're using to create with is digital, injecting the essence of a classic analogue effect can breathe new life to your productions. Our current favourite for doing just that is Caelum Audio's Tape Cassette 2 which brings an amazing warmth and saturation to your audio.

Download Caelum Audio Tape Cassette 2
Make some music
And there you have it. We've tried to keep things concise so as not to overwhelm with options, but we hope that these suggestions will provide the perfect starting point for your journey into music production.

Be sure to check the dBs Insider Blog every Friday for our favourite free release of the week and take a look at our archive using the link below to discover a few hard drives worth of other plugins to try out!
FIND OUT MORE:
Free Software Friday archive

---
Thinking of pursuing production at university level? Take a look at our degree courses available in Bristol, Plymouth and Manchester.