Ché Leader (Rivibes) joins us for a special chat about an incredible series of events that have led to him joining The VIP Experience and supporting their mission to raise awareness and improve accessibility for sightless and low vision artists, producers and club-goers in the dance music scene.
Ché joined dBs Plymouth back in 2015 before progressing to study the Sound for Games & Apps degree at dBs Bristol, but just four weeks before his start, he was involved in a car crash that resulted in the loss of vision in his left eye. Multiple surgeries and rehabilitation have helped Ché overcome his loss of sight, yet to this day he finds that his vision will disappear intermittently.

"Sometimes it just goes. I can see light, but nothing else. It's happened when I'm walking down the street, even recently when I was working with a client in the studio, it's terrifying."
In spite of this, Ché has never done anything other than forge ahead and has carved out a multifaceted career for himself. Graduating with first class honours in May 2020, Ché has built a considerable following under the moniker Rivibes, which has seen him collaborate with countless artists in the US and MC stages across the UK and America, and most recently at this year's Boomtown Fair.

For the last year, Ché has also been working as a recording engineer in Dalston's The Blue Studios; producing pop records with a number of up-and-coming artists.

In the last two years, he's done enough to fill several interview features - we know, because we had to edit it all out! - but we wanted to focus on his work in accessibility and the crazy chain of events that led to it.

A sensory experience
It's 2020. The world has yet to realise the scope of Coronavirus. Ché is in his final year at dBs and frantically trying to figure out what to do for his Innovation in Sound project.
"I remember listening to Miles [Warren] talk about the three pillars of sound, about his own work with Pyka, introducing us to these people doing these godly things, and I had no idea how I was going to do that."
One thing, however, was certain; his project would be underpinned by accessibility. "I hadn't really locked in to the accessible audio thing, but I just threw myself into experiments."
What resulted was an immersive 360° aural experience that enabled users to interact with sounds using gestures. Developed in the 8.1 Spatial Audio Lab at dBs Bristol, Ché describes it as "sensory overload".
"I feel like the degree gave me the skills for the accessibility stuff I'm doing. Third year, that was the year that I was like, 'Okay, I don't need to be this game guy' - that doesn't drive me. Losing my vision and going through that hurdle and then getting to my last year was an epiphany. I realised, 'Wow, I can do something tailored to this. I could do something that's really personal."
The project was still a prototype, but it was showcased in an article by Irwin Mitchell as part of National Eye Health Week in 2020, as well as Che's hometown newspaper, the Newham Recorder. Where it gets interesting is how the story continued to get traction.
"Irwin Mitchell got me involved because they thought it would be a good case study, and then somehow Newham Recorder found out about it. But then edm.com published a piece on it, and so did Red Bull - I've never even seen it."
It was this coverage that put Ché on Yvette Chivers' (AKA MissChivers) radar (pictured right).
"I was on my way to London to start this new job at Blue Studios and I'm nervous. I just kept on screaming behind the wheel. I think I'd gotten an email earlier and I left my phone number and I got a call from Yvette. She had picked up on my innovation in sound project and invited me to get involved in The VIP Experience.
"It was mad, literally everything came together. I'd just walked out of my job and was moving to London, and now I'm getting contacted to join VIP and go to ADE to speak about accessibility in music."
The VIP Experience
The VIP Experience is an initiative devised and managed by Yvette and non-profit Sync Inspire CIC. The core team is made up of her, Ché, Tim Adnitt, Andre Louis, Lachi, Question, Ben Price and Richard Jackson.

Their goal? Transforming clubs into accessible venues for sightless and low vision performers and fans alike.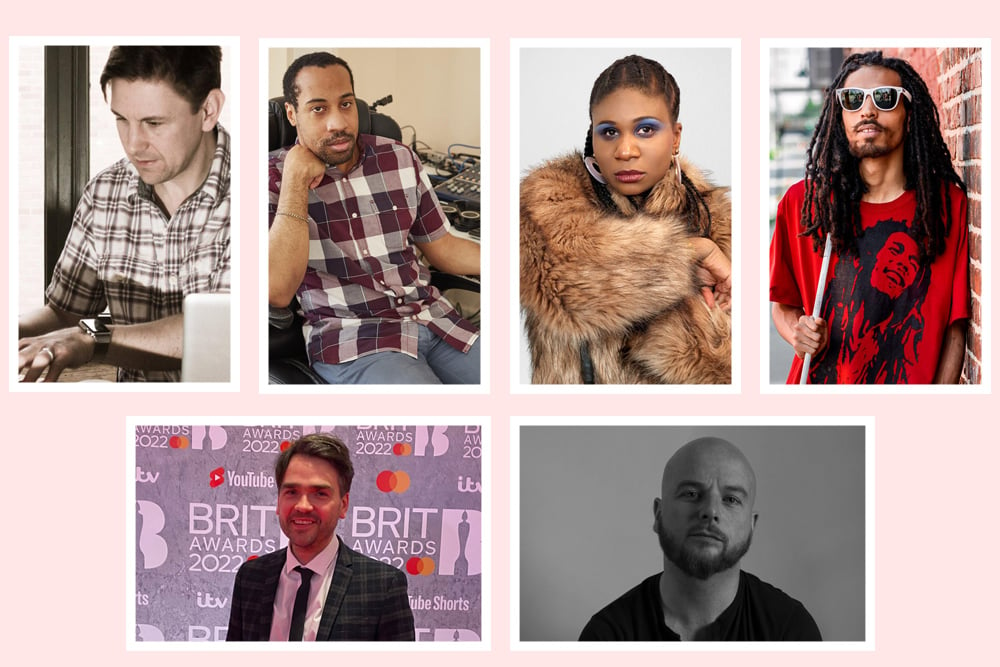 From top left to top right; Tim Adnitt, Andre Louis, Lachi, Question.
From bottom left to bottom right; Ben Price, Richard Jackson
"We're going to renovate clubs into spaces that make small, but effective changes to improve the experience for punters and performers who have low vision or are sightless.

"Little things like a handrail up to the stage; a light with a dimmer switch so performers with low vision can see the decks; a VIP corner where people can feel safe. We don't want it to feel like the 'special corner', but if you're sightless in a club and don't have a cane, and you've got people all around you, bumping into you because they've had a few drinks, it's overwhelming.

"If accessibility is considered at the start, it's so much easier to implement, and we're hoping the work we're doing will help set an example, and not just for sightless or low vision individuals. There's so many ways that clubs and venues can be more accessible and we would love to start seeing new places opening up that have accessibility in mind from the start."

Working as an accessibility consultant, Ché's experiences over the last five years will be instrumental in helping shape the work VIP Experience does. However, that hasn't stopped him feeling somewhat out of his depth.

"I'm here with some mad people. We've got Tim Adnitt, who is product director at Native Instruments. We've got Andre [Louis] who is fully sightless, and he can open his MacBook, set up his interface and Komplete Kontrol, plug everything in and navigate around on his Mac.

"I told Yvette, 'I'm with all these insane individuals right now and I feel like I just got lucky in a module and it just sort of blew up'. I don't feel like I'm the smartest, I don't feel like I've got the most to offer. I don't feel like I'm the most talented. And I feel like this project came from quite a selfish reason. And on top of all that, I'm the least blind out of everyone other than Tim, everyone else is sightless, you know. But Yvette was like, 'the fact you even recognise that is enough. You're not coming in here thinking it's the me show.'

"Being surrounded by these amazing people, it really humbles you as well. From the outside, some people would consider having little to no vision as suffering, but I remember a Zoom meeting with Lachi and she said, 'I don't go under the term visually impaired, I'm sightless. I can't see, but I'm doing tracks with Beyoncé. Is that an impairment?'"
As part of The VIP Experience's campaign to raise more awareness, Ché and several others from the team will be appearing on a panel at this year's ADE, discussing accessibility in music. It's an exciting opportunity, but one Ché is keen to make sure he gets right.
(Photo credit: Soul Media UK)

"I've never spoken on a panel, you know, and I looked at videos of previous talks and they're mad. They're like proper people there. Imposter syndrome definitely kept coming up, but Yvette kept saying, 'You're aware of this, you're open about it and those nerves are for the right reasons. You're good.'

"I can't remember who it was, but someone once said to me, 'Never think you know too much and never talk too much.' I always find the best way to answer a question is by putting a point down, but then passing that question to someone else. If you're already feeling out of your depth or have imposter syndrome, and you know someone in that space who knows more, make people aware of that. Share your perspective, but then let someone else speak on it. Don't try to dominate or let ego get in the way. I'm just a little fish. I'm not the blindest, the techiest or the smartest. I don't want to get it wrong."
Accessibility first
The VIP Experience's mission is exciting, especially because the roadblocks caused by the pandemic are now behind them and the real work can begin. They're not alone in their goal towards greater accessibility - Ché champions Native Instruments, and the high bar they're setting with their work alongside sightless and low vision artists. While these initiatives are a vital part of making music accessible, Ché believes that awareness is what will turn the tide.

"Everyone's got their demons or their issues, they're not going to be thinking about next man struggling to see. You might be aware that it's hard, but you're not going to think about them trying to make music.

"I feel like spreading positive awareness, highlighting the issues and the existence of these problems will then allow for empathy and people can relate, which then leads to innovations and solutions.

"Sometimes there are needs and solutions that already exist, but because there's no awareness they never come together. We don't need another sob campaign or a GoFundMe. We need to showcase the people who are killing it against the odds and inspire people to develop more tools to help them go further."
FIND OUT MORE
https://www.instagram.com/rivibes
https://vip-experience.org/
5 Ways The Music Industry Can Support Recording Artists And Music Professionals With Disabilities
---
Looking to take the next step towards a career in the audio industry?
Check out our undergraduate and postgraduate degrees in electronic music production, sound engineering and live sound.