Jeremy Howard's love for gaming and music has been a part of his life since he was a child. Yet it was not until his first year of A Levels that he realised he wanted to make the leap and fully commit to music production. Fast-forward to today and Jeremy is a full-time member of Bristol game studio Ground Shatter, providing sound and music for their roster of games.

We joined him to find out how the journey first started and to find out more about Ground Shatter's upcoming release, Fights in Tight Spaces…
---
Could you tell us a little about your journey into music production, how you first got into making music and how it's all led to where you are now?
If people can remember the old keyboards that were in music classrooms back in secondary school - with the DJ setting and all the different instruments - well, I was pretty obsessed with that for a good time. I've played piano since I was 7, with most of that time learning on one of those keyboards and every time I got bored I would cycle through the crazy instruments and mess around. From the age of 7-14 I only really played piano, and had very little attachment or interest in music in terms of listening. Looking back, most of my motivation for piano was to show off my new ideas to others, and to entertain.
At around 14 years old, my step-brother showed me a Flux Pavillion track in the back of our family car. I think it was the remix of Cracks, and for some reason the combination of listening for the first time on really nice headphones and the first time giving electronic music a proper listen meant I was hooked instantly. My dusty iPod that only had Bananaphone on it for years suddenly started to fill up with electronic music. It was pretty commercial stuff but hey, I was brand new to it all, and it was great!
At that time I was already quite into computers/gaming, and realised there was software out there to make these tracks at home. Cubase was the first program I 'owned'... along with the basic instrument packs that I also suddenly 'owned'! I spent a lot of time making very basic, but fun electronic tracks, and I loved showing it off to others - just like piano.
From there I remember joining a youth project called Remix Studios, at Colston Hall. I got heavily involved with their youth ensemble - getting the opportunity to play the piano with others for the first time, and write our own pieces to eventually perform. Being interested in arrangement and composition at this stage, I ended up writing a track for this ensemble with Tony Briscoe (producer for Craig David, Beverly Knight, Artful Dodgers, and composer of a David Attenborough series).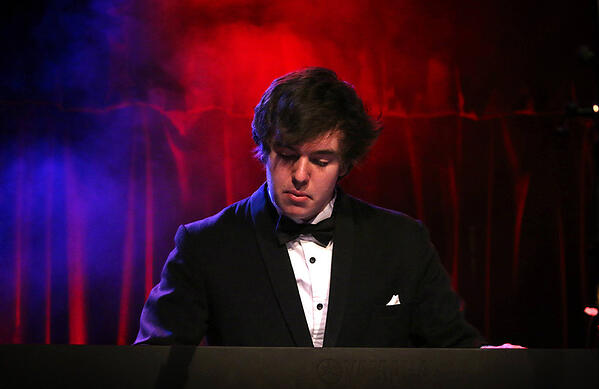 Jeremy performing at Colston Hall for Temple Records
It was such a fantastic experience - my first proper insight into professional production, and I wanted it badly. This was around the time I really knew music production was what I wanted to pursue, so from this point onwards I became very involved in other projects in Bristol, notably Temple Records with Creative Youth Network.
If I didn't have that amazing network of friends building my passion for music I would be nowhere at this stage. So huge shout out to Colston Hall, and Creative Youth Network for those opportunities, I owe it to them all.
How did you find out about dBs and why did you choose to study with us?
I can't remember when I first heard about dBs. It would have been during one of these youth projects and the people there who had connections with dBs as either teachers or students. I was studying at Redcliffe doing my first year of A Levels at the time, and received an unconditional offer from dBs college for their music production BTEC.
Looking into that, and alongside the successful and amazing experiences I was having with Temple Records/Remix, I decided to drop A Levels and commit fully to music. This was a big moment for me, and I'm very lucky to have a mum who supported me dropping academics/safe options for the creative world!
It took a lot of talks with people from the youth projects, and looking into how safe an option it was for a career. I couldn't let this not work out and feel like I should have taken the academic route, but I was fully ready at this stage. I had heard great things about dBs from many people all over Bristol, and knew at this stage that production was a more safe route to get into the music industry than performance/piano, so it felt like a sensible decision. Saying that, going there in person and seeing the fancy studios, fancy people, and fancy audio toys definitely played a part in that decision!
Having studied our Sound for Games & Apps course, what was it that first attracted you to game audio?
I've played games all my life - going so far to say gaming is potentially more of a personal passion of mine than music. While studying music production at dBs college, Rich Hemming was working at the tech office - where I spent a lot of time hanging out after lessons. He told me about this course he was starting at the degree centre in game audio, and it seemed like a dream path to go down.
To combine my two biggest passions for a degree was insane! There are very little courses in the world that focus so much on game audio, and for a whole degree to pop up in my home city right as I was leaving college just seemed too good to be true.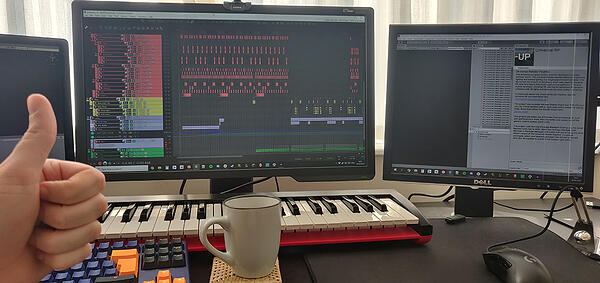 Jeremy's home studio
I have to say Jasz Aaron, who at the time worked at the college as a technician, played a big part in showing how fun the degree was - getting to see the projects he was working on and talk about how it transitions from music production really sealed the deal for me. Super lovely guy, alongside so many at the dBs college supporting me and the decision to pursue game audio.
Since graduating, you've joined the team at Ground Shatter as an audio/music designer. How did you land the role?
This is a fun story! It started with participating in a few game jams around Bristol - events where strangers meet up and produce a game from scratch over a weekend together. A mix of programmers, artists, writers, and of course audio people. Doing a couple of these events with well known faces from the Bristol game development scene really helped put my foot in the door, especially as it was an opportunity for people to not just hear the music/audio I was making, but work alongside me on a fun project.
For the Global Game Jam 2019 at the VR Lab, I was put on a team with James Parker - owner of Ground Shatter. We made an excellent game set in a haunted house, including a banging house track featuring spooky organs and lightning strikes! This is where I first got to properly meet James, but his work with Ground Shatter was still quite a mystery to me, and at this stage I was still very hesitant about my chances working in the games industry.
Fast forward a few months - I'm sat at my regular spot on the public piano in Bristol Coach Station playing through my tracks. I still go there to this day a few times a week as my main way to keep up the piano skills, and it's proven to be a great way to meet new people who come up and have a chat.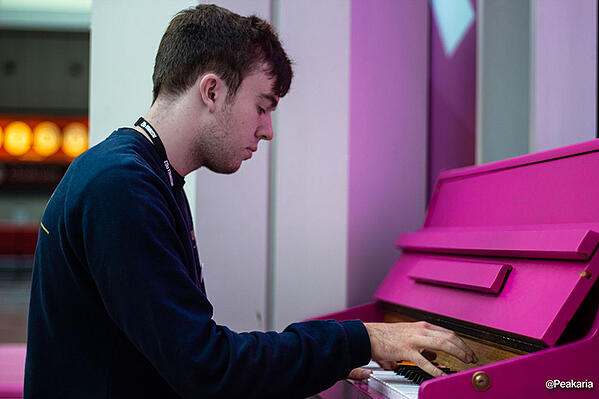 At that time, I still had no luck finding opportunities in games, and was just finishing my time at dBs so was starting to think about temporary work and my plans going forward. However, it turns out James regularly passes through there and sees me playing. As a result of properly meeting through the game jam he one day approached me with the news of some work potentially coming up, and if I wanted to pop into the office next week. In such a short time frame my entire life changed course like a total miracle, and the rest is history!
There was a recent reveal of Ground Shatter's new game 'Fights In Tight Spaces' which has such a cool concept. Could you give us an overview of what the game's all about?
FITS is a turn-based card game where you play as a spy fighting off gang members in tight spaces! You use a series of movements/attacks in your deck to navigate the small rooms, avoid the enemies and eventually eliminate them.
Throughout the game, you progress through different levels and work your way through gangs - upgrading your deck and making long-term strategic decisions for the most effective way to defeat the bad guys! The fight style is similar to those seen in classic action-thriller movies, and tied with the unique aesthetics it's a very eye-catching game as a result.
What were your main tasks working on that project? And what challenges did you have to overcome during its development?
I'm tasked with all things audio design - creation of all audio assets excluding music (which is made by our publisher, who is a fantastic producer). I'm working very closely with the animator and programmers in making sure the audio is fit for the systems in place. Initially I spoke with the lead programmer about the end result of the audio functionality - I wanted very responsive audio tied to the animations, a good degree of control over the different audio groups to ensure a solid mix overall, and then a series of features that would ensure the audio is not repetitive over time.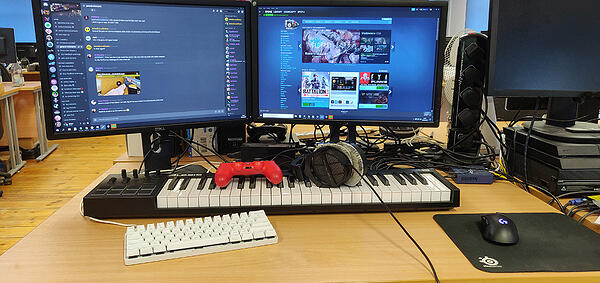 Jeremy's setup in the office at Ground Shatter
The biggest challenge is not using any audio middleware for this game, and keeping everything inside Unity, which is the main game project editor. Audio middleware is software regularly used in the industry to provide a ton of extra functionality for audio, and also an isolated space for the audio people to work in - creating easy hooks for the programmers to eventually feed into, without needing the programmers to take the time to code in audio-specific features and implement them into the game.
We devised a very clever system inside Unity that overcomes all the obstacles that the basic editor limits you with initially. This allowed me to design a set of assets that would essentially cover all combat animations, rather than having to create a new design for every different animation, without variation each time it is replayed. I can't go into the specifics of this system yet, but I'm very happy with how it's turned out, and it's always very satisfying working in this new system.
How did your time at dBs help you transition into working on real-world projects?
Firstly, it's the content of the modules. We had regular assignments requiring us to do full sound designs of games in Unity, which meant we were working directly with animation, physics, game design, and of course coding/scripting. The experience in Unity is invaluable at my job, where I'm working in this program just as much as my DAW.
However, I think dBs was fantastic at introducing us to real cutting-edge topics in the world of game audio. Learning to work with VR/AR, binaural audio, new approaches to non-linear music and generative audio to name a few. The process of going into these under-researched, under-developed and very raw areas of sound was a great experience for me. It taught me a whole lot about getting hands on with an experimental workflow. In order to use any of these systems in a game scenario, you need to have a certain level of understanding in game audio already, so I think this really helped to solidify that for me.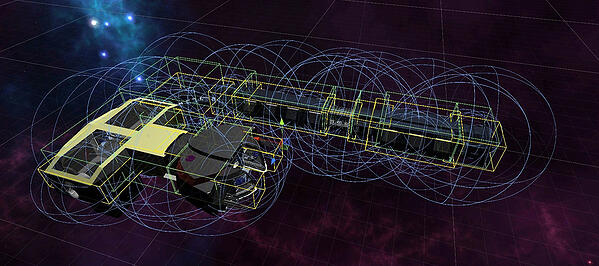 One of Jeremy's university projects that displays all the audio sources in the level
Lastly, without dBs I would not have had the motivation to pursue any of the opportunities outside of studies related to game audio. It provided the kick up the backside I needed to get stuck in with real projects, and meet real people working in the industry. My classmates were also fantastic throughout the degree, and by the end of it all we felt like a huge family building each other up through the years in our weird and unconventional ways! There are so many people I've met through dBs who have all been fantastic in keeping the fire burning for me.
The video game industry has been growing year on year, with a long list of audio-related roles that are crying out for people. What advice would you give to anyone hoping to become a part of it?
My one piece of advice is without a doubt do everything you can to get out there in person and meet these people working in the industry. However you can - game jams, conferences, meetups, socials, or if there's nothing there then getting involved in their communities online. Many developers have quite close relationships with their communities these days, so it's possible to get their attention online, but honestly there is nothing like meeting them in person. Having the opportunity to present who you are, not just for the sounds you can create. That is invaluable to be hired at the end of the day.
Something that helps with meeting these people is by learning about the areas that bridge audio and game design. This means getting into some development yourself, learning some code and possibly making some fun games in Unity yourself! Rather than your end result being a list of great sounding audio files, bring that forward to a game itself - interactions, behaviours, mechanics. The knowledge you will pickup in this process is exactly what these programmers and artists know about. They are likely to not know a whole lot about sound design, so it gives you common ground to talk about, and builds those connections.
Finally, the main social network that is used in game development is Twitter. Get yourself on there, follow a bunch of cool game folk, and use that in your downtime to learn about the fun world of game dev!
For anyone who may be really interested in this type of career, but doesn't feel they have the necessary skills, where is a good place to start?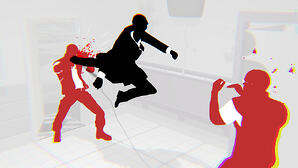 If you feel like you have the capacity personally to motivate yourself in your spare time to learn something like this, then you are already 50% of the way there! Start with downloading Unity, and going through either their official tutorials or scanning YouTube for fun projects to take a look at.
Think really basic when you begin, as it is very easy to become overwhelmed with the options, features, and potential ideas in game projects. There is more to learn about game development than one person can fit in their brains, so don't worry about the unknown.
I'd recommend setting the goal of making a new project, creating a floor and a floating ball with gravity, and pressing play to see the ball float smoothly through the air and smack into the floor! That's the foundation of your first game, and the first interaction you've made in your own project ever. You will be curious about where to go from that point - do you put audio in already, do you want to add more spheres, do you want it to blow up in dramatic fashion? This is where you begin, and starting your spark of motivation needs that first step.
Oh, and Google is your friend. Very important.
What's next in the pipeline for you?
Well, I'm still working full-time for Ground Shatter permanently - there's so much we are working on that I can't wait to show the world. I'm very excited to see what the world thinks of Fights in Tight Spaces, especially after the hype surrounding the announcement trailer.
Where can people find out more about you and your work?
Follow me on Twitter if you would like! @SpicyJAudio is my handle, and that's all I can really update these days. Feel free to message me about game audio, sound design, or just for a nice chat :).
FIND OUT MORE
Ground Shatter
Twitter
---
Are you a game audio beginner and keen to learn more? Check out our guide to the best free tools for building a video game