dBs Plymouth's Matt Ward, Pete Day, Stu Welsh and Phin Head joined Phonic FM for a wide-ranging interview about their backgrounds and their roles at dBs Plymouth! Listen to it here.
Some of our incredible Plymouth course and module leaders - Matt Ward, Pete Day, Stu Welsh and Phin Head - spoke to Phonic FM recently for a two-hour conversation with Steve Muscutt for his weekly musomusofm show.
During the show, Steve and the Plymouth team played through an eclectic mix of music and engaged in wide-ranging discussions on the unique musical background of each of our tutors. They also discussed the music production & audio technology degrees available at dBs Institute in Plymouth and the unique expertise of the staff at our founding campus.
You can listen to the Phonic FM show in full here!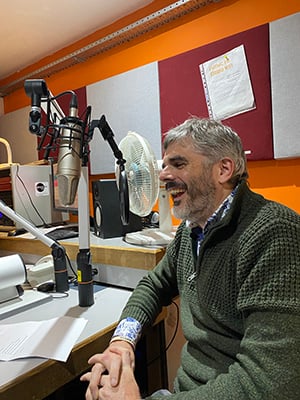 Tracklist & Timings:
Mr Vinyl - Lorenzo 00:00
Matt 'Vinyl' Ward Interview - 04:56
Jon Hopkins - Open Eye Signal 20:50
Amon Tobin - Journeyman 25:54
Mr Vinyl feat Colin Seddon - Yes 33:13

Pete Day Interview - 37:08
Ferry Aid - Let it Be 47:55
Sybil - Walk on By (Pjder Remix) 53:15
Lisa Scott-Lee - Lately 57:56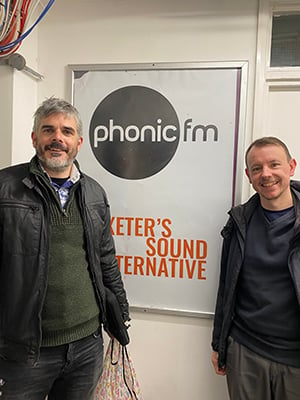 Phin Head Interview 01:02:12
Genesis - Supper's Ready (Excerpt) 01:17:09
Steve Reich - Different Trains Movement 3 01:24:40
Headcell - Illuminate I (Live Modular Improvisation, Excerpt) 01:30:45

Stu Welsh Interview 01:35:12
Elika - The Whip 01:48:51
Moths to Ashes - Tides 01:54:56
Soundgarden - My Wave 02:00:45
---
Want to find out more about dBs Institute in Plymouth? Visit us an open day or book a tour!