After a recent headline show at Berlin Bar, dBs Plymouth's Grimmvulture joins us for a chat about work ethic and how he's cultivated a dedicated following in a short space of time.
Now at the end of his time studying the BA (Hons) Electronic Music Production degree, Grimmvulture has been busy cementing himself as a force to be reckoned with in the Hardcore Techno scene.
His ruthless work ethic, frequent release schedule and enigmatic persona has seen his online audience cross 11K. We caught up with him in the wake of his headline show to chat more.
Hey Grimmvulture! Congrats on your recent headline show at Berlin Bar. How did the opportunity come about?
"Hey there! The event was hosted by a friend of mine. The Berlin Bar kindly allowed us to host the first ever hard techno show at their new upcoming venue based in Birmingham."
How did it feel on the night?
"It was an incredible weekend packed with lots of energy all night! The venue had a great recreation of the Berlin atmosphere as well as the audience's energy! For my two-hour set I was aiming to recreate that energy and atmosphere you experience in Berlin. The event went really well and the other DJs had great energy throughout. It was also great fun playing at Suki10c until sunrise after the event."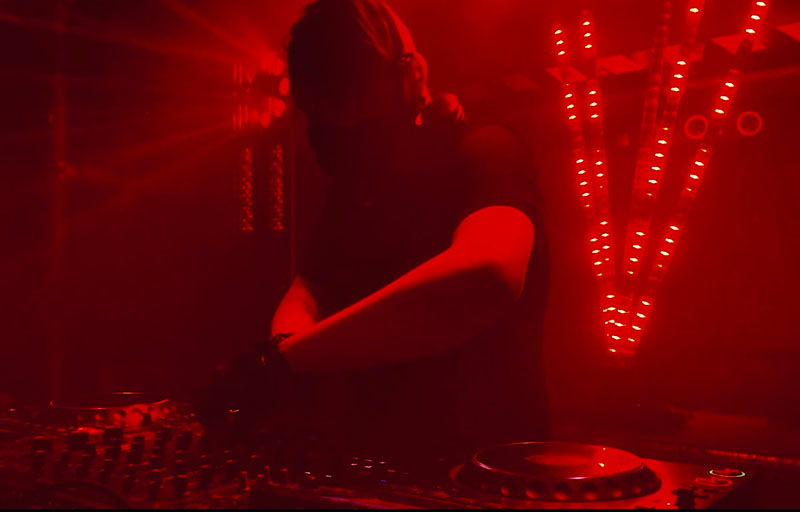 For those who don't know you, describe your sound in a single sentence
"Industrial Techno with a cruel twist of Hardcore elements in fusion with my own signature sound."
What was it that attracted you to hard techno?
"I started producing Hard Techno more this year after making Hardcore/Crossbreed for two years. Recently, I have been creating Hardcore Techno hybrid tracks after recently discovering similar styles in Berlin!"
We know that you like anonymity as an artist, but we were interested in knowing what the motivations are behind this?
"That's a great question! I wear a mask as this draws listeners attention to focus on the music rather than the artist. I also intend on using different masks in the future to show an evolution of my sound."
The show at Berlin Bar comes after a lot of groundwork of releases and audience building. How long has it taken to cultivate your online presence?
"It has taken me just over two years to build my pages. I usually spend 1-2 hours a day on networking and promoting my music across various platforms. This can vary depending on the amount of music projects as well as tasks I have to complete each day."
How do you balance your time between social media and making music?
"Most of the time I schedule my days to spend a certain amount of hours on each task. This could be promoting/networking, sound design, music production, video editing, graphics and many more tasks."
What advice would you share with fledgling producers who are trying to grow their audience?
"My best advice to upcoming new producers would be to strive to be unique with your music and marketing approach. Think outside the box, as well as connecting with your following and artists. It is also good to determine what type of audience/community you want to build."
How has your time at dBs helped refine your skills and solidify your sonic signature?
"My journey with dBs has opened up lots of new pathways for me. Before I started studying I only had experience playing in bands and instruments with no DAW (digital audio workstation) experience. Over the last few years at dBs I have learned lots of techniques and built my skills using hardware, which is a path I would like to pursue for live shows in the future!"
FIND OUT MORE
https://linktr.ee/GrimmVulture

---
Inspired to follow in Grimmvulture's footsteps? Check out our BA (Hons) Electronic Music Production degree available in Bristol, Manchester and Plymouth