Immersive audio mixing is becoming a popular way to enhance music and sound for a variety of platforms in a post-production context. However, MyWorld's funded Experimental Audio Camp project and a community of organisations in the West of England, including dBs, are helping to explore how it can be used during the production process.
Immersive audio - otherwise known as spatial or 3D audio - has, up until recently, been seen as a tool used for the post-production phase of music and sound creation. Whether mixing sound in Dolby Atmos for the big screen, optimising sound for Apple's Spatial Audio platform or mixing an immersive version of a classic album, this form of 3D listening is usually implemented as an afterthought rather than during the creative production process. However, as the technology becomes more popular, organisations and artists are working on projects that place immersion at the centre.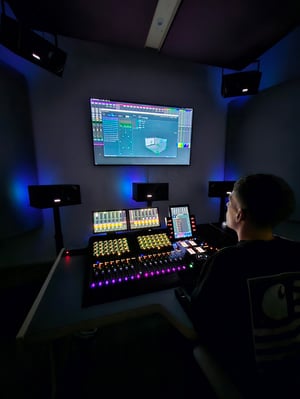 At dBs, we have built two Dolby Atmos suites at our Bristol and Manchester campuses to ensure our students can follow this technological development where it leads and have the tools to create projects that innovate and push boundaries. A major hurdle to progression in immersive audio is a widespread lack of industry-standard facilities, which we are helping to address for our students, partners and other like-minded creative organisations.
One of those organisations is Watershed's Pervasive Media Studio, who partnered with Real World Studios and the Immersive Audio Network to produce and deliver an Experimental Audio Camp, which was an intensive three-day residency exploring spatial audio production. The residency hosted ten sound artists, including dBs Pro's Jay Auborn and dBs Institute's Natalia Mamcarczyk who delivers lectures on spatial audio in Bristol, who were tasked with creating original works composed intentionally for a spatial system. Funded by MyWorld, the EAC was designed to help further unlock the potential of spatial audio and explore what can happen when artists compose with immersive systems in mind.
MyWorld is a creative technology programme that, "Is built on the production, technology and research strengths of the West of England region to create a globally unique proposition for creative technology research and innovation."
The Experimental Audio Camp reaches its crescendo with a showcase of the R&D audio pieces at the Dolby Screening Room in Soho tonight (8th September 2023). We worked with Watershed and the cohort of sound artists by providing access to our Dolby Suite in Bristol where they finalised their immersive works before presentation.
This project is part of a spectrum of programmes, organisations, networks, venues and educators in the West of England - including us at dBs - that are seeking to improve the understanding of the power of immersive audio. The West of England is fast becoming an epicentre for immersive audio innovation in the UK and it is an exciting time for us to be part of it.
Part of this spectrum and connected with MyWorld, is the Interactive Audio Network (IAN). This network, established by Dr Ruth Farrar from Bath Spa University and MyWorld with the intention of improving knowledge-sharing amongst immersive audio practitioners, puts on events and workshops, delivers mentorship programmes, encourages an inclusive and diverse talent pool and helps to showcase the West of England as a centre of immersive audio innovation in the UK and beyond.
Through the sharing of resources and knowledge, as well as funding for immersive audio projects, the IAN helps artists unlock new ways of using immersive audio technology for artistic or commercial projects. One of the main barriers for artists who want to explore immersive audio, however, is access to facilities. At dBs Institute, we have state-of-the-art Dolby Atmos suites in our Bristol and Manchester campuses boasting a PMC 7.2.4 system that has been calibrated by the team at Dolby.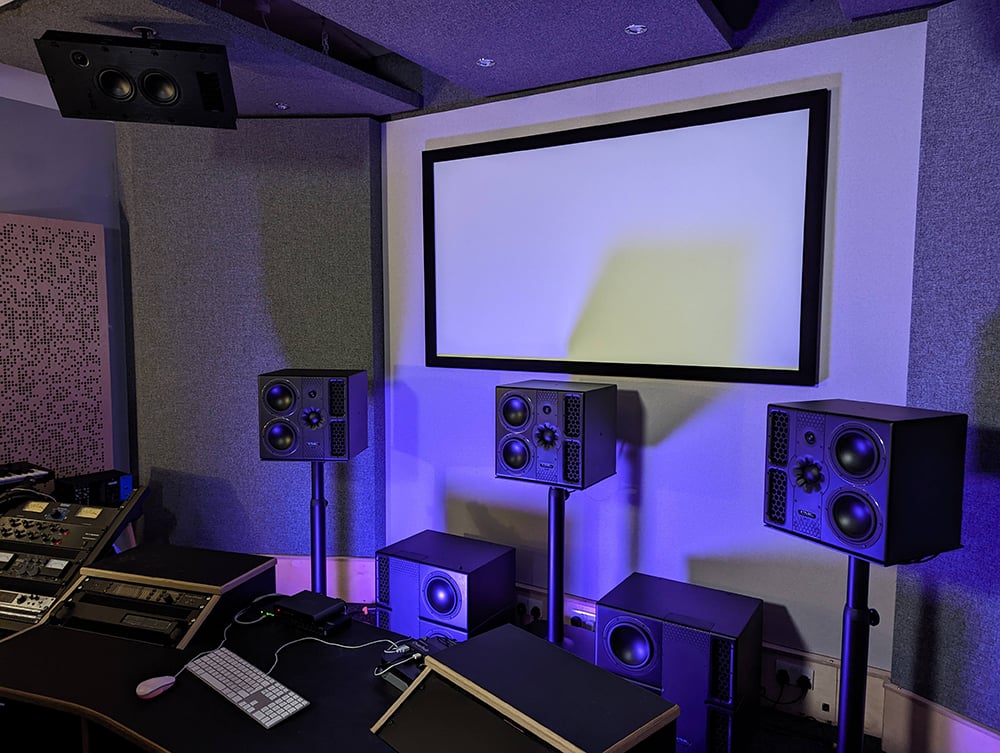 Through programmes like MyWorld, networks like the Immersive Audio Network and the Pervasive Media Studio, opportunities like the Experimental Audio Camp and facilities like ours at dBs, organisations across the West of England are helping to raise that barrier to access. This ecosystem of immersive audio expertise and experience that is emerging from the West of England is driving the steady shift from immersive audio in a post-production context to production-focused spatial works.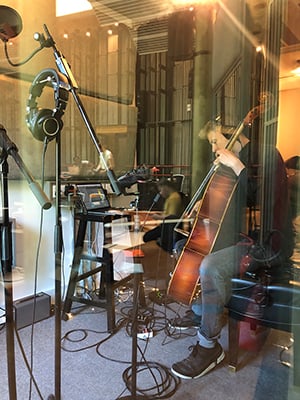 The fruit of the labour of the Experimental Audio Camp tonight in Soho will be a testament to that shift where spatial audio will take centre stage rather than a sidekick role. Speaking about the three-day camp, Tim Oliver - Senior Consulting Engineer at Real World - said, "What excited me about the weekend was that for the dawning world of 3D sound creation, the EAC provided clear evidence of a developing language complete with vocabulary, grammar and syntax. Bringing the various technology players together (Dolby, D&B, Sennheiser and app makers) created a balanced and fertile landscape in which the musical collaborators could evolve common practices, particularly re-miking and spatial manipulation."
In this 'dawning world of 3D sound', it's vital to make strong industry connections, help artists access the facilities they need to create immersive works and showcase how this technology can be used innovatively and experimentally.
We can't wait to see what happens at the Dolby Screening Room in Soho tonight and how we can further support the development of a language and culture around spatial manipulation.
FIND OUT MORE:
MyWorld
Experimental Audio Camp
Immersive Audio Network
Pervasive Media Studio
---
At dBs, we have Dolby Suites at our Bristol and Manchester campuses. Check out our courses to join our vibrant community of innovators and creators.