MA Innovation in Sound student Daniel Legg discusses the release of his very first Eurorack module; the Dual Passive Attenuator and his innovative plans for his future releases.
We don't need to tell you that more and more people are finding their way into Eurorack. For dBs Plymouth student Dan Legg, his interest was truly piqued in the creation of modules, which recently saw him release his very first module.
We sat down to talk how he first got into Eurorack, working with dBs tutor Phin Head's Stochastic Instruments, his first module and his desire to add something new to the modular scene with his future releases.
How did you first become involved in assembling SIG for Stochastic Instruments?
Dan: "It all came about thanks to my lecturer and programme lead Matt Ward. At the time, I had just finished my BA (Hons) and I was looking for a way to get Fully Wired Electronics (FWE) off the ground. Thankfully Matt put me in touch with Phin Head and Stuart MacVeigh of SI, who at the time were looking for a bit of help with the production of SIG to clear their waiting list. I've known Phin equally as long as I've known Matt, so after a few emails and a couple of Zoom calls I started assembling SIGs.

"Fabrication work wasn't something I intended to do, but it's something I thoroughly enjoy doing. It's very rewarding seeing other music technology manufacturers get their products to market and into the hands of practitioners around the world. It has also really helped establish what FWE is as a brand and has shaped how we operate, particularly when it comes to our PCB assembly services."
Where did your interest for Eurorack stem from?
Dan: "I've been working with Eurorack for about three and a half years now, and I've been lucky enough to do it as my full-time job for 15 months or so.
"My interest for Eurorack actually stemmed from my love of all things synthesisers and music technology. It was somewhat of a natural progression for me as I stumbled across it when I was 15 or 16, but it was just very inaccessible for me at the time. My time at dBs however has really allowed me to dive into the world Eurorack. All of the tutors throughout my FE, HE and postgrad studies have been nothing but supportive of my endeavours, offering guidance wherever they can."
At what point did you decide you'd like to make your own modules?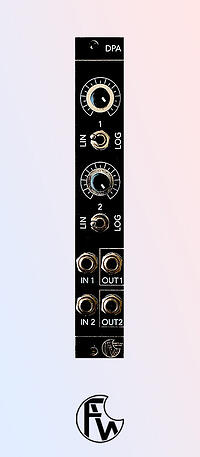 Dan: "I think that was something I decided a few months after I started designing circuits. I originally started as a hobbyist with the intention of building a semi-modular mono synth, but it quickly became a series of individual circuits in a DIY modular system. A few of the tutors at dBs saw what I was doing and suggested that I turn them into fully-fledged Eurorack modules.

"It's taken me longer to get my modules out there than I wanted, but for me it was really important to have a clear idea of what I wanted to do and what the overall aesthetic for the brand would be. A sizeable part of that was carrying out several studies into Tangible User Interfaces (TUIs)."
Have you been able to merge your passion for modular tie into your MA in any way?
Dan: "I have. I found a bit of a niche in the market, so it's been quite easy to integrate Eurorack into my current studies. Again, I'm also very lucky to be able to do this stuff everyday, so it was only natural that I would gravitate towards doing something modular related.
"Overall it carries on from some previous work I had done on analogue signal processing circuits, and I feel it's going to be an amazing tool for both live performance and sound design purposes. As far as I'm aware there is nothing out there quite like what I've been working on, which is extremely exciting as it stands to be a very innovative idea. I would love to tell you more about it but it really is just a little too early at the moment. I hope to be able to share a bit more on the project closer towards the end of the year."
The Dual Passive Attenuator has already been getting coverage online - how did it feel to finally release your first module?
Dan: "Amazing! Granted, it's only small and so many other manufactures release passive attenuators as their first modules, but finally having a physical FWE product is fantastic.
"It was made even better when the DPA was featured in Gearnews' Midweek Modular and in the July edition of Molten Music Monthly (a huge thank you to Robin Vincent for that!), as it is quite unique in its own right thanks to the switchable potentiometer tapers."

It's the first of many… any clues as to what's coming next and when?
Dan: "Correct, the DPA is indeed the first of many more modules from Fully Wired Electronics.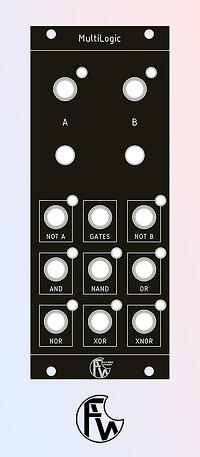 "I think the next module we will see is the 'MultiLogic' (pictured right). It's a 10HP (Horizontal Pitch) Logic module with 2 inputs and 9 outputs, 8 of which are logic outputs. It can also be used as a manual gate generator thanks to the two buttons and the corresponding output, which helps the module remain useful even when not being used as intended. I'm just waiting for some parts for the final prototypes, but if all goes to plan it will be available by September."
"I've been teasing some unique mute modules over on ModWiggler. The 'QM' and the 'QSM' should be hot on the MultiLogic's heels. They both have a bit of a twist, which I think is going to be really useful but it's a little early for me to say too much at the moment. It's been particularly cool seeing what members of the Eurorack community think 'QSM' could possibly stand for. The pair will also have a smaller and simpler counterpart (the 'MQM') for those who would like to save a little bit of space but still want a handy mute module. We should see all three around the same time.

"There will be plenty more utility modules as well. At the moment we have a 6HP Passive Multi (the DPM) and The Dual Passive Switch (the DPS) which are coming soon. They are both very simple passive modules, but more interesting ones will follow, as well as some 1U modules.
"Finally, there is of course my MA project, which I hopefully will bring to market by the end of the next academic year, if not sooner. I'm really excited to show everyone what I've been working on there. It's truly a beast of a module!"
FIND OUT MORE:
Fully Wired Electronics
https://www.instagram.com/fullywiredelectronics/
Masterclass | Ben Chilton on sound design using modular synthesisers and hardware
---
Looking to take the next step towards a career in the audio industry?
Check out our undergraduate and postgraduate degrees in electronic music production, sound engineering and live sound.