Meet Jay Auborn, the man on a mission to push the boundaries of sound, and include students every step of the way.
---
Last year we shared the story behind the creation of dBs Pro, our in-house commercial studio that gives our students real-world experience working on creative projects. Whilst an exhaustive look at the exciting projects that the studio has been fortunate enough to be involved in, it left out one key component; the story behind its creative director Jay Auborn.

After recently chatting with him about why sound plays such an important role in the world, we got to talking about his own journey into the industry and his drive to seek out innovative and emerging opportunities in audio.
Sound as an object
"I don't think I really was motivated to pursue music initially - I didn't really have much of a choice or a say in it actually."

On the surface, that might sound like music was thrust upon Jay. The reality was that music and sound presented him with the freedom and scope to create and there was no way it wouldn't play a huge part in his life.

"I've always made things, you know, and started making visual art like paintings and collages. This was early on, before I had any sense of what it was. As a kid and then in school I gravitated towards the art department, and was always making things and just did that on autopilot as a natural form of expression.

"When I was a teenager, I rebelled against studying fine art in a typical teenage angst way, the lecturers were trying to get us to draw biscuits and paint things in certain ways. That wasn't me at all. I made abstract art and didn't want to work to forms and abide by the rules. That's a natural response for people at that age, to reject and push against the boundaries of the things you have to eventually learn to master a craft. You believe that your art will come from some divine place, by luck and everything you make will be important, which is nonsense."

Jay quickly fell out of love with studying art and started working a dead-end job. All the while, he was playing guitar and singing in bands just for fun - not very well, he adds - but not really doing anything productive with his art. His parents discovered a music course and encouraged him to try it. It was here that Jay was introduced to the music lecturer Chris Warrington, "a really strict, really serious musician" that proved to be a big inspiration for him.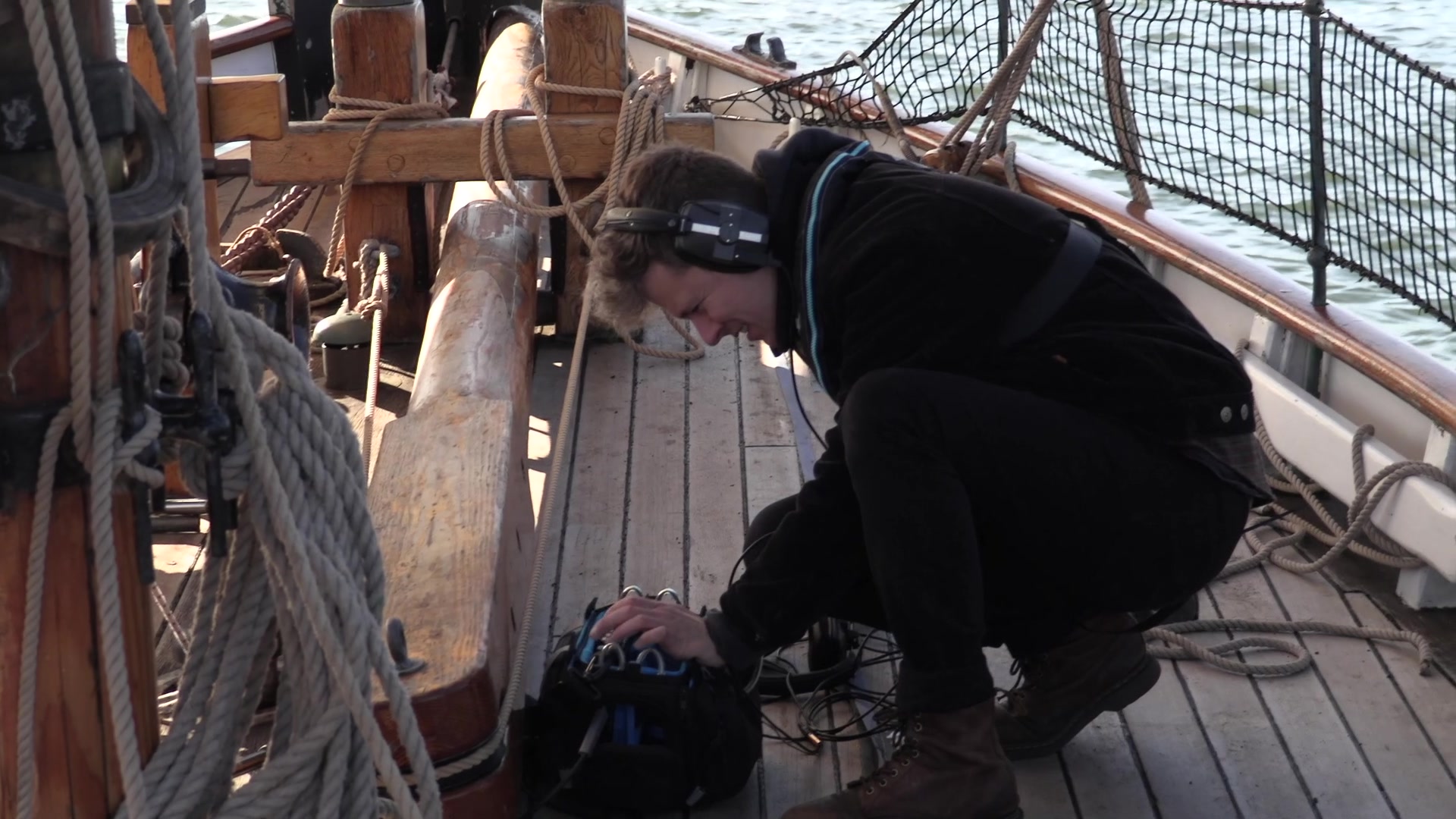 Jay onboard Olga, capturing sounds for 'The Big Read: Rime of the Ancient Mariner'
"I made this connection between fine art and sound and music, through the way that you could use sound as an object. I was playing musical instruments, but being introduced to a sampler and seeing how sound became an almost physical object that you could screw up, manipulate, cut up or push around - in a way that made it really physical and tactile, like visual art. Once I made that connection, the approach to how I made visual art and that way of thinking was then applied to sound and music."
The catalyst
For most people working in sound, they can attribute a specific discovery that opened the floodgates and set them on their path. For Jay, his blossoming interest in music was transformed into an obsession when he latched onto one of the most divisive albums in modern music history.
"It all started when Radiohead put out Kid A. I was studying music composition and performance and I'd never been into the band up until that point, but a fellow student who was a big fan discarded the album and gave it to me because of the emphasis on electronic production and instrumentation.

"I discovered the hidden booklet in the case and it really spoke to me because not only did it have this amazing visual identity thanks to what Stanley Donwood and Thom Yorke created, but it was my first time hearing electronic beats, synths and sounds used in these progressive and interesting ways.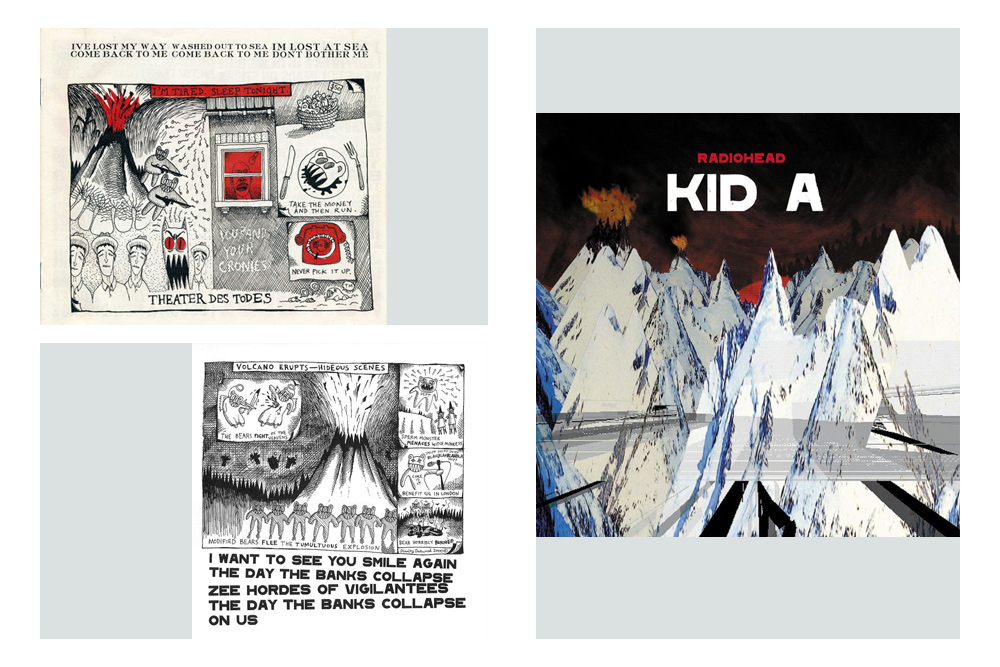 "I was straight on the internet Googling 'Kid A Radiohead' and the first thing I saw, though I'm pretty sure it wasn't true, was 'Thom Yorke buys back catalogue of Warp Records - inspires new album'. So then I searched 'Warp Records' and discovered artists like Autechre, Aphex Twin and Prefuse 73. All this electronic music and hip-hop was opened up to me and I realised I didn't have to rely on other musicians to make stuff and I could just do it on the computer. What followed after that was if I wanted to make these sounds and make music in that world, I need to know how to record and manipulate sound. So, I sought after a course that would give me that and that's how I found dBs."

You would think that Kid A's influence on Jay had done enough, but there was still more to come. While in his second year of the foundation degree at dBs, Jay began working in the commercial studio (dBs Productions at the time) at the weekends. Around the same time, he'd been venturing deep into the world of hip-hop, and Kid A was waiting to open yet another door for him.

"Discovering artists like Prefuse 73, who made this experimental kind of hip hop, and hearing that sound palette in a way that I had never heard before, it really resonated with my background in visual art and my approach to making sound because he [Prefuse] was making much more interesting tapestries of sound, but in the hip-hop domain.

"That introduced me to the sampler, which is probably one of the most important instruments in the creation of that genre. I ended up getting an MPC and began remaking old hip-hop beats to learn how to use it.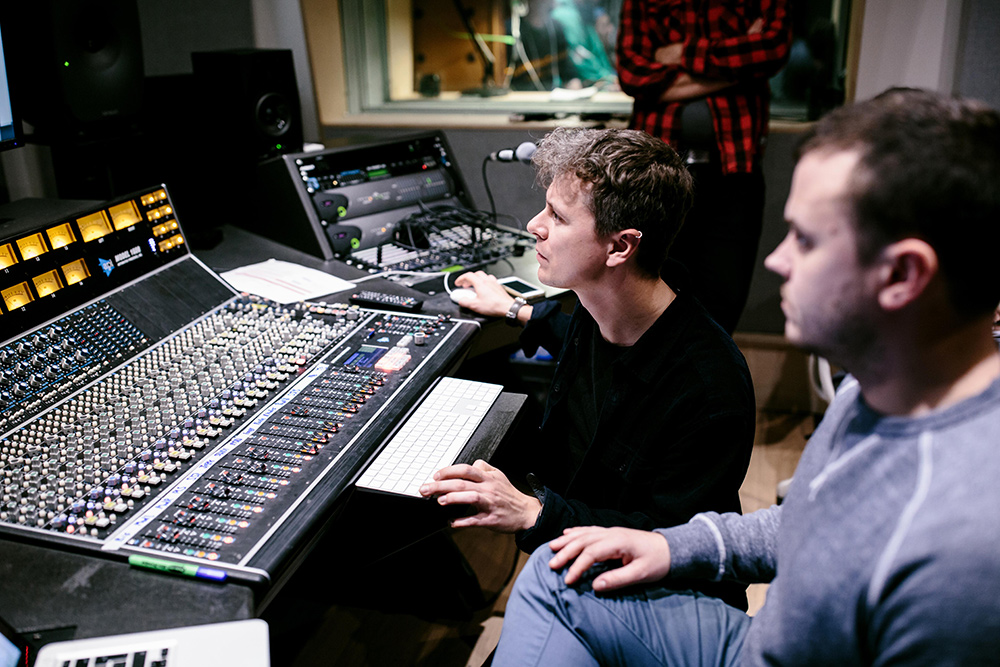 "It was at this time that I was working in the commercial studio and an American record producer hired it out for the week, I assisted in that, just helping out wherever I could and I built a rapport with him and passed him a CD of my beats that I'd been making on the MPC. I didn't hear anything for about a month and then he just called me up and said 'I'm working in London, your CD is really cool. Could you come and make some beats for me in the session?' And then I just went up to Dave and Nige - who run dBs - and said, 'I just got this call, is that alright?' And they were like, 'hell yeah it's alright! Don't worry about your work, it'll be here when you get back and they gave me their blessing.

"It was mad. I was just this kid living a rural life in Devon making bugged out hip-hop collages in my bedroom and now I'm in London making beats for a heavyweight American record producer and it was all because of Kid A."
From student to creative director
The experience wasn't a one-off and after finishing his degree at dBs, Jay continued to work alongside the record producer for 18-months, working between his studio in Santa Monica, LA and studios like RAK and Mayfield in London. It was during this time that the key skills and ethos behind running a commercial studio were really instilled in Jay.

"During this time it was impressed on me how you really need to bring the right energy and focus to sessions, people worked a lot faster than what I had been used to and could 'turn on' their skills without hesitation.

"I eventually moved back to Devon and brought these experiences with me along with the contacts I'd made. I settled into a new role for dBs in their commercial studios where I had helped out from time to time when studying there. With the studio as a base, a Neve console at its heart and creatively fuelled by my work experiences abroad we started producing albums that pulled all this together.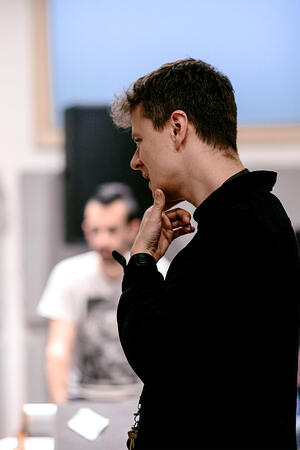 "My role naturally gravitated towards producing, combining my sound art interests with music and engineering work. Two albums in particular helped pull in similar work and grow our reputation as a studio. As things got busier and I needed more help with projects the obvious place to go to was dBs students. We offered roles to help out on projects, lots of the students used these opportunities as a springboard for their careers, getting real-world experience and making connections to musicians and studios we worked with.

"Reflecting on it now, we were replicating my own experiences of working in the studio and being guided and supported and pushed along. We wanted to build upon this and offer more students roles on projects, to formalise it and make it part of our m.o. Working with new talent can really energise a project and bring fresh ideas if you are open to it and it's structured: dBs Pro was born out of this.

"By this point, our commercial offering had grown - as had the courses - to offer more than sound engineering alone. Commercially, we were producing sound art installations, doing film scores, Sound design for documentaries, working with spatial audio. We wanted the new commercial arm of dBs to reflect this kind of work so we re-launched it as dBs Pro and as a creative audio company, not just a typical music production studio.

"It seemed that setting this up in Bristol was a no brainer as dBs had established itself there with an incredible studio facility and range of courses. It was important for us to start fresh so armed only with a laptop, soundcard and one microphone we built the commercial arm up again from scratch. It was important to us that dBs Pro worked on real-world briefs and could stand on its own feet as a production company. Of course, we are part of the dBs family and this has helped us establish dBs Pro but we are run and measured by the success of our productions."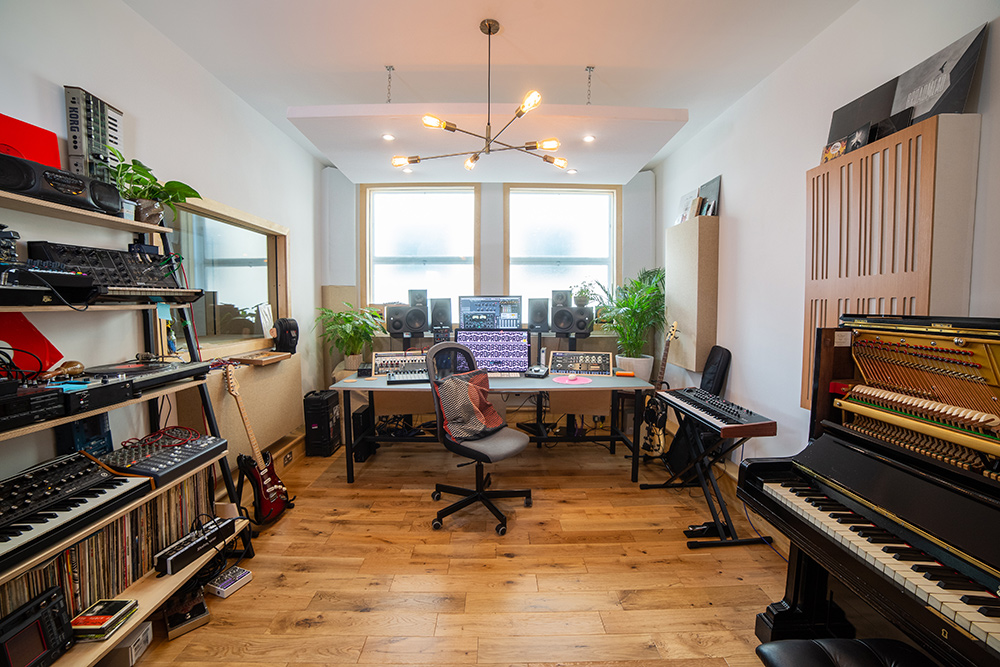 Inside the dBs Pro control room
Surrounded by creativity
Jay's work at dBs Pro has seen an array of incredible projects come through the door, from album production and soundtracks, to innovative and immersive audio experiences. As we wind down our chat together, I ask Jay what it is that he loves most about his job.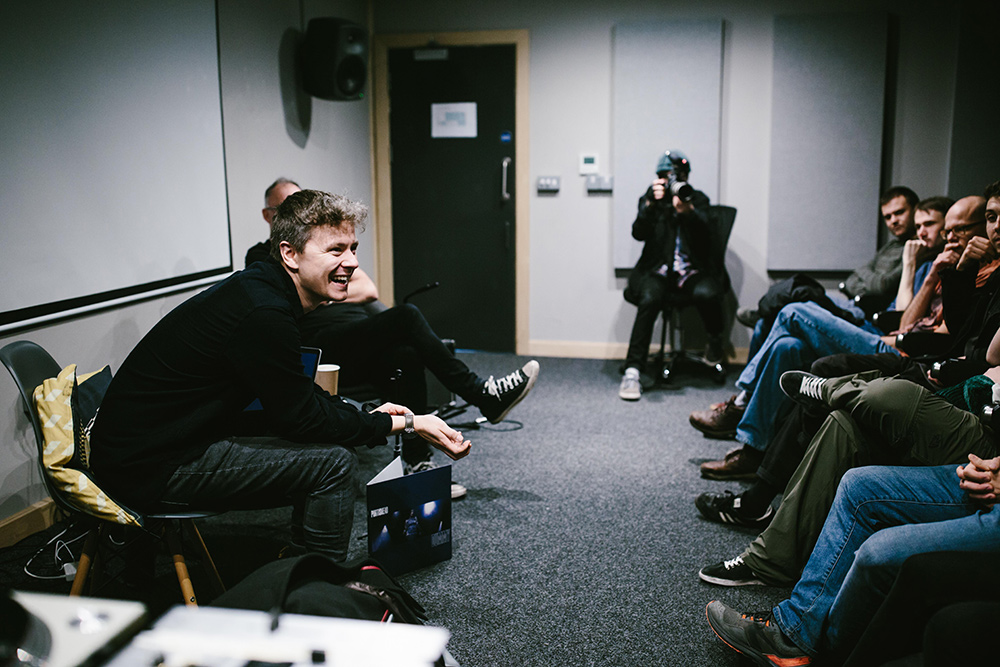 "I mean, it'd be silly not to recognise how lucky I am to be making music and audio full time for a living. I am extremely grateful that I'm able to do this, and still go on holiday and pay my bills, I take that seriously and respect it by pushing hard to keep progressing and evolving myself and dBs Pro. But some of the key moments that have really made dBs Pro what it is - involving new and upcoming talent in projects - is seeing how the creative muscle can be flexed within dBs as a whole.

"Say for example we're doing a film score and we need some tracks and the director was going to buy a licence to sync an existing piece of music. Rather than that money being spent on that, we've asked the student producers and musicians in dBs to make the tracks for the film. They have to follow a fairly strict formula, but I just have to pop a message out into the community of dBs creatives, and I receive the most incredible and quick responses in terms of craftsmanship and creativity - you just kind of see the whole community creative muscle flex and it's incredibly strong.

"It's amazing to witness that range of talent and have a role in how that gets out into the real world through something like a film or a commission. It gives you a sense of how the dBs building is almost bursting at the seams with all this talent and creative energy."
FIND OUT MORE
https://pro.dbsmusic.co.uk/

Want the opportunity to work on real-world projects with dBs Pro? Consider studying with dBs Sound & Music Institute. We offer BAs in Music Production and Sound Engineering, Electronic Music Production, Live Sound, Composition for Film and TV and more.
---