Our BSc (Hons) Live Sound degree holds one of the highest student employment rates in dBs and boasts 100% student retention. We turn to our live sound students to help us uncover what makes the course so special.
---
We recently published a feature surrounding an in-depth discussion with third year live sound students Skye Walters and Hazel Warren-Cooke about their experiences as non-male individuals training and working in the live sound industry, which you can read here.
In that feature, Skye and Hazel touched upon how their tutors - Tom Chitson, Fiona Riches and Tom De Brabant - have played a key role in them finding their feet as audio professionals, but there was so much more that we couldn't include into the article.
With such phenomenal performance in both employment and retention, we couldn't leave those comments on the cutting room floor; we had to celebrate our tutors' incredible work. In addition to Skye and Hazel's comments, third year student Dom Brown joins the fray to share why our tutors are making such a big difference.
1. They are personable and supportive
dBs has been on the scene for over 20 years now, and in that time there have been many opportunities for us to grow beyond our tight-knit community into something more large-scale. However, giving a deeply personalised and intimate learning experience for our students has remained a priority, so it makes us all the happier to read comments like this.
"The lecturers we have at dBs are really, really good. They take time to listen to you and because it's much smaller courses at dBs than a large-scale university, it's much more personal. We know our lecturers, we work with our lecturers. It's really nice to know that once we're in the industry and we bump into Chitson or Fiona, they're not going to be clueless as to who you are." - Skye Walters, third year Live Sound student
"The live sound industry and the wider music industry is quite alternative and the tutors themselves are quite alternative. All my housemates currently studying at either University of Bristol or UWE. They've told me that their tutor doesn't know their name and that they never talk to them. And I find that crazy because we go down the pub with our lecturers! With this kind of industry, it's all built on networking and who you know, so a small course is much better for this." - Hazel Warren-Cooke, third year Live Sound student
"Having Tom Chitson from day one really helped me feel more comfortable with the uni experience as I knew he was also in a similar boat being new to teaching at dBs. He brings a fun and deeply knowledgeable method of teaching, which I appreciate as I know a lot of people on different courses (not necessarily music related) who have lecture after lecture and never really feel 'connected to their lecturer'. In addition to having a good personal relationship outside classes, it aided me in confidence no-end knowing that I could go to him with any question I had and getting a solid answer." - Dom Brown, third year Live Sound student
2. They teach from real experience
There's a real difference learning from someone who has practiced what they preach, and our tutors - not just on live sound - possess an enormous amount of industry experience, with many still actively working in their respective scenes. For our students, knowing what awaits as a professional makes all the difference.
"Being taught by tutors who are wholly integrated in the industry makes such a difference and they're willing to share their experiences with us, so that we don't have to go through it ourselves. Many of them have spoken about the challenges they've faced and the tough spots they've been in, and because they've been so open it has taken away that demonisation. It means that we have lecturers who can be role models in that way and can talk freely and openly about the implications on your mental health as a professional in the live sound industry." - Skye Walters, third year Live Sound student
"Fiona is particular has been great at highlight mental health issues for professionals in the live sound industry. There's so much that can affect you and it's really hard to highlight that people have those issues when you don't even know those people exist in that job because it's so in the shadows." - Hazel Warren-Cooke, third year Live Sound student
"Tom DB has great industry contacts which will prove indispensable for the module he teaches us on. He's also dedicated to ensuring we're taught about the latest technologies whilst using said technologies, which I feel is very important in the live sound realm as the industry is constantly in flux." - Dom Brown, third year Live Sound student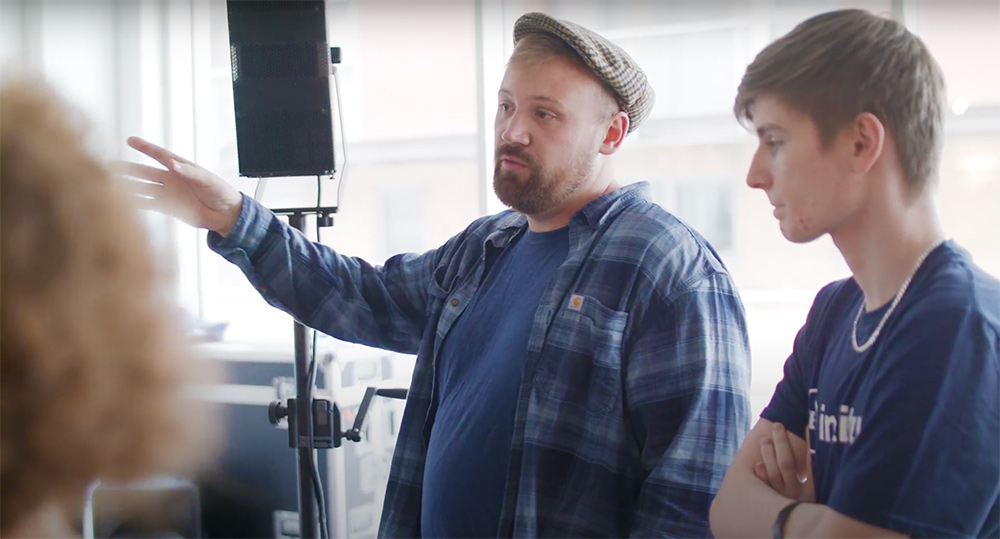 Tom De Brabant and Dom Brown at a recent dBs Open Day
3. They're invested in you as a professional
One of the most frequently asked questions we hear from prospective students is 'how likely am I to get a job after university?' When it comes to the live sound degree specifically, the answer is 'very likely', and that is thanks to the tireless work of our tutors.
"They're invested in your career, but they're also invested in you as a person, and they will provide you with as many opportunities as they can." - Skye Walters, third year Live Sound student
"Tom [Chitson] really knows us! He's always aware of what we're working on and what we're hoping to do, and so the work experience has been superb, because he knows exactly what we want." - Dom Brown, third year Live Sound student

"Pretty much all the work I've done has come through dBs. I was repping at a dBs open day and that was when Fiona and Tom DB saw that I was doing really well. I then got an opportunity to work with d&b Audiotechnik at the Institute of Acoustics through Tom DB. I then met Andy Horsburgh from d&b, and he'd had a personal recommendation for me from Tom DB." - Hazel Warren-Cooke, third year Live Sound student
4. They are relatable
Though not impossible, it's much harder to relate with someone who feels like they're world's apart from you; age, experience, lifestyle and background all play a part in how we interact. For our live sound students, this feeds back into the personal connection they have with their tutors and how the benefit of that connection goes beyond the core teaching.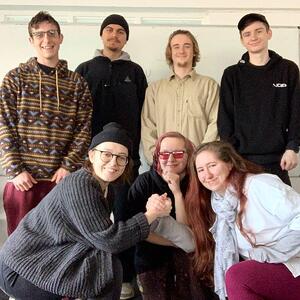 "Our industry is quite well known for its grumpy, old deaf engineers who have been doing it for 60 years and can only hear one kilohertz. It's nice to have lecturers that relate to us in terms of age and life experience." - Skye Walters, third year Live Sound student
"Fiona has been a very good addition to the dBs family, bringing great experience and also shining a light on current and underlying issues surrounding the industry and petitioning for change that was long overdue. They're always very easy to get on with and having an LGBTQ+ lecturer made me feel more comfortable, as I also fall into that community myself. Again, having a personal connection with tutors outside the classroom has helped me raise issues, give feedback and gain advice from someone who knows the issues that face people in the community." - Dom Brown, third year Live Sound student
5. They really care
It's one thing for our tutors to identify and secure the level of real-world opportunities that they do, but what's even more valuable is their dedication in ensuring that each student feels safe and comfortable, which can so often be overlooked in such a male-dominated industry.
"There's something that really stuck with me. Tom [Chitson] said to me, 'Obviously, there are loads of jobs I could give to the guys, which we're both aware of, but there are some environments that I just wouldn't want to put you in.' He really takes care of us, he picks and chooses what he knows would be best for us." - Hazel Warren-Cooke, third year Live Sound student
"Tom never takes opportunities away from us, it's still very much our choice. He just signposts that there may be some environments we're not comfortable with. It comes back to that personal touch and the fact that they know us." - Skye Walters, third year Live Sound student
FIND OUT MORE:
Challenging underrepresentation in the live sound industry
Designing a custom sound system with Live Sound student Jake Garland

---
Do you live for the roar of the crowd and seeing a performer at their best?
Find out more about our BSc (Hons) Live Sound degree; it could be the perfect match for you.