Aphex Twin is one of the most innovative, authentic and idiosyncratic artists of the last 30 years - it's why we named one of our Bristol study areas after him - and it all started with Selected Ambient Works 85-92.
To celebrate the 30th anniversary of this ground-breaking record, dBs Online student Roxy Tripney interviewed the man who first saw something special in his work and signed him; R&S founder Renaat Vandepapeliere.

Throughout his lengthy career, Aphex Twin (Richard D. James), pioneered his way to become one of the most influential and beloved artists in the history of electronic music. Thirty years on, his debut album Selected Ambient Works 85-92, is celebrated as a masterpiece of ambient techno.
From the ethereal dusty melodies and subdued dreamy vocals of the opening track 'Xtal' to the ominous mechanical clanging and acidic squelches of 'Green Calx', the listener glides through a wonder-filled cerebral experience. Richard's earliest tracks on the LP were created as a young teen, following years of revelling in sonic experimentation which later led him to modify and rearrange analogue synthesizers. That sense of wonder and experimentalism are echoed in the sample choices; most famously Gene Wilder's "We are the music makers, and we are the dreamers of dreams" from the original Charlie and The Chocolate Factory.
Despite its striking feel of innocence, the record has an underpinning of rebelliousness, shrugging away the constraints of genres; resulting in a hypnotic array of musical versatility. Given Richard's nonconformist approach to music making, it's of little surprise he caught the attention of Renaat Vandepapeliere whose powerhouse label, R&S Records, had become synonymous with innovative electronic music. Released in 1992, on the label's ambient sub-division Apollo Records, Aphex Twin's Selected Ambient Works 85-92 went on to inspire generations and become the seminal album of its era.
I spoke to Renaat to discuss his memories of the record and why it has become such an esteemed classic.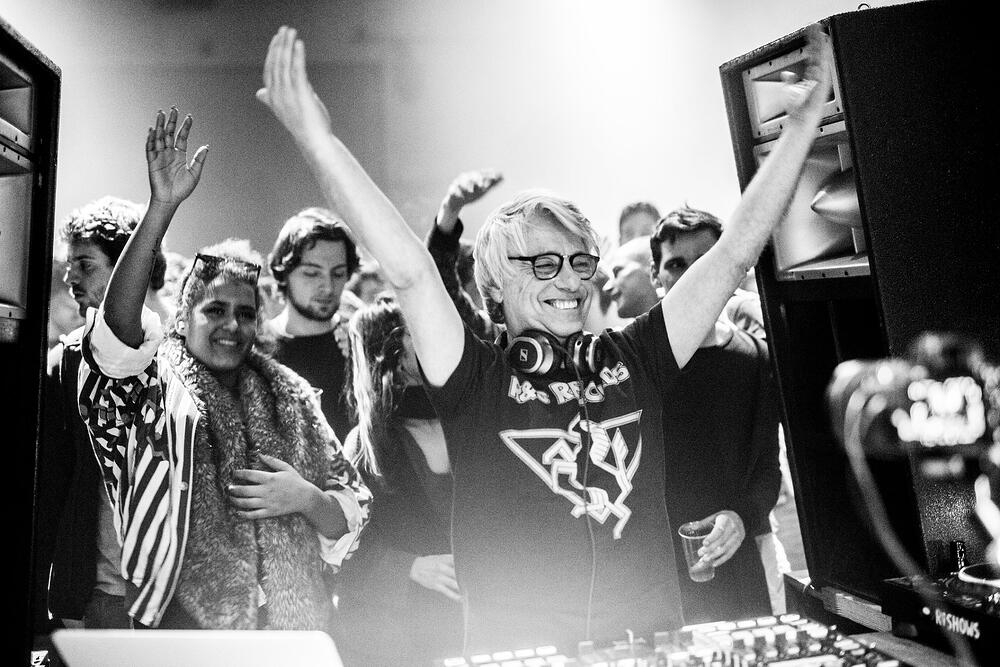 How did you discover Richard's music and what were your first impressions of him?
RV: He'd made his first record Analogue Bubblebath. I heard it on a white label and then I contacted him. I know he sent it to XL [recordings]. Nick [Halkes] is a good friend of ours - he's the guy who signed The Prodigy. Nick refused it (laughs). XL refused it. But then, he signed The Prodigy (laughs). So that was basically it. And I don't know what age Richard was at that time. 17-18... something like that ? So he came to our home with a box of cassettes. We played it, we liked it. But you know, he's very - I cannot say more than - very impressive because he has this aura, this charisma. You don't meet kids like that, especially at that age.
Am I right in thinking that Richard would have been around 13 or 14 years old when he created some of the earliest recordings on the album?
RV: That's possible, and there are probably a couple of tracks from that period (on the LP), but that's a question to ask Richard... I know that he'd been making his own equipment. So basically, it was all self-made from start to end. Because there was no money to buy expensive computers and synthesizers. So yeah, I mean, there is only one word: 'impressive'. I mean, very impressive. Because if you'd listen to that album, and think how is it possible to make such a mature album at his age? He had no digital equipment, like DAT machines. Everything had been recorded onto cassette.
What was the process for releasing Selected Ambient Works? Was it you or Richard who selected the tracks for the LP?
RV: Richard came to my home with a box of cassettes. We'd just done two releases with his harder material. We listened to all kinds of music that day, from 'Digerdidoo' to 'Selected Ambient Works', and then he went home and compiled the album. They were his choice.
Do you recall the initial reaction from listeners and critics when the album first hit the market?
RV: People just weren't ready for it at that time, and without naming any names, some thought we were crazy to release the album. A lot of people in the industry were like, "What is this?" The NME article changed everything...
That quickly?
Well, it was not that quick. That article came maybe six or seven months later when it came on a journalist's desk. In the beginning, it was released within the sort of techno community and Mixmaster Morris was then the ambient sort of DJ, so they understood but the rest were like "what is this ?""
I imagine back then, the album's momentum would have largely been down to word of mouth and organic growth, rather than the major PR campaigns we see often with electronic artists today. Would I be right in thinking that?
RV: Yeah, the good old days! Well, I'm not going to say that everything was better then than it is now. Everybody is an artist, writer, film star, or model with this whole social media thing. So maybe it was because I was already older coming in when we started in the game. We grew up with Vangelis, Jean-Michel Jarre, Manuel Göttsching, all these electronic pioneers… He was a young version of those guys but pushing it all forward again. I don't know how to explain it... Here's this young kid doing this, in a very good way. Not as a copy, but in his own way. This is what I always mean in an account for any artist; is that anything can be 'good' but then you have this X factor that you cannot explain. It's not tangible.

Selected Ambient Works is regarded as an R&S classic. Did you ever have any indication of how successful that album would be? Do you know how successful any of your label releases will be?
RV: No, it's just an instinct to do it. We're not a very commercial label, and I have nothing against commercial labels. But R&S still runs like when I was a young DJ crate digging. You buy this record and say "Wow, it's great" and if it doesn't connect to the masses, you know, obviously I still like it and that's that. Period. That's the end of it really, and for the rest, you just have to trust your ears and your instinct. It's not the industry that decides, it's the people out there who are the ones who decide, and maybe naively I believe that timeless music will survive and something good will always stay.
On this note of timelessness - given your vast experience in the industry, and having witnessed many trends come and go, why do you believe this album has such a long-standing significance?
RV: Interesting question. Nobody can know beforehand. So it's almost impossible to answer, but in my modest opinion, it's because it's very musical.
What is one of your favourite memories of listening to the album? Where was it and what was the setting?
RV: At home with a glass of wine and candles. I had tears in my eyes.
What is your favourite track from Selected Ambient Works 85-92?
RV: I love the entire album, but to say something - Xtal.
You've spoken before about releasing artists on your label where you can hear the authenticity in their productions. Can you offer more advice to those aspiring to be on the label?
RV: I have had this question so many times for 40 years. It is very difficult to answer that, because I have my ears, and who am I? I'm just one guy! First of all, I would say to producers and people that make music: making pop music ain't easy either. What do you really want to do? What do you want to achieve in all honesty? Not because of "I want to be this and that"... Be honest to yourself in whatever you do, because at the end of the day, if I say no, that's only one guy's opinion, and there are eight billion people on the planet.
For me, it's rhythm, it's the melody arrangement and for the rest, you feel it or you don't and it's as simple as that. Yeah, I could evaluate [tracks] on mass appeal. We all know what the market wants. Everybody knows it. And for me, it's impossible. It's against everything in my body.
You want to hear music that comes from the heart.
RV: Yeah and to be very honest with you, that's a difficult one, but you can hear it, when somebody makes music, that can be in classical, jazz, etc. That it's really honest, it comes from them without thinking and I think the best music is made that way. I wrote something recently, and it's the same with all great artists, they have their own signature. Probably that's what I'm looking for…. If I hear Synkro for example, I can hear him 100,000 miles from here, I know it's him. It's like with Richard, there are so many copies of his work, so many sort of 'Coca-Cola Light' versions but Richard is Richard and you re​​cognise that directly.
FIND OUT MORE:
Common people: The impact of Castlemorton Common Festival 30 years on
Consistency is crucial: Naina on breaking into the music industry
SHOSH: The rise of a 24hr Garage Girl
---
Are you inspired by the innovation of Aphex Twin's work? Join dBs studying a degree in Bristol, Manchester or Plymouth as well as Online.