Free Software Friday is our regular Friday feature here at the dBs blog. We dig the depths of the music production and media webosphere and discover what downloadable plugin freebies are worth double clicking each week.
Krotos Studio is a brand new free plugin that promises Hollywood sounds to create the perfect soundscape composition.
An immersive and believable soundscape is key for any visual medium, and if you're working within film, TV or video games, Krotos Studio is a tool you'll want to make note of. Packaging together an array of ambient samples - which are helpful categorised by locale - you can create unique soundscapes through a series of in-built features.
Currently, there are four categories; city, forest, suburb and sapceship. Each of these categories contains a series of four samples that can then be blended together using the X/Y pad - and it's here that Krotos Studio really sells itself. When the plugin is live in your DAW, you can select the 'autoplay' function. This allows you to blend your sounds using the X/Y pad as the footage you're working with is playing in your DAW. Once you've finished, you can bounce the audio and drag it into your project.
In its current iteration, this is all you have to play with in Krotos Studio, but there are lots of features soon to be added. Foley, footsteps, interface, whoosh, mechanical, vehicle and weapon sounds are on the horizon, though Krotos hasn't set a firm date on when these will be available.
Additionally, a more advanced editing system will soon be made available, where you can look at the minutiae of each sample and amend a series of parameters to tweak your soundscape to the perfect settings.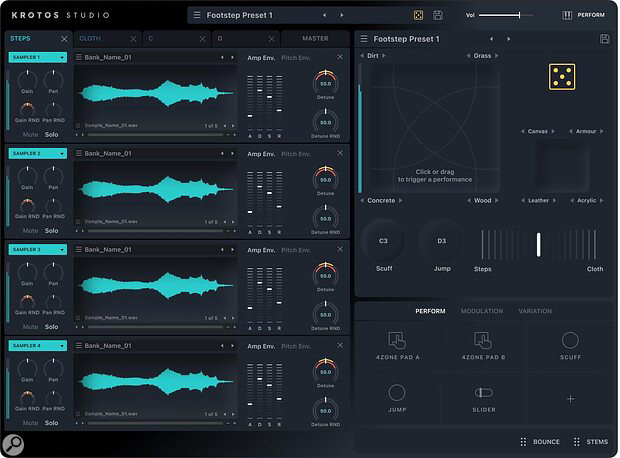 Krotos have a long history of producing excellent software for anyone creating audio for media, and the vertical slide of what Krotos Studio has shown is enough to convince us that with time, this plugin will be a great tool for both beginners and more advanced sound designers.
Krotos Studios is available for Windows and macOS and can be downloaded for free. It is fully compatible with Pro Tools, Ableton Live and Reaper. It's also compatible with Logic Pro X, Cubase, Studio One and Nuendo, but Krotos has noted that some users may experience issues on these DAWs.
FIND OUT MORE
https://www.krotosaudio.com/p/krotos-studio/
---
Want more free software? Check out all our other Free Software Friday blogs here
Interested in production, plugins and sound engineering? Why not take a look at our hugely popular music production and sound engineering courses?