We catch up with Soundcuts Ltd's Adele Cutting - a game audio professional with decades of experience - to get her advice on how students can make it into the game and game audio industries. Any students studying a Sound Design degree at dBs Institute, or thinking about applying to our Game Development: Programming or Game Development: Art degrees for 2023, take notes!

Whatever background you come from, getting into the gaming industry - like many creative industries - can be challenging. With employment in the gaming industry set to triple from 2020 levels by 2025, there's never been a better time to join. However, the current boom also means that competition is stiff.
We asked Adele Cutting - founder and director of Soundcuts Ltd, who has worked in the industry for 25 years and is speaking at one of the most important dates in the UK game industry calendar, Develop: Brighton, this week - for her advice on how those wishing to get into the industry can achieve their goals.
Passion
"If you're not passionate about it [gaming], you're not going to work in it. We recently had some positions open and we had over 200 CVs and there were only two jobs. You've got to really want it. Especially for people just starting out, you can't have a regular CV like everybody else. You've got to have gone that extra mile and be able to demonstrate your love for sound outside of your education. For a start, you've got to be able to talk about games. I'm always very surprised in interviews when I've asked people, 'What are you playing at the moment?' And they can't really answer it. Or you ask, 'Tell me a game you think has amazing audio,' and they can't answer that question either. I understand in an interview you don't want to give the wrong answer, but it doesn't matter if I love it. I'm interested in why you love it. As long as you can express why you love it, it shows that you're listening. That's really important."
Networking
"There are lots of things like game jams, run by little micro studios, indie companies or enthusiast groups, that are really good to get involved in. You can meet like-minded people and make connections, they may be in a position to recommend someone and, they might call on you. Networking is super important. I don't mean going to a conference and thrusting your business card at anybody you see. People are interested in people who've had a conversation and a connection with. You're more likely to succeed if you've shown an interest and asked what they're currently working on. If you're interested in what somebody's doing, they're more likely to remember you than just having a business card thrust in your face."
A positive attitude
"Especially within our team, we want to work with people who have the same attitude; super hard-working, deep love of audio but also really lovely to work with and fun. It creates a nice environment. There are no egos, no, 'I'm better than you,' I can't be doing with all that, I want a team that supports each other, so to me, it's people's personalities that are as important as their showreel.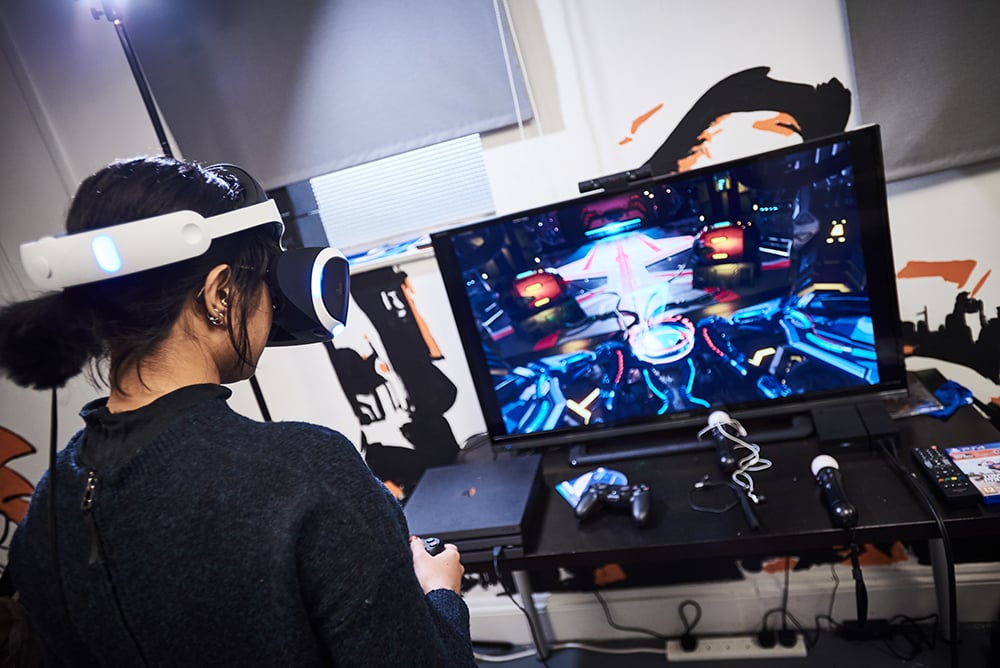 For women, be confident: "don't worry about the noise"
"What I would say to women, in particular, from the experience I've had, is just put yourself forward for more positions. Generally, I've had women enquire about positions, but don't submit their C.V. unless they've got all the experience we're looking for but a man will just send the CV in any way, even if he doesn't have all the experience on the job description. That's a very stereotypical statement. I'm not saying every woman or man is like this. But, if you're a woman, just go for it. Just get your head down and don't worry about what everybody else is saying. If you've got a path, stick to it and go for it. Don't worry about all the noise"
You don't need a perfect CV
"I remember my National Film & Television School interview and I went in and I felt sure I hadn't got it. Literally, everything they asked for, I hadn't done. They asked, 'Have you done soldiering before?' and I said 'No, but I'd be really interested to find out how to'. They replied saying, 'No, that's great because we can teach you that.' When we're hiring people at Soundcuts, I can teach them the technical stuff because that's just rules, methods and ideologies of how we're meant to approach sound and integrate it. But if you haven't got the skills to design great sound, that's harder. You've got to have good ears. It's harder to teach people listening skills. But it's easier to teach people technical skills."
A great showreel
"Go and get a great showreel, that goes without saying. I'm very interested in their showreel and their personality when they talk to us. To me, it's all about the showreel. So whatever skills they learn, as long as they come to us with a kickass showreel and some basic knowledge and understanding about interactivity, random containers, sequences and branching sequences, that's really important."
Industry experience and internships
"I think internships are invaluable because when you have an internship, you learn loads about the industry and the job The other positive is, if you do really well, they may want to hire you next time a position comes up. Either way, you've learnt skills that will help further your career. I think the real world is so different from university in a lot of ways. Working as part of a company is very different to university life."
FIND OUT MORE:
How to stand out in the gaming industry - The essential tips from our recent panel event
5 must-have soft skills gaming students need to stand out in the industry
Down the VRabbit Hole With Merlin Sunley

---
At dBs, we place a huge emphasis on ensuring that our students move on from their studies into the world of work. 100% of our recent Innovation in Sound MA achieved vocational success and our connections with figures in the creative industries mean that we can ease the journey between education and employment. We can help give you the tools you need to start your career in game programming, art or audio with an industry-focused degree programme.
Find out more about our courses here.