If you are interested in studying an online music production degree, you may have some questions about how they're delivered, how much flexibility you have and how respected they are. We spoke to dBs' Online Coordinator Nick Lawson to find out more for you.
Nick Lawson is the Online Coordinator at dBs. He designs, manages and delivers much of the online degree course content we provide as part of our new online music production degrees.
Still in their relative ascendency, many people often wonder whether online degree courses are delivered to the same quality as their on-campus equivalents, whether they are respected by employers and what guidance they will have in the absence of in-person support from a tutor. The good news is: online degrees provide high-quality teaching as well as increased flexibility! Read on to find out more from Nick about how we deliver our online music production degrees.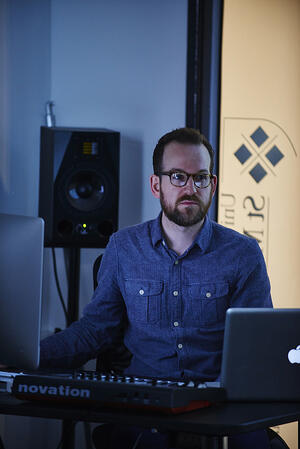 Hi Nick! Please introduce yourself and your role as the Online Coordinator at dBs.
I'm Nick Lawson and I manage the development of the online course content at dBs as well as the Virtual Learning Environment, where students access the learning resources and course content. It's my job to make sure the students have the best experience possible and get the most out of studying on an online course with us.
What can applicants expect from an online degree from dBs?
We've invested a lot of time and effort to ensure the courses and learning materials are informative, engaging, and challenging.
The beauty of studying online is the flexibility it allows. Students can study whenever it suits them from wherever they are in the world, which can also help save them money! The content for each module is released each week, so there's a certain theme or set of topics to focus on in their own time leading up to a live webinar where they get to meet with their module leader and fellow course members to discuss the content and their progress with the tasks and coursework. The webinars are part of each module and they're recorded, so they can be accessed again at anytime after.
What are the benefits of studying an online degree with dBs?
The flexibility of learning when it suits them and working at their own pace will suit many students. Also, being able to study our courses from anywhere in the world means they won't need to find accommodation near one of our centres or commute from wherever they're based. Having access to a wide range of resources developed by professionals and experienced instructors means our online students can go back over these materials as many times as they'd like. Students will also be able to access our onsite guest lectures via live streaming and they will still be part of the wider dBs community. Online students can apply for various opportunities, and engage in online meet-ups with other students. We're also working on different ways online students can collaborate with students across our three campuses.
How is the online degree course content delivered at dBs?
The content for online degrees is delivered in a number of ways, including videos, eLectures, audio recordings and tasks that students can work through at their own pace. We've explored the best ways to deliver the information that's included in the modules and we're also keen to empower students to become better independent learners and critical thinkers, helping them become the best practitioners and entrepreneurs they can be.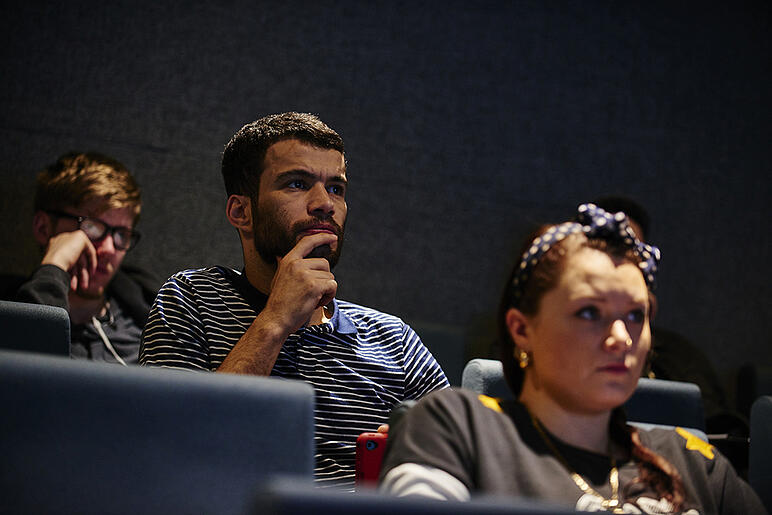 How are online degree students encouraged to tackle the practical parts of the course?
As you'd expect, the courses are very practical. We set tasks that relate to the content and give students suggestions about approaches they could take or objectives they should aim to achieve to aid their development. We want students to experiment with the principles and concepts we deliver and to find their own creative voices and individual approaches.
How are the courses accredited?
Our online courses are validated with Falmouth University. Although we at dBs deliver all of the educational material and tutorship, graduates will receive their degrees from Falmouth University. We're incredibly proud to be working with Falmouth University, as they have an excellent track record of delivering and accrediting online degrees in creative subjects and are a highly respected and reputable university.
How can students communicate with each other and staff during their online degree?
Students will be able to communicate with academic staff and other students in a number of different ways. They will be invited to weekly webinars for each module where they can speak with the module leader and other course members about the learning resources and coursework they are focussing on at the time. Outside of these webinars, they'll be able to communicate via email and also through the various Discord channels that are set up to make discussing topics and sharing material easy and accessible.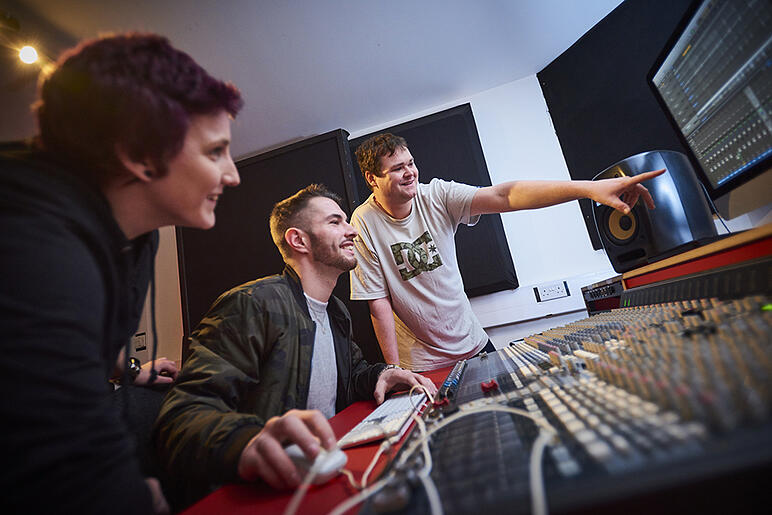 Can online degree students still get hands-on access to dBs' industry-standard facilities?
Our online students have the same level of access to our studios as those studying onsite. Each student gets an allocation of 3hrs a week but there are ways of getting more. Guides for our studios are available online but students will also receive inductions and help from technicians when needed.
What help is given to online degree students to gain industry experience?
Online students will have the same access to industry opportunities and career advice as our onsite students. We have a dedicated Employability & Engagement Officer who finds industry opportunities and is also available for students to book 1-2-1 sessions with to discuss their careers and how best to position themselves for the career they want.
Online students will also be able to apply for dBs Pro opportunities that they can contribute to remotely. dBs Pro is our commercial production company that takes on a variety of commissions throughout the year and provides our students with real professional experience that can really help their professional development.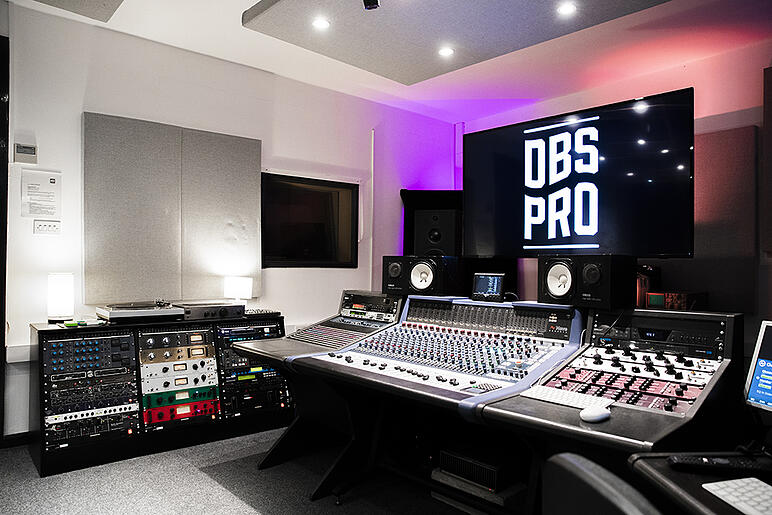 What will dBs online students find in the Virtual Learning Environment?
The Virtual Learning Environment is the main hub where students can access all of their course materials and everything there is clearly laid out and easy to find. New material for each module is released every week and students can work through this in their own time, at their own pace. The VLE also integrates with Google Drive and other aspects of the Google Suite that we use regularly. Students can also access a whole range of exclusive resources, helpful material and support through the Student Resources section.
How does studying a degree with dBs online differ from the on-campus courses?
Studying online with dBs differs from studying on-campus in a number of ways. Firstly, online students aren't tied to a timetable of lessons as such. They are invited to live weekly webinars for each module but they will access the majority of the learning materials in their own time through our Virtual Learning Environment. This means they can fit their learning around their personal commitments that might otherwise make studying on-campus more difficult.
Studying online in your own environment means you can learn new skills on your own equipment. You will still have access to our state-of-the-art studios but some of our students prefer to work in their own environment and spend time mastering their own set-up.
Rather than being taught in a classroom, online students will be able to work through a variety of videos, eLectures, audio recordings, and related exercises to develop new understanding and to put this into practice at their own pace.
Online students can contact staff via email or the forum to ask for assistance, while they also have a weekly webinar for each module where they can discuss the content and their coursework with the module leader and their fellow course members.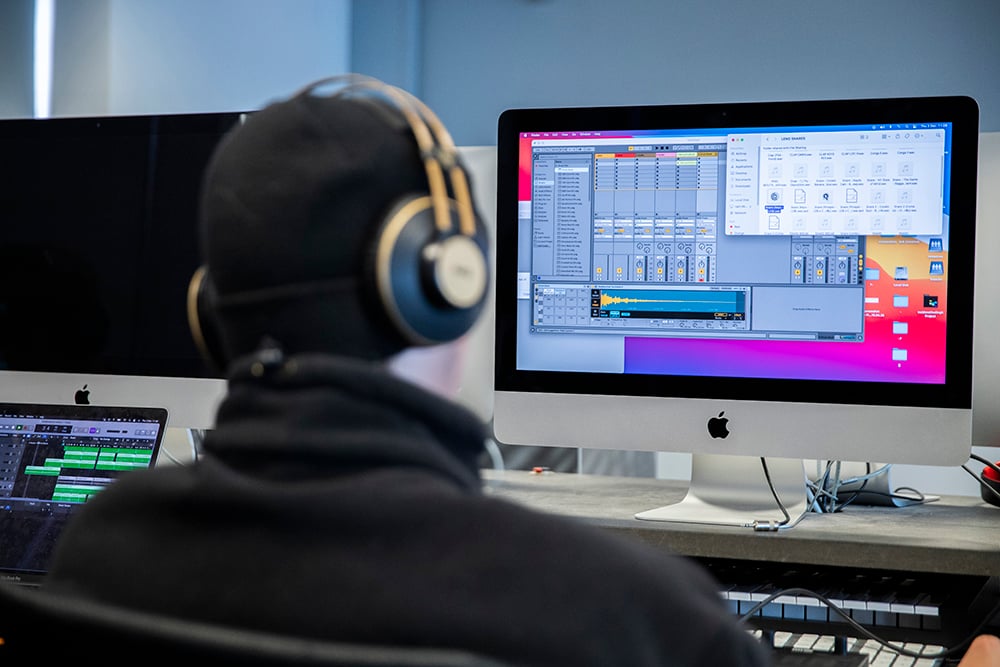 FIND OUT MORE:
Online Study at dBs: Get a High-Quality Music Degree Without Breaking the Bank
Why Online Degrees are More Respected Than Ever
Learn Your Way: 5 Flexible Benefits of Studying an Online Degree
11 Ways to Get the Most Out of Studying a Degree Online
---
If you want to study an online music production undergraduate or postgraduate degree, check out our online degree courses and contact us to find out more!