Have you always wanted to work in the gaming industry as a developer, designer or artist? If so, studying a degree in gaming can set you on the path to your dream job. Here, we examine five ways a gaming degree can help you break into the industry.
Working as a game developer, designer or artist is a dream for many young people across the globe and as an industry that's worth £7.1bn in 2022, it's also one of the hottest sectors you could hope to work in. However, many people who dream of working in gaming don't know where to start. Although much of the software required to create games is open source, learning the skills, techniques and theory is much harder to grasp and often requires formal training. That's where our gaming degrees, like our Game Development: Programming and Game Development: Art programmes, come in!
Game degrees can give you the skills, competency and theoretical knowledge to thrive in the industry and set you on a path to employment. If you've been thinking about applying to a game-related degree course, but you're still unsure whether it's worth the expense, we've listed five ways that studying a game degree can improve your chances of unlocking a career in the industry, with expert insight from the professionals who spoke at our recent game industry panel event.
1. Build your portfolio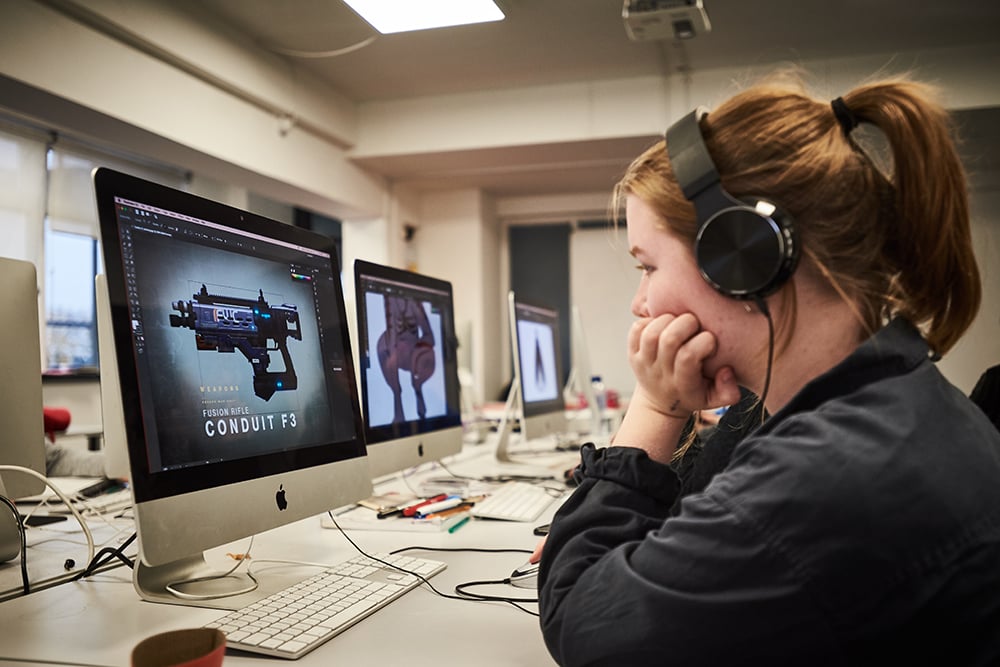 Building a portfolio is one of, if not the, most important steps when trying to secure a job in the gaming industry. As d3t's Louise Andrew says, "It's all about the portfolio. We always look at the quality of the portfolio."
Quality portfolios can take months or even years to build from scratch and should exhibit a suite of skills, techniques and competencies in a range of disciples that are related to the type of job you're applying to. While studying game development, design or art at university, learning the skills required for an impressive portfolio are weaved into the course programme. You'll work on a range of collaborative projects with other students and may even have a chance to work within the industry while you study. This is all excellent material to include in your professional portfolio, allowing you to prepare for a role in the industry while you learn your trade.
"No matter what kind of discipline you go down, you want to show off your best work," says Lukas Genever, Senior Mananger of Global Talent Acquisition at Cloud Imperium Games. "When you're building your portfolio, whether you use ArtStation, or you make your own site, make it as easy as possible to navigate… Try to think, 'How can I share my best work as quickly as possible, but also show everything I can do.'" As a game development or art degree student, you can slowly build your portfolio with the help and guidance of your tutors and lecturers. Without that support structure in place, it can be much more challenging.
2. Meet new people and network



Meeting like-minded people who are personally invested in gaming and may be able to provide you with opportunities, is essential for getting a foothold in the industry. Networking doesn't need to be cringey, it's simply the process of making friends and connections within the industry, learning from your peers and being closer to others who are operating in the industry. At university, you'll be doing all of this every day!
While you study gaming at university, you'll meet countless other students who have different skill sets and all want to be employed, as well as lecturers and tutors who have been there and done it and often still have valuable contacts in the industry. As well as honing your technical skills, at uni you will meet other people who are interested in the gaming industry and can pass on their knowledge to you. Think of it as a melting pot where you have the chance to collaborate with others, learn together and discover exclusive work opportunities that others may not have.
"One of the key things that you can do as a student is just start networking," says Daniel Ledger, Lead Producer at FORMAT. "Start building up your network, get to know people and figure out from other developers' portfolios what the standard of work is in the industry. That can be a really good tool to set goals for yourself."
3. Learn on industry-standard hardware and software



Learning your craft on the standard of equipment that you will find when working in the industry is a core tenant of the ethos at dBs. Across all of our degree programmes, we ensure that the facilities we provide for our students are state-of-the-art and reflect an industry-standard environment. We believe that this structure sets up our students to be the very best practitioners of their discipline and ensures that they will be able to apply for roles in the industry with the confidence that they already know what they're doing.
This ethos is true across all of our courses, including our Game Development: Programming and Game Development: Art degrees. As such, we've invested in high-end ASUS computers and laptops and decked them all out with the software you'll need to hone your skills and learn the techniques required to find a job when you graduate.
"You need to know the software, you need to know about game engines and you need to know about how to make game-efficient artwork," says Louise. When studying a game degree at dBs, you'll gain an in-depth knowledge of all the software and hardware which is standard within the gaming industry.
4. Achieve the qualifications required to land a job



One of the most obvious benefits of studying a degree is that… you get a degree! Although game development degrees may be niche, they are highly respected in the industry. Degrees help to prove that you have a certain level of competency, skill and knowledge of a subject and can think critically and work independently. As such, most game development jobs will require you to have degree-level education or a serious amount of work experience, apprenticeships, internships or re-training from a similar industry. Studying a game development degree allows you to hone your practical skills, learn industry knowledge and have a qualification to prove it all when it comes to the crunch.
"Most of the people we get joining us have done a degree," says Louise, "probably at least 90% have done a degree in game. A few have done apprenticeships, or a few did a postgraduate course later on in life... A degree in game art teaches you how to make beautiful art but also game-ready art."
You might be an amazing programmer or a highly-skilled game artist, but if you don't have a degree, it can be hard to prove it. If you do have a game development degree, you'll have a better chance of being picked for an interview and, therefore, a greater likelihood of landing your dream job!
5. Transferable skills



If you change your mind during your studies and realise that working in the gaming industry isn't quite for you, your time, money and experience will not have been wasted. Studying a gaming degree gives you a range of excellent transferable skills for other technology-related industries.
For example, if you studied on our Game Development: Programming course, you will have mastered creative computing, coding, programming, project management, problem-solving, decision-making and engineering skills that are all transferrable to other industries in the technology sector and beyond. If you studied our Game Development: Art degree course, you will have developed many of these skills as well as honing your art and design disciplines.
It's no secret that the gaming industry is fiercely competitive, so it's important that the skills you learn at university can be transferred to other roles in the event that you change your mind about your vocation post-uni.
FIND OUT MORE:
How to stand out in the gaming industry - The essential tips from our recent panel event
Breaking into the gaming industry: professional advice from Adele Cutting
5 Ways dBs Institute Can Kickstart Your Career
---
If you want to break into the gaming industry start your journey by studying Game Development: Programming or Game Development: Art at dBs. Still not sure university is right for you? Join us at our next open day and find out more.