Our first and second year BSc (Hons) Live Sound students recently ventured out to Balter Festival to put their skills to the test for a weekend of multi-genre music.
---
Each year, Chepstow Racecourse is transformed into the home of Balter Festival with this year's lineup including the likes of Squarepusher, Culprate, Peggy Vienetta, Venga Boys, Kara, Dr Meaker, Hysta and Sewer Trench.
To support this year's event, a group of live sound students from across our first and second years headed out along with course leader Tom Chitson and Tom De Brabant, Noise Management Consultant to Balter Festival and module leader at dBs.
"Balter festival has been on the festival scene for 5+ years and gives a platform to a host of underground music performances," says Tom Chitson. "dBs supplies full audio production to one of the live stages at the festival responsible for heavy alternative live music from grindcore to death metal and electronic cross over.
"The students offer a valuable resource to the running of the stage in roles from FOH, system tech all the way through to stage hand. All attendees from dBs did a fantastic job throughout the festival further cementing our place within the production team. It is a proud moment to see what they have learned come into practise."
William Taylor-Bennett (left) and course leader Tom Chitson (right) in front of the Phlegmgazm stage.
Tom DB added, "I am so proud of our students. Across the board they proved they can put what they learn into practice. My role for the festival means dealing with external contractors, senior management and local authorities to maintain audio quality on site and remain within the festival's licensing restrictions. This means that sound engineers and crew - many of whom were our students - need to adhere, communicate, and adapt when required and do so in a professional way. They did this without fault.
"I also want to say how happy I was to be working with such a diverse team. The audio industry has a lot to work on when it comes to inclusion, but Balter showed what that future should look like."
Speaking with Phil Goldsmith, owner of NSL and Head of Production for Balter Festival, our students certainly made an impression. "The dBs crew on the main stage and across the site performed without fault. It's great that we can give them real world experience, and it's even better that we can put them in demanding roles knowing that they will be able to do what is required to deliver a great show."
The accolades for our students didn't stop there. Veteran stage manager of Balter's main stage, Jill Smeets said, "Tristan [Butterworth] and Jack [Arnold] were all over it, all weekend. I kept asking them to do things, only to be told they had already done it, just fab!"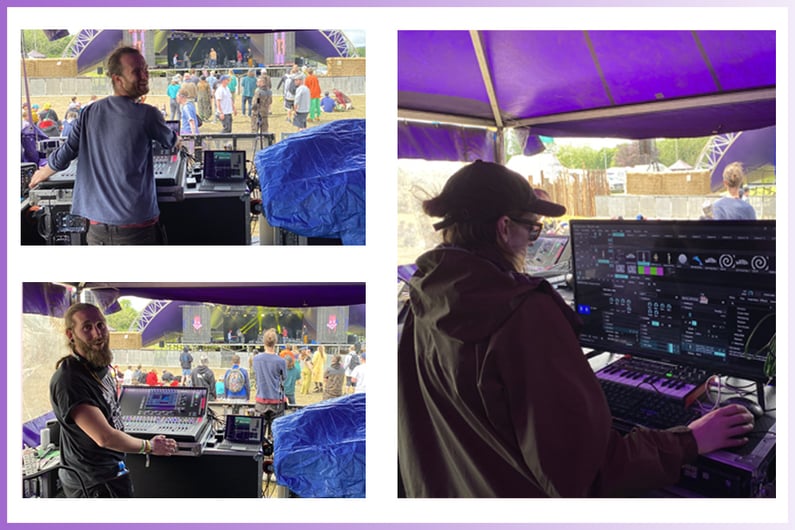 Tristan Butterworth (top left), Jack Arnold (bottom left) and Elliot Lister (right) operating the sound and visuals for the main stage at Balter Festival.
To top it all off, Tom Deering of Vanguardia Noise Consultancy said on site "Are they really students? They know there stuff."
Learning by doing
The kind words went both ways, too! We caught up with a few of the students who worked the festival to hear about their experience and the important lessons they learned on the job.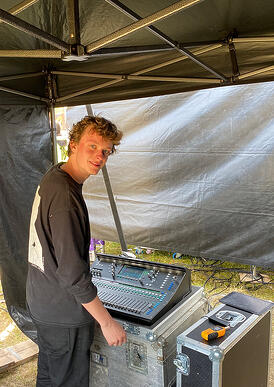 "Working at Balter this year was a great way to end the academic term and to immediately start the festival season," says second year student Evan Neumann. "Running the Off Me Nut stage was a great experience in managing the audio and the stage at the same time, with the stage management being the more stressful of the two! Working with an array of genres, MCs and acts gave a great variety to the job; with DJ Lord of the Rings and Samurai Breaks being two highlights for me.
Evan Neumann overseeing the mix for the Off Me Nut stage at Balter Festival 2022
"One of the biggest lessons learnt from the weekend was to always check to if the DJ is redlining- having to turn down Mampi Swift four times during his set - luckily he was a diamond about it!

"Overall Balter was a great weekend of audio work and lots of networking and making connections within the industry, which is key for starting out as a live sound engineer. Big ups to Chitson and Tom DB with their own connections, helping as many of us as possible in the industry get the smoothest start possible!"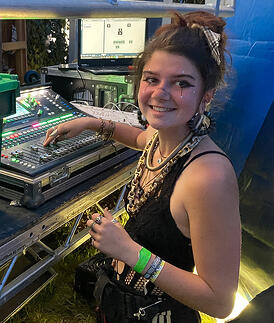 "I had a wonderful time at Balter!" said first year student, Louise Evans. "As it's a festival that's so close to my heart it was such an amazing opportunity to be able to work there.
First year student Louise Evans at the mixing desk on The Northern Embassy stage live at Balter Festival 2022
"I was doing the sound with second year student Joe Keeley on The Northern Embassy stage. It gave me a good insight into the industry across a festival weekend. I learned a lot about the organisation of the festival across the multiple stages and that introduced me nicely to how it all works!
Second year student William Taylor-Bennett said, "I think my main lesson that I've learned especially at Balter would be to believe in your own ability as a sound engineer or in my case as FOH engineer, instead of always looking for the gratification from others. If it sounds good to you the engineer, then it sounds good."

FIND OUT MORE:
"They're invested in your career" - 3 live sound students reveal how their tutors are making a positive difference both in and outside of university
Future Sounds - Our live sound students get hands-on with d&b audiotechnik's cutting-edge 360° Soundscape system

---
More at home behind a mixing console in a field than behind a desk in an office?
Check out our BSc (Hons) Live Sound degree.