Our second year live sound students recently ventured out to The Goods Shed, Stroud for an interactive experience d&b audiotechnik's Soundscape system and a guest talk from audio expert Bill Brooks.
---
In more recent years, the prevalence of spatialised sound and immersive audio has grown rapidly, and the live sound industry is no different. You only have to watch our masterclass with Scott Wilson to see how alternate speaker arrays can create immersive experiences.
With these new systems comes new opportunities for our students to get one-on-one with the cutting-edge of live sound equipment. The system in question is d&b audiotechnik's Soundscape - one that our students will soon be actively taught on for one of their final modules. Ahead of those classes, tutor Tom De Brabant organised an excursion to The Goods Shed, where d&b's Soundscape system is permanently installed, to get our students some hands-on experience.
To help them familiarise themselves with Soundscape, sound system design specialist Bill Brooks was on hand to deliver a masterclass; sharing his expertise with the group before letting them flex their creative muscles.
We caught up with some of the students for their feedback on the day.
Owen Minter
"It was clear Bill knew the soundscape technology inside out and through his education work at d&b and was able to connect with us, explaining the unique workflow of using a soundscape system as well as its vast capabilities. Bill also made a real effort to connect with us personally, emphasising that we could contact him any time as a resource for advice on any audio-related topics we cover. This personal interest and support shown was another reminder of how well respected the Live Sound course at dBs is within the industry.
"When getting hands on and experiencing the soundscape system, its ability to naturally convey sound coming from a place beyond the speakers was like nothing I've experienced before.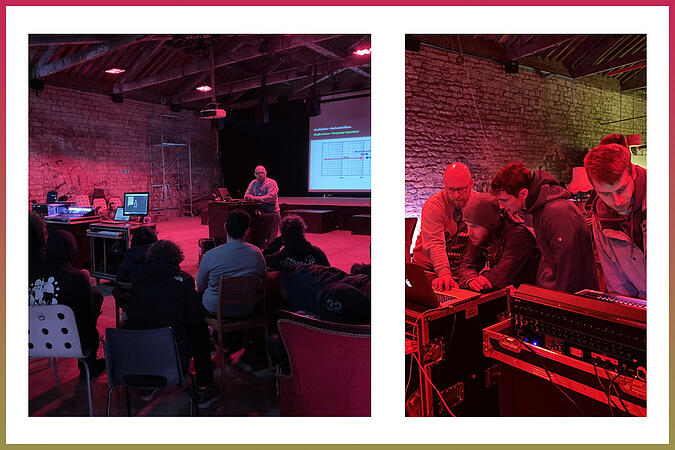 "Although soundscape systems are not appropriate for every genre of live event, when asking Bill about its use in theatre live sound, which I'm particularly interested in, I learnt that most West End shows using d&b systems utilise Soundscape.
"After getting to experience and use the soundscape system, one of Bill's closing statements was how few audio technicians within the industry have actually had training with a system like this. Hearing this was a reminder of how fortunate we are at dBs to benefit from having lecturers with these connections to also learn from, as well as a huge confidence boost for me regarding my career in the industry after dBs."
Ben Rollins
"It was brilliant. Tom De Brabant did an amazing job organising it for us. I feel really lucky to have him on the course with the connections he has. Bill Brooks provided a great lecture and experience for us all."
Oskar Beckley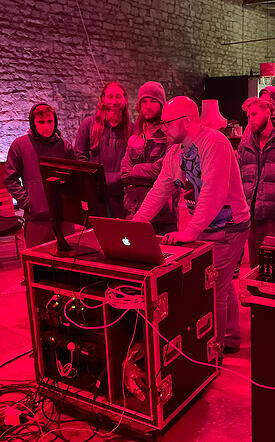 "The talk was super engaging and really helpful and relevant for our end of term assessments. Really cool to get hands-on with what is essentially the cutting-edge of the technology used in our industry."
Seamus Mulvey
"The field trip and guest lecture with Bill Brooks was amazing. Bill was really informative and was happy to share his skills within d&b Soundscape. It's great that dBs are giving us these opportunities."
Thomas Hunt
"The visit to The Goods Shed was one to remember! The advancements being made with immersive audio have been huge and the application into the live sound industry is very interesting. Seeing the amount of DSP required to do this in a larger scale venue makes me skeptical to whether or not it will work, but it may work for smaller installs or educational venues such as planetariums or aquariums. That is all up for interpretation, which makes the new system so interesting, but we'll have to wait and see how it goes."
FIND OUT MORE
"They're invested in your career" - 3 live sound students reveal how their tutors are making a positive difference both in and outside of university
Designing a custom sound system with Live Sound student Jake Garland
Challenging underrepresentation in the live sound industry
---
Hoping to create unforgettable experiences for audiences around the world?
Check out our Live Sound degree