dBs Institute in Plymouth is the latest campus to install a brand-new Dolby Atmos suite, allowing our students to learn spatial audio mixing and adding a valuable new skill to their repertoire.
We're delighted to announce the latest addition to our amazing studio facilities at dBs Institute in Plymouth; our Dolby Atmos suite. This addition brings our Plymouth campus - where dBs Institute was founded - in line with our Bristol and Manchester centres, giving our Plymouth students the ability to mix in spatial audio for immersive sound experiences.
Spatial audio places listeners within their favourite songs and surrounded by their favourite musicians - and with mammoth companies like Netflix and Apple integrating the tech onto their platforms, 3D sound is fast becoming the newest frontier in the world of audio innovation.
From sound for visual media, including film, TV and gaming, to immersive audio reimaginations of legacy records, learning how to mix in spatial audio can provide a wide range of new opportunities for students. And, as the first HE institute in the UK to integrate Dolby Atmos mixing into our curriculum, we're part of an innovative community, which is particularly active in the West of England, at the forefront of this new technology.
The installation of this new facility has also been a homegrown one, with our brilliant Plymouth technician, Dan Wack, leading the project. Dan, an ambient music producer who studied at dBs from Further Education through to Higher Education, has been a lover of music tech since he was 16 and this passion is what drew him to studying at dBs.
"I started on the DJ & Electronic Music Production BTEC, and then went on to the BA Electronic Music Production Course," says Dan, "As a 16-year-old looking at the dBs website, it seemed crazy that I would be able to have access to things like the Audient ASP4816."
Choosing dBs for the "sheer amount of equipment and facilities that are available", as well as the "knowledge and experience that the tutors here in Plymouth are able to give on a daily basis," Dan's time as a student helped him develop as a creative in an "open-ended way" that allowed him "to explore the parts of the industry, or genre, that I was interested in - which I think is really important in an industry where there isn't always a right or wrong answer."
During his studies, Dan was already volunteering as a technician at the campus and, during his final year, a position opened up in the tech team and he jumped at the opportunity. "The main reason I wanted to join was the team here at Plymouth," says Dan, "They were absolutely crucial in helping me develop as a student so it's no surprise that I wanted to be part of that team. The other reason, which shouldn't be a surprise, is being able to work on the vast array of equipment we have available."
This experience as a student, along with his love of music technology, has led to Dan's latest facility update project - installing our newest Dolby Atmos suite. "The process has been challenging," says Dan, "But that is always going to be the case with something of this nature. Ultimately, these challenges present opportunities to learn new things about the technology, new equipment or things like aligning the level/delay of the monitors… The biggest nuance about this system was figuring out how it would work in conjunction with the existing SSL AWS 924, how recording/monitoring would work and the most efficient way to implement that from a student point of view."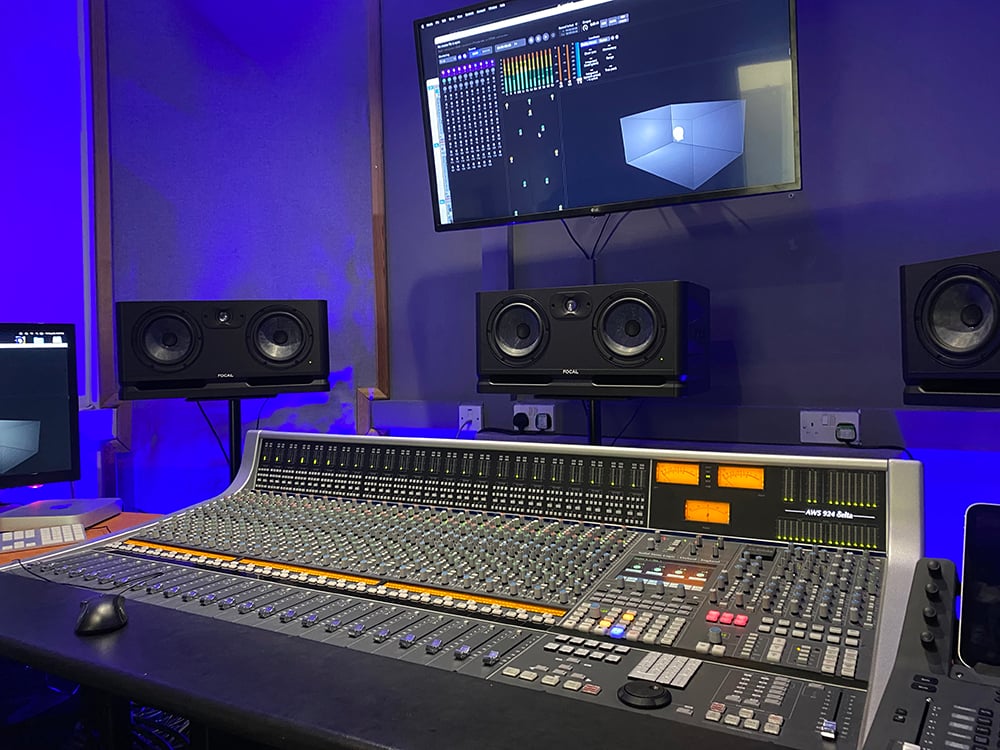 The hybrid nature of the studio that Dan has managed to implement makes Plymouth's Dolby suite unique - students can record using the SSL or use the Focal/MTRX Atmos rig - and it's been "rewarding to see students experience Dolby Atmos for the first time and have a big smile on their faces."
"Dolby Atmos, for me, has been the next big step up in 'surround sound' for film, media and music," says Dan, "5.1 was always great but Atmos creates a much more accurate and enjoyable reference for the listener. In terms of its practical implications, I think it depends on the target audience or destination. Experimentally, Atmos opens up many avenues in terms of creative potential - to the point that it could even dictate the recording process."
Access to facilities is by far the biggest barrier for students and aspiring producers to work in Dolby Atmos and develop their creative skills in a discipline which has such amazing potential for growth. That's why we have decided to lead the way as a higher educational institute in this field, ensuring that every dBs student across our three campuses has access to the technology and will be able to benefit from the continued integration of spatial audio within the music and sound industries.
"It's really important that the next generation of engineers are able to explore this technology to broaden their own horizons and add another string to their bow to take with them into the next steps in their careers," says Dan, "But, of course, it's not just the technology, it's also the workflows and intricacies of mixing for Atmos and the way that the tutors are able to offer such a degree of detail which is where dBs really shines."
---
If you want to join the dBs community at our Plymouth campus, check out our courses or visit us to find out more.