In the first of an ongoing series, we take a look at the changing face of the music industry. Specifically, how realistic it is to make a living as a producer.
Saturation in the music industry is at an all-time high. The rise of bedroom producers, viral success on SoundCloud, and more recently, Tik Tok, and the shift towards treating yourself as a brand, has seen a dramatic change in how new and existing artists find and retain their audience.
The emphasis on artists being their own marketing department is a big area for discussion, and one that's widely cited as a detrimental drain on an individual's creativity. When you couple that with streaming; the double-edged sword that has the potential to raise an artist's profile on a global scale, but fails to translate into a sustainable income, it's easy to see why some people say it's impossible to make a living as a music producer in 2022. However, this simply isn't true.
To explore this, we asked three different creatives what they would say to someone who thought it was impossible to make a living as a music producer.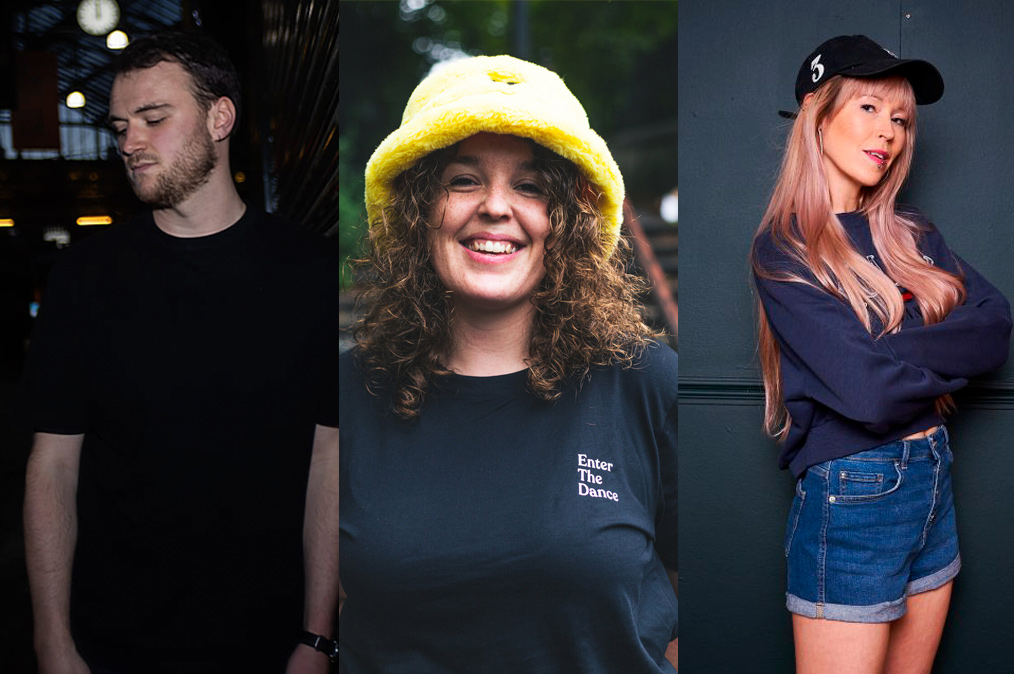 Harvey Jones AKA Pizza Hotline
Sweetpea
Shosh

A graduate of our BA (Hons) Electronic Music Production degree at dBs Bristol, Harvey has built up a strong following as a DJ/producer both under his alias El Choop and more recently, Pizza Hotline.

Harvey has also taught across several SAE Institutes in Australia, hosted shows on Threads Radio and currently works as a mastering and cutting engineer at Pitchcraft Mastering.

Sweetpea has been embedded in drum and bass for the last decade, releasing original music through Hospital Records, Dispatch, Sofa Sound and has hosted shows on RINSE and BBC Radio 1.

She is also one of the founding members of EQ50; a collective of women addressing inequality and representation in dance music, and in 2020, the collective launched the first ever DnB mentorship programme for women and non-binary people.

DJ, producer and presenter SHOSH is one of UK Garage's rising stars. Known for her kinetic live sets, she has performed at Glastonbury, Boomtown, Outlook & Leeds Festival, and presents on KissFM.

Before becoming an artist in her own right, SHOSH helped found 24Hr Garage Girls, which has provided a platform for emerging female artists including dBs alumnus Izzy Fielding AKA Oppidan.

Website
Instagram
VIDEO: Sweetpea on navigating the music industry
1. Be adaptable and diversify
SHOSH
"I'd say you have to be creative with it... To make money out of producing music you have to spin a lot of other plates, i.e. your artist brand/profile needs to run alongside this in order to monetise from gigs and live shows; you need to create an idea of genre, style or marketability behind your music to get labels to invest in you with releases and sample packs etc. Through gigging and royalties I now make a good living from music but it's not solely down to production at all."
Sweetpea
"COVID pushed a lot of artists to think about different ways of making money, especially when more people are choosing to stream music rather than buy it. People really thought outside of the box, with things like making merch and Patreon, which is an incredible thing. I know certain artists that make a hefty amount just off their Patreon monthly, so there are ways to do it. There are always non-conventional ways of making money as a producer, you just have to stop looking at your only revenue streams being releasing music and gigging."
Harvey Jones AKA Pizza Hotline
"Personally, I'd say that it's absolutely possible to make a living as a music producer these days because I've managed to make it happen since leaving dBs. However, you need to be adaptable and try to diversify your skill set so you can work in different areas of production."
2. Build your network
Harvey Jones AKA Pizza Hotline
"I'd be lying if I said it was easy. In my experience the thing that's helped me out most is networking. Get to know everyone you can who works in music, and above all, be friendly and genuine. People will always remember you if you're nice, or better yet, can make them laugh. Like most other creative industries, the music industry is held together by trust."
3. Consider your scene and its marketability
SHOSH
"The silent side of music production can also make you money, but it's much more irregular and unpredictable, i.e. silent producer for vocalists and songwriters, engineering and mix/mastering, ghostwriting for other producers, paid tutorials. If you are writing for/with a big artist you can make really good money from royalties alone, but that's quite rare."
Sweetpea
"Take into consideration which genre you're in, as there are some genres that are more fruitful with money than others. It's not something that's going to happen overnight. This is something that you're going to be working at, for a year; five years; ten years. Some of your favourite producers in the scene, certainly in drum and bass, are 15 - 20 years into their careers and are only just getting somewhere."
4. Don't underestimate the value of hard work
Sweetpea
"A lot of people, myself included, have a job full-time. I've always had a full-time job and do music on the side. It's very common because it is incredibly hard, unless you're somebody like Andy C who is gigging weekend in, weekend out, and can afford to make a living off it. It's a very hard industry to break."
5. Remember why you're doing it
Sweetpea
"It depends what you want out of it; what is making a living for you as a music producer - living comfortably? You're going to be on that road for a long time and it's going to be hard graft. Out of the thousands of people that want to make it in the music industry, one, two or three of them are these anomalies that make it overnight, but the rest of us are going to be working at it for ages.
"But if you love this music so much, isn't that what you've been working towards: being in the scene for a long time? Or do you just want to get rich quick? In that case, underground music scenes probably aren't for you because that's not what it's about.
"It's not impossible, it's never out of reach and as long as you just remind yourself that you absolutely love the music, it's not impossible to make a living. Yes, it's very difficult. Music scenes across the board are extremely saturated now. The increased popularity of going viral definitely has a huge impact, but we need to remember and never forget that the reason that we get into music is because we love the music, we love the scene, we love being a creator."
Making it happen
These are just three perspectives, but hopefully their insights prove that making money as a producer is by no means impossible. However, we know that their advice is easier said than done. Over the next couple of weeks, we're going to be releasing more features that explore these various revenue streams, explain how you can capitalise on them, and how to strategically market yourself as an audio professional.
FIND OUT MORE
Do I need a degree to become a music producer?
How to start your own mastering company with Tobias Crane
How to develop and market your own audio plugin with DC Breaks