As the opening of dBs Manchester at New Century approaches, we take a look at how the 800-capacity venue will improve the learning experience for our students.

Located in central Manchester, just a stone's throw from the city's famous Northern Quarter and Victoria Station is the new home of dBs: New Century. The iconic Grade II listed building is being brought back to life with a £10m renovation that will see the historic building become a new centre for creativity in the area, featuring an 800-capacity venue, kitchen filled with independent food traders and, of course, dBs!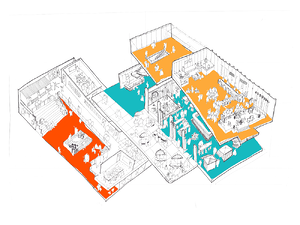 New Century Hall had been a staple venue for Mancunians to discover music in the city during its early years in the 60s. The mid-century modernist classic, constructed in the post-war building boom, also played a role as a landmark for the 'second summer of love' in Manchester. 12-hour Acid House raves would regularly reverberate around the hall, soundtracked by the likes of 808 State and A Guy Called Gerald. The music of that era helped define Manchester as a cultural powerhouse and an engine room for British electronic music. With Warehouse Project, Soup, Factory and many more renowned clubs regularly putting on club nights that both promote local talent and give the stage to huge names, the city remains a huge driving force for the UK scene.
The heritage of New Century is just one of the reasons we chose it as our new Northern home. As well as that, the space will put our students right at the heart of the action, surrounded by creativity and in a professional, industry-standard space for them to cut their teeth and hone their skills.
The 582 sqm, 800 capacity event space features an original sprung dancefloor, a house lighting rig and acoustically-optimised vintage wood panelled walls that make a perfect space for project exhibitions and club nights. The sound system is state-of-the-art (L-Acoustics / L-isa) so our students can practice in an environment they will find when they leave us to work in the industry.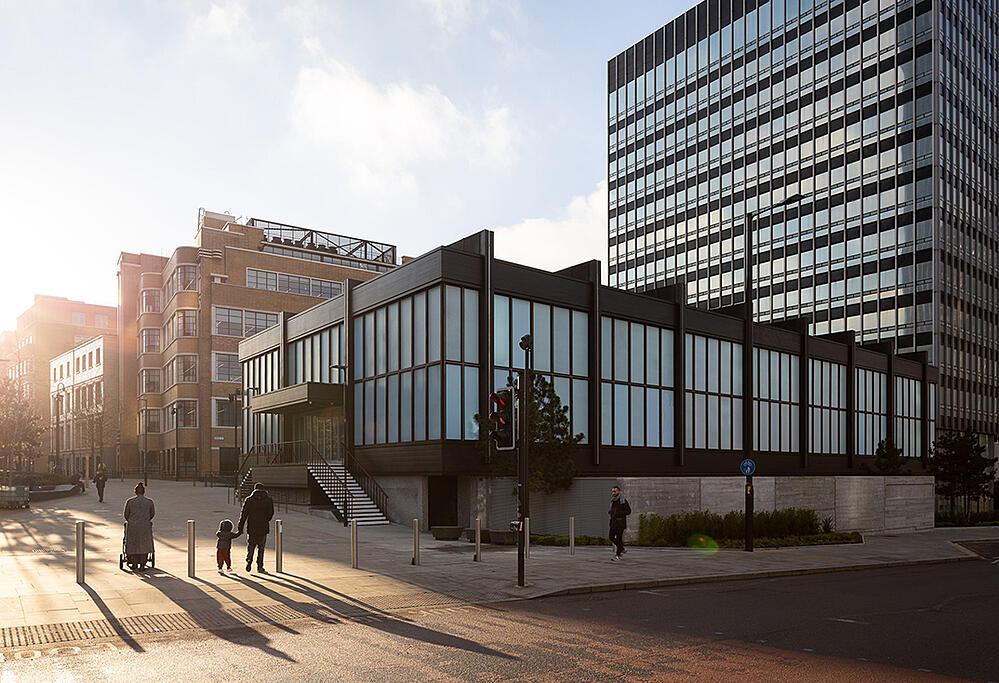 Opening this summer, with initial acts including Taiwanese synth-pop outfit Sunset Rollercoaster, London's Los Bitchos, The XX's Oliver Sim and many more, New Century is set to become one of Manchester's biggest venues on the local and national circuit. The size and quality of the venue will set it out as a key location for travelling artists and a hotbed for new talent from the local area.
For our Music Production & Sound Engineering and Electronic Music Production students, New Century will be the perfect location for them to promote their own shows, launch new labels, hone their DJ skills and exhibit the projects they've been working on behind the scenes. For Live Sound, it will be a location the students will become intimately familiar with, as they will be able to practice controlling the venue's sound in the very same building where they learn the techniques.
The New Century Hall venue is directly linked to the basement - where dBs is based - by 2 x 8 core OM4 optic fibre cables, which have the capacity to transfer 100G of data per core to our studios. This allows us to transfer multi-channel audio data, as well as camera feeds, from the performances upstairs for broadcast, live recording and multi-track recording for students to mix at a later stage. All the studios will be on a Dante AoIP network, which allows any studio to receive the feed from the venue and also all studios to receive the feed 'multicast'.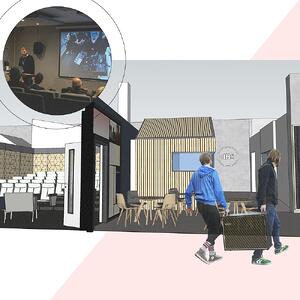 The connectivity between the venue and our studios puts our students in the driving seat so they can play around and practice with the audio of a live performance in their practical lessons, getting them used to working in a professional environment and physically connecting them to one of the most exciting new venues in Manchester.
Every student at dBs Manchester will benefit in some way from having a professional-grade venue, quite literally, on our doorstep. Ensuring that our students are prepared for the industry when they leave is at the heart of our ethos. We aim to create a collaborative and creative community that encourages enthusiasm, experimentation and networking within the industry from day one and the proximity to New Century helps us to achieve that goal.
As well as connectivity between the venue and our studios for our music students, our Game Development: Programming and Game Development: Art students will also get a taste of life in the industry, with our professional-grade gaming facilities. The game dev suite will feature a range of high-end gaming PC's, state-of-art 3070 graphics cards, mechanical RGB keyboards and RGB mice, 144hz 1440p game-ready monitors, AR/VR motion capture technology equipment and much more.
In the coming months and years, New Century will become a cultural focal point in Manchester where people can hang out and eat good food, catch the newest acts in the area and study a degree to set them on a path toward working in the music, sound, game and digital technology industries.
FIND OUT MORE:
Food for thought: dBs Manchester campus New Century Hall announces first independent food traders
5 Ways dBs Institute Can Kickstart Your Career
Manchester's game & tech boom is good news for dBs Manchester

---
We still have spaces available for our courses at dBs Manchester this September. If you want to join our community at our newest campus, get in touch with our admissions team today by registering your interest or applying for a course here!