In the second part of our series on making money as a music producer, we examine the various ways to diversify your career and make more from your creativity.
Last time, we spoke with three different producers working in the music industry for their perspectives on making a living as a music producer. Though each shared their own unique takes, they all agreed that diversifying your portfolio beyond releasing music and gigging was vital. But where do you start?
We explore 8 ways to build a passive income as a music producer; highlighting the pros and cons, how difficult each is to adopt, the financial implications of each, and most importantly, which pathway(s) will suit you best.
Contents
1. Selling merchandise
2. Sample packs and presets
3. Royalties
4. Syncing your music
5. Producing and writing
6. Mixing and mastering
7. YouTube
8. Patreon
1. Selling merchandise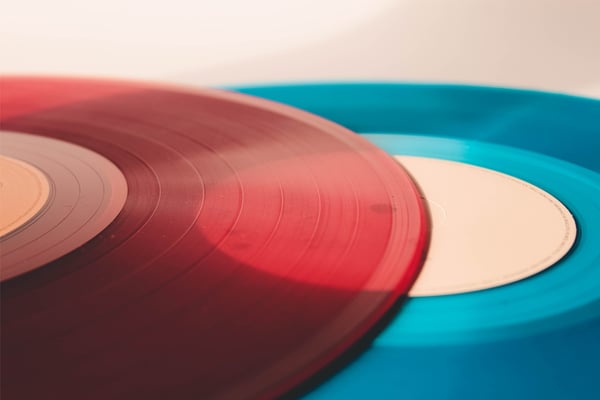 Difficulty: low - moderate
Financial outlay: low - moderate
Most suitable for: Artists, producers, composers
We'll start with the simplest way of making more from your music and that's with merch. The best thing about merch is how easily it can be scaled based on your means. You can start small with some nicely designed stickers, or patches if you want to be more environmentally conscious. A small run of t-shirts or tote bags can be quite affordable and has the added bonus of giving your 'brand' extra visibility to the public. If you have a release, you can start small with a small run of CDs, cassette or USB sticks, and scale this to vinyl should you be able to afford the pressing run.
Selling your own merch has many advantages. In addition to the increased visibility, it's relatively easy to source with many online companies such as Everpress, Bon Clothing, Threadless (US only), Printify and AMP Merchandise providing a range of merch options, though depending on what you're buying the costs can stack up.
The caveat to merchandise is the design. If you don't feel confident creating the design(s) yourself, then you'll need to enlist someone who is. This can sometimes be a friend who is happy to help for free, but if you're involving a professional they will need to be paid. It should be said that a more DIY or lo-fi aesthetic is absolutely an option and can give you a distinct look without the outlay.
2. Sample packs and presets
Difficulty: moderate - hard
Financial outlay: low
Most suitable for: Electronic music producers / sound designers
It's likely that at some point in your development as a music producer, you have used samples. There are many differing opinions on their place in music creation, but the fact is that they play a huge role in a lot of creators' processes, so why not capitalise on that.
For dBs student Ollie Bishop AKA Formula, his sample pack business FORM was borne in part from a desire to create a unique sound in his own productions.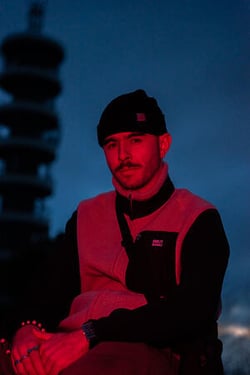 "Starting out as a producer, I had no samples to use, apart from Cymatics, which at the time every single person was using. It was super expensive and the samples weren't that great.
"With FORM, I remembered how I felt when I started out, and it would have been a lot easier to have had good samples to use. So, pretty much whenever I self-release a song, if people want to learn how to make that sort of song, or the drums from that song, I'll put out like a mini kit. It just helps support me if someone's really into production and I've given the song away for free, then they can pay a small fee to get the kit."
Selling your sample packs can be done through an online storefront such as Payhip or Big Cartel, both of which are free that would be perfect for those starting out - Payhip can remain free even when you list more products, in exchange for a 5% transaction fee. If you're serious about sample packs being a regular source of income then you'll want to think about getting them listed on Splice.
On a small scale, sample packs require very little input from anyone except you to create and sell, which reduces both the time commitment and cost involved. Design is an important aspect to consider even when just creating a bespoke pack, but is essential should you start selling through Splice. Despite being told not to, we all judge books based on their covers, so having a strong visual aesthetic will help you stand out in a saturated storefront. This does mean potential costs for designers, but when it's a one-off fee, this can be negligible based on how well your pack sells.
Presets are the harder side of this coin. Unlike sample packs, you'll need to have a working relationship with someone who has produced a virtual instrument. These opportunities are absolutely possible, for example Harvey Jones who featured in our previous article, was invited by Arturia to design presents for the Vocoder V.
These opportunities aren't explicitly locked behind your profile and standing within the audio industry, but if you're hoping to work with larger brands, you'll need to have a measure of clout for them to take notice.
3. Royalties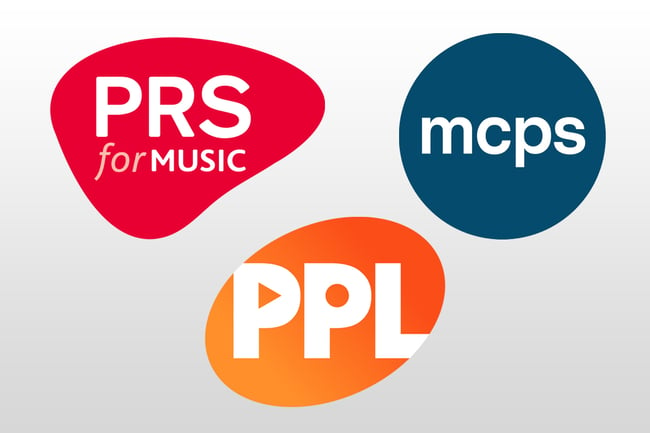 Difficulty: low - moderate
Financial outlay: moderate
Most suitable for: Producers, composers, sound engineers, sound designers
Royalties may just be the best way for you to generate income from a multitude of sources, and we'll be highlighting why in more detail as we go on, but it can be somewhat overwhelming trying to navigate the world of royalties.
If you're based in the UK, you're likely aware of PRS for Music, MCPS and PPL, but from our experience at dBs Institute, understanding what each service offers and how you can take advantage of them is less than clear. Here's how they differ:
PRS for Music
MCPS
PPL
£100 joining fee
£100 joining fee
Free to join
Represents songwriters, lyricists, composers, electronic music producers and music publishers.
Represents recording rights holders and performers.
Pays royalties to its members when your music is broadcast on TV or radio, performed or played in public (live or via a recording), or streamed or downloaded.
Pays royalties its members when your music is copied as a physical products, e.g. CDs, DVDs, vinyl record, cassette, reproduced for radio, film or TV, or used online
Pays royalties for the use of their recordings and performances.
Depending on who else is involved in the creation, performance and licensing of your music, these royalties will vary and there's the potential that you collect royalties across all three strands.

For example, you may be the composer and/or producer, the engineer that recorded and mastered it, who also performs the song live and has secured a physical run of the track with a record label.

Similarly, you may be a contributor to a piece of music who performs on the recording, which would entitle you to royalties through both PRS and PPL, though it's important to establish with your collaborators your status in the process to avoid ugly situations further down the line.

There are a lot of nuances to how royalties are paid out, which we won't go into in this feature. PRS, MCPS and PPL are specific to the UK, but similar organisations exist around the world, so make sure you know who collects where you live.
4. Syncing your music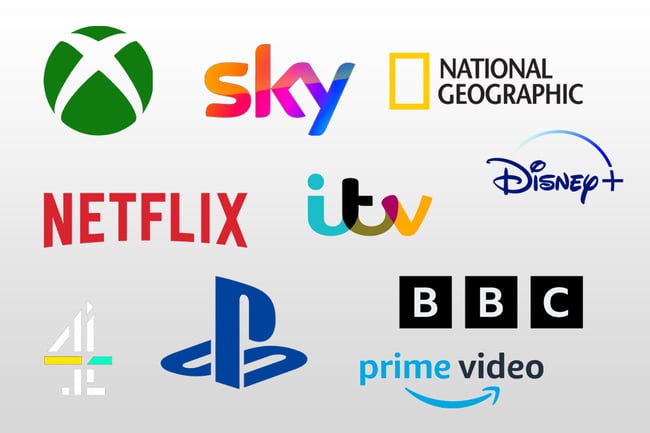 Difficulty: High
Financial outlay: low - moderate
Most suitable for: Composers for screen, sound designers
For many independent artists, landing a sync deal is a major step in both reaching a larger audience and taking a step towards more sustainable income from your music. A sync can apply to a range of media, from TV, film, radio, advertising and video games, so you can already see how lucrative this can become.
Making money from sync and royalties are intrinsically linked, hence why we've placed them one after another here. If you're both the composer of the piece you're trying to get synced and also the owner of the master recording - which is increasingly common today - then both the performing (PRS) and mechanical (MCPS) royalties belong to you, which can make a big difference in your income.
Aside from the royalties, a sync deal will come with a fee, however there is no set amount and this depends entirely on the size of the production looking to licence your music and your negotiating skills.
Getting a sync placement is by no means easy, but there are a few steps you can take to maximise your chances:
Ensure your track(s) are produced to a high standard
Create instrumental and shorter variations of a piece of music
Identify trending genres / music needs for media and create to that brief
Engage a publisher to help find the best place for your music
Submit your music to licensing websites such as LuckyG Production Music, Artlist and Epidemic Sound
5. Producing and writing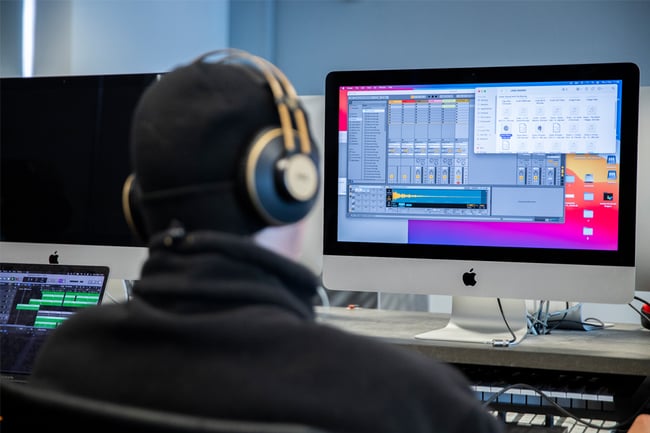 Difficulty: moderate
Financial outlay: moderate
Most suitable for: Producers, composers and sound designers
Take a look at the songwriting and production credits on most popular music and you'll find a long list of people. That's not to say popular artists aren't writing their own tunes, but for many, they are the conduit that takes a producer/composer's ideas and delivers them to a massive audience.
This applies on a much smaller scale, too. Vocalists need original music to write lyrics to, electronic producers need vocalists to record hooks for their next release, songwriters need producers to help them realise their ideas… you get the picture.
Depending on how you contribute, these collaborations can net you some extra royalties, however you'll need to make sure you're appropriately credited. For producers, it's typical to charge a flat fee for your time as well as a percentage of royalties, which can be negotiated on a case by case basis.
There is an associated cost with this avenue of income generation, especially if you're producing, as you'll need to have a suitable space and equipment to work on a client's track(s). However, this should hopefully remain fairly manageable as it's likely you'll have a computer, relevant software, monitors/headphones already. If this becomes a more sustainable source of income, you will want to invest in your space more to ensure you're delivering to a professional standard, but this can wait as you build your reputation.
The key to success is to work with as many people as you can, so you can build a portfolio of work to showcase your services, and get your name out there to as many people as possible. If you're a student at dBs Institute, you're surrounded by hundreds of potential collaborators, so don't waste the opportunity!
Back to contents
6. Mixing and mastering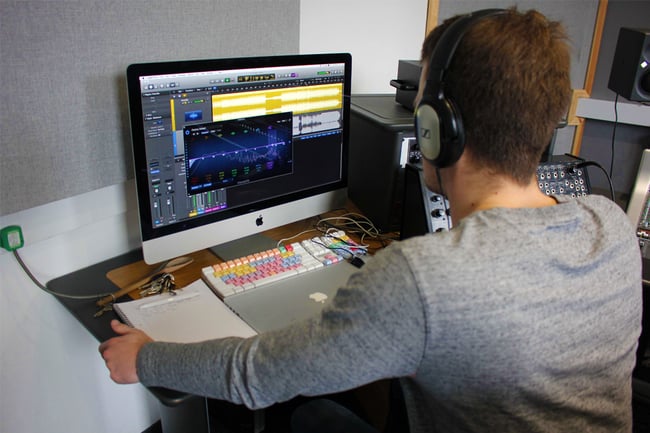 Difficulty: moderate
Financial outlay: moderate
Most suitable for: Producers and sound engineers
This is very similar to producing and writing, however your creative input is somewhat different. Once an artist has crafted a track, it needs to be mixed and mastered so that it meets the expected standards of all recorded music.
This is somewhat more of an entrepreneurial endeavour, where you'll want to clearly market your services. For dBs graduate Emily Magpie, starting her mastering company began with research.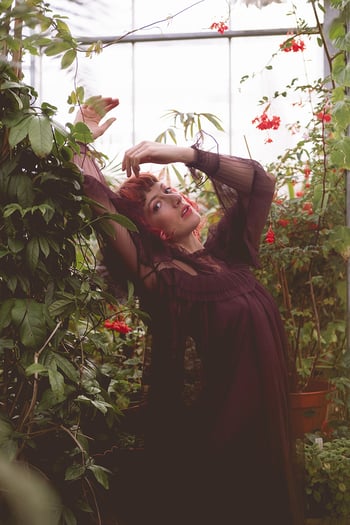 "I basically did a business plan and worked out what my target market was, which for me at this stage is emerging artists, a lot of female artists - any gender, of course, but that was my niche," says Emily in our recent sound panel. "I thought about what it was I wanted to offer, which was digital masters, and then I started working and sharing each project. I'm still building that client base."
As a music artist herself, Emily was able to take her experiences and use those to ensure her company would resonate with her target audience.
"I make sure that I'm really reliable and that artists know that I really care about their music. I come from a background of creating my own music and what I love offering people is that I don't think I know best. I've made stuff myself with mixing and mastering engineers where they've said, 'this is what the track needs'. I make sure to chat with the artists I work with about what they want from the finished product, references to tracks they like, what they imagined from the sound. What's really cool about that is that it's given me a feel for lots of different masters, so I don't have a specific sound. I'm flexible in my approach, and while my effects chain is the same, I can adapt to the artist's needs."
When it comes to actually setting up your own business there are some essential steps to take at the very beginning. For dBs graduate Tobias Crane, who alongside working for Soho post-production house Molinare founded his own company Opus Mastering, he shared five tips for getting started.
Practice - "I practised mastering other people's music for free. I think I worked on a few different tracks as I knew that people would come back with useful feedback."


Research - "Before I even advertised myself as a mastering engineer I did a ton of research on how to do it properly, what's the best way to start, and how to listen to music differently to mixing, because it's such a different experience."


Investing in new equipment - "It got to a point where I needed to invest in new equipment because I didn't feel comfortable charging people for mastering on a pair of HD600s and a pair of Yamaha HS5s and a Scarlett 2i2 interface."


Developing strong client communication - "It can be quite difficult at Opus when you're talking to people over email because you're not talking face to face and it's hard to get an idea across on an email without sounding like you're ordering them to do it."

Build your client base - "Working with TVNDRA and George Wilks actually came from dBs alumni. I was originally mastering George's music for free before I started charging. The only reason I've been able to push Opus through word of mouth is from the friends I made at dBs. It's starting to take off now, but that's only because the people I know at dBs have trusted me with those early projects."
The definition of passive income is something that continues to generate money even after the work is complete, so in that sense, mixing and mastering shouldn't really be on this list. That being said, we feel that it's an increasingly popular route taken by our graduates and audio graduates in general, and worth mentioning.
7. YouTube
Difficulty: moderate - high
Financial outlay: moderate
Most suitable for: Producers, composers, sound engineers, sound designers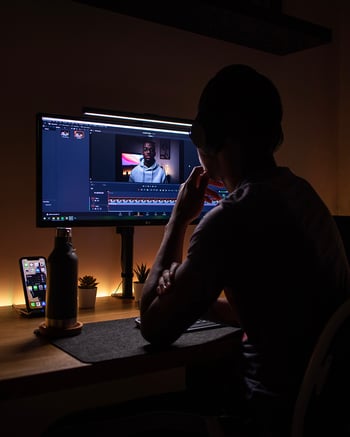 We're almost certain that anyone reading this article has also watched a music-based tutorial on YouTube. The platform is one of the best online resources for free practical and theoretical tips into the world of music production, sound engineering, songwriting and sound design, and creating content for the platform need not be bespoke.
"I don't think from a learner's perspective that if you go on to YouTube and look up how to make this sort of sound, and it just says free preset included, you're not going to watch the video, you're just going to press download and learn nothing," says Formula, who utilised the pandemic to explore YouTube as a creator. "What I do to deter people from that is create a tutorial and say if you want this patch and don't want to sit through the video then it's £1. If people prefer to do that then fine, because it supports me and what I do, but hopefully more people choose to stick around and watch the whole thing and leave with the knowledge to create hundreds of sounds."
This approach works in the same way as our point about sample packs and presets where you maximise the ways in which a track can turn into multiple forms of content.
It's worth mentioning that making any substantial gains from YouTube as a creator is very hard, and truthfully is a full-time job. Content creators on YouTube are spending every moment thinking about the strategy behind what they release and ensuring they are staying up to date with trends and their audience's needs. However, if you have the capacity and the desire to explore the platform, it can certainly help in reaching a new audience, which can then translate into revenue through other channels.
8. Patreon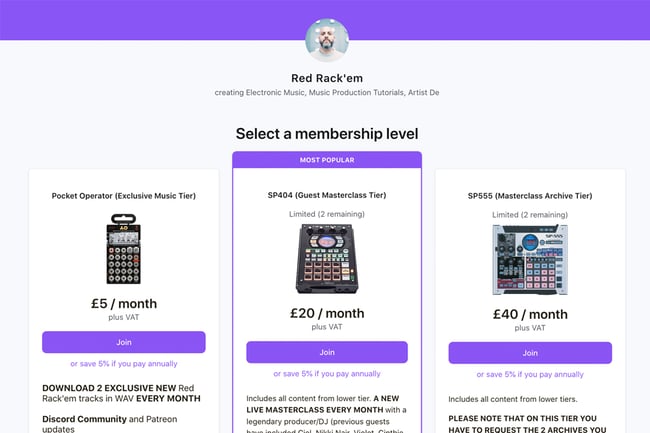 Difficulty: moderate - high
Financial outlay: moderate
Most suitable for: Producers, composers, sound engineers, sound designers
We've saved this one until last. Firstly, because it's one of the most lucrative options we've covered in this article, and secondly, because a lot of what we've covered already can be filtered into Patreon. If you've not encountered the platform before, we'll give an overview and then explain how you can make it work for you.
At its core, Patreon is a membership/subscription platform for content creators. It's also perhaps one of the best ways to establish a very real link with your audience. Regardless of the content you're creating, you can set up 'tiers' - a selection of different subscription price points that come with a selection of perks. Your audience can opt in and out of these tiers on a monthly basis, and you can restructure them as you gain traction.
Let's make an example based on some of the points we've already discussed.
Tier 1
Tier 2
Tier 3
£5
£20
£50
Perks include:
2 x exclusive downloadable tracks
Free samples from exclusive tracks

Perks include:
1 x branded T-shirt
All perks from previous tier

Perks include:
1 x video tutorial each month
1 x track mastered
All perks from previous tiers
The content and structure of your tiers is entirely subjective, but hopefully the above gives you an idea of how you can turn your skill set and creative output into a sustainable source of income.
Next time
In our next instalment of this series, we'll be looking at how some music producers have capitalised on Patreon as a lucrative way to earn more from their music, but also engage with their audience on a more intimate level.
FIND OUT MORE
How to make money as a music producer in 2022
Want to get booked for you first DJ set? Formula shares 6 top tips
[Video] From education to the audio industry